One thing about diners is that they are often portable. It's been that way since 1913 when Jerry O'Mahony built the first stationary lunch car in a Bayonne garage. O'Mahony then expanded his concept modeled on the fancy Pullman railroad dining cars of the day. They were built on wheels, used only for moving the self-contained restaurants with all the modern conveniences to permanent sites. O'Mahony was soon joined by scores of other New Jersey manufacturers as well as factories in New York and Massachusetts employing carpenters, tile setters, metal workers, painters, cabinet makers, sign builders, plumbers, gas fitters, and electricians. In their heyday, 6,000 diners hosted travelers across America. Only about one-third of them remain, but New Jersey remains the most diner-dense, and people-dense, state.
In 1986, one of these enduring structures arrived from its former location in Edison to its new home a half-mile west of the Crossroads. When Ray Catena established his Mercedes-Benz dealership in place of the Emerald Diner on Route 1, one of his customers, an enterprising doctor, bought the diner for $50,000 and trucked it to the Belvidere property he had purchased, the site of a former hamburger shack on Route 46. The doctor had the diner's three sections reassembled and bolted together on a new foundation and opened for business. Soon tiring of the restaurant trade, the doctor sold to new owners who were unfortunately stretched way too thin, and they ran the place into the ground. In 2005, Michael Protopapas bought the Belvidere Diner, his fifth restaurant venture, and with his wife began to resurrect a scarred reputation.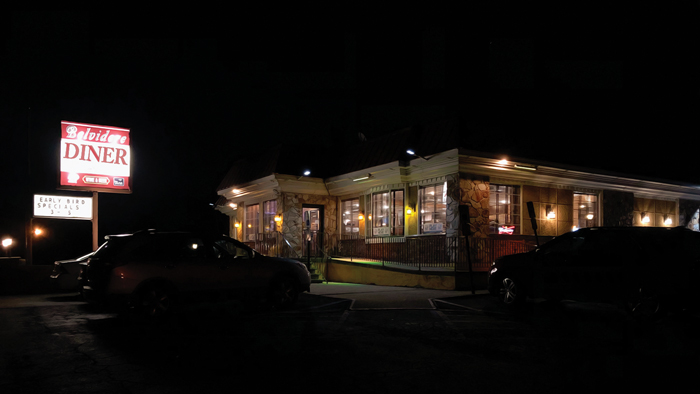 Protopapas spends most of his time at his diner but occasionally finds time to play cards with a group of friends. One day, one of those friends came in and wanted a good steak dinner. "And give me some pasta with it," he added. "I like pasta. I'm Italian." Michael remembers, "I made him a nice veal porterhouse and gave him a side of pasta, garlic bread and all that. He says, 'Who makes the sauce?' I said, 'I do'. He says 'This is good sauce. You're not Italian.' I asked him 'What are you trying to say?' He says 'This is good sauce, and it's one of the best steak dinners I ever had. I didn't realize diners could cook that good.'"
Michael has been working in kitchens since he was twelve years old and later attended culinary school in Connecticut. He has operated diners from Brick to Flemington. "I told my friend, 'Joe, in the diner you're gonna always get fresh food. It's not gonna be fancy; no white tablecloth and no three-hour dinner, but it's always going to be good.' He started coming in more and trying other stuff. He came around, 'You know your menu is better than some of the fancy Italian restaurants I go to and pay twice as much.'"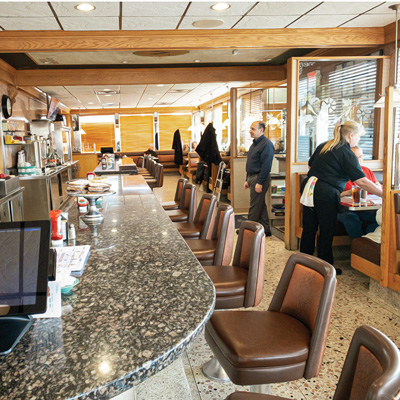 Still, Protopapas is frustrated. Things seem slower every year. "People don't have the money. In reality it's great for the rich people, but most have trouble making ends meet. It's hard for people to go out and eat." Diners are not immune to the never-ending threat to small business from corporate collusion, in this case fast food and convenience store chains. Somehow, thawed egg sandwiches take preference over omelets made from scratch. Cellophane-wrapped snacks take the place of home-baked cheesecake. And good help is hard to find. "People don't want to do this anymore. They don't like long hours. Probably the only people that will do this is new immigrants," adds Michael. "We're in jail with the doors open, but we still don't leave. That's how stupid we are. If you're in jail, you try to break out. We can break out, but we have to come right back or else we leave everything we own here!"
Protopapas's grandfather came to America from Greece in 1896 to work on the railroad. His father came in the '50s, and Michael grew up in Elizabeth where he had a friend named Jimmy Asimoglou. It was not until sometime later that they realized that their families were from the same town in Greece. The two became partners in various establishments, then, as they went their separate ways, have ended up once again in the same general neighborhood. In 2003, Asimoglou and two partners bought the landmark diner on Route 31 in Washington Borough, gave it a facelift and reopened for business. You can get anything you want, anytime, at the Washington Diner; steak or chicken parmigiana at seven in the morning, or pancakes at 10pm. You can never take eggs away from a diner. Jimmy goes through fifteen cases a week; 5,400 eggs prepared in an amazing variety of ways to hungry customers, often by him or one of his partners who is always working in the kitchen. They can't find reliable help. "The business used to be fun, but not anymore," says Asimoglou. "The good years are over."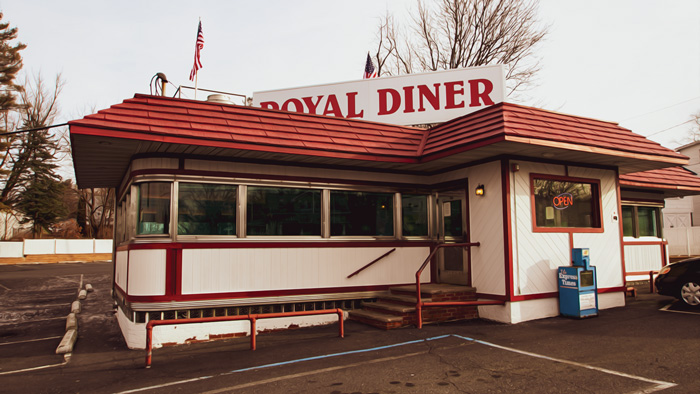 Despite their worries, there is a stable clientele that relies on these places, which have survived for generations of working-class families who could get a homecooked, affordable meal to eat at any time of the day. Although many of the blue-collar jobs have been replaced, a diner's classic qualities — not to mention chicken pot pies, delicious soups of the day, and glass cases stuffed full of baked goods— are sure to endure. A few hundred yards down Route 31, Washington's Royal Diner still courts a fiercely loyal clientele, even with shortened daily hours. Homemade bread with homemade jams are real butter are only the beginning to the treats this small place with big portions holds in store. Travelers mix with customers and wait staff that seem to be the best of friends.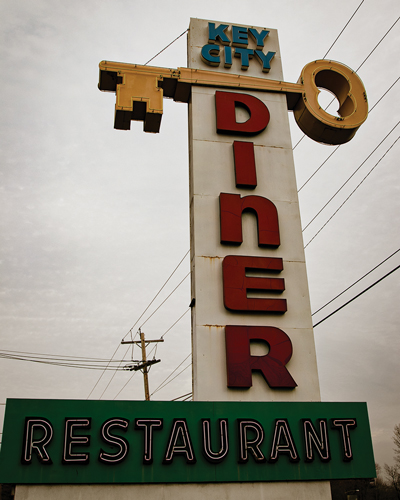 In 2000, Greg Theodoropoulos and his family became proud new owners of the Key City Diner in Phillipsburg, where the towering golden key has summoned travelers along Route 22 for more than a half-century. It was not only Greg's family that came on board that year; Ms. Tracy Ditmar also began her employment there twenty years ago and has since "raised her kids" working there. Tracy's oldest daughter has worked there since she was sixteen. She's thirty-one now. Tracy's seen them come and go, mostly regulars and friends all there for the great food and atmosphere. They can no longer show up at three in the morning however. The big-name franchise fast food chains forced Key City to end 24-hour service last fall.
Further east along Route 22, the Red Rose is larger than it looks, dwarfed by the massive, 975,00-square-foot warehouse that has recently appeared on the rise along the highway. Sitting mid-afternoon at a table chatting with his mother-in-law, Nick Niotis warms up as soon as he's sure he's not getting a sales pitch. How's business? "Not bad, I make a living," he says. "Would you like something to eat?" Nick has owned the business for three years, renting the building from the daughters of the family who ran the diner for sixty years until their father passed away. He points to a room off the end of the counter with space for parties of up to forty people and a well-equipped salad bar. Nick sees a lot of travelers on the weekend, as well as regulars who come for Greek spinach pie and lemon chicken as well as specials every day. He wonders whether the warehouse means more business or untenable traffic congestion. "They promised they were going to put a U-Turn in the road to make it easier, but I don't see it," says Nick. "I hope it picks up a little bit. Only God knows. We do the best we can."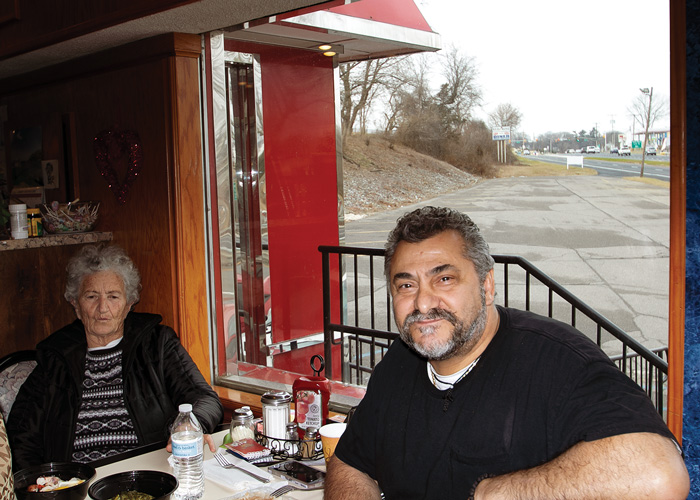 ---
Riverside Diners
The opening day and first weeks of fishing season are some of the busiest times for the Blairstown Diner, on the Paulins Kill, and the River Star, on the Musconetcong River in Hackettstown. It's part of the ritual; sharing stories of monster catches around plates piled high with hot pancakes, waffles, eggs, bacon and sausage. And keep the coffee coming!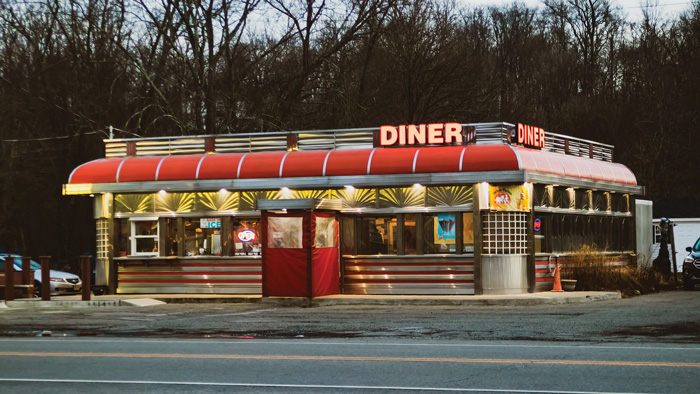 With the help of the town's Historic Preservation Committee, the Blairstown Diner celebrated its 70th anniversary last September, 2019. Michael Gabriele, author of Stories from New Jersey Diners, presented a talk that helped characterize Blairstown's place in diner history. The commercial zone along Route 8 (since renumbered 94) was at an early stage in 1949, the roadway having been installed twenty years prior, bypassing the town's historic Main Street as the main thoroughfare for travelers. But Charles Simonson saw potential, built a foundation and installed a custom-built dining car with an all-steel frame manufactured and delivered by the Paramount Company. Simonson, his wife Fran, and their four sons and worked tirelessly to establish a community meeting place, open 24 hours a day.
The Simonson family sold the diner in 1983, and Dieffenbach and Lang families would have ownership for several years each until it was purchased by the late Pete Apostolou, Sr. and his family in 1990. The diner remained in the family until January 2019 when current owner, Gary Wishnia, purchased the business.
Unlike some diners that been renovated almost beyond recognition, with new, more fashionable facades, the Blairstown structure retains its classic stainless-steel exterior. Movie goers might recognize it, as scenes from the 1979 horror movie, Friday the 13th, were filmed inside and outside the diner. It is the same vintage aura that has generated interest for Jersey diners from buyers around the world. But the Blairstown Diner isn't going anywhere; its roots are too deep.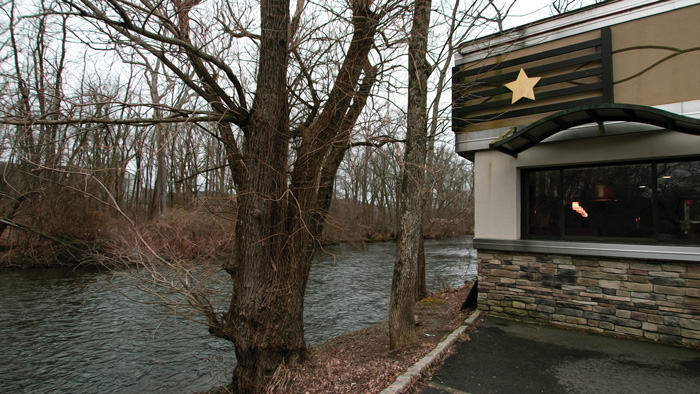 John Bayram's father, from Istanbul, Turkey, bought the former Orange Pit along the Musconetcong on Route 57 in Hackettstown in 1990 and opened the River Star Diner in 1991. John has been working there since he was sixteen years-old and now runs the family business. The diner's massive menu brings a constant flow people from well beyond the town's borders looking for comfort food. Business is good!
Blairstown Diner. 53 Rt. 94, Blairstown 908/362-6070,
Belvidere Diner. 475 Rt. 46 Belvidere, 908/475-1200
Washington Diner. 6 Rt. 31, Washington 908/689-3059
Royal Diner. 150 Rt. 31, Washington 908/689-7486
Key City Diner. 985 Rt. 22, Phillipsburg 908/859-2373
Red Rose Diner. 1102 Rt. 22, Phillipsburg 908/777-3636
River Star Diner 14 NJ-57, Hackettstown 908/979-0626
Nearby accommodations and attractions
Private campground for RVers and Tenters with wooded sites available by the day to by the season. Rustic cabins also available. Home of Lakota Wolf Preserve.

85 Mt. Pleasant Road, Columbia 07832, 908/496-4333

Local roots!

56 Mine Hill Rd, Washington

Consider Rutherfurd Hall as refuge and sanctuary in similar ways now, as it served a distinguished family a hundred years ago.

1686 Route 517, Allamuchy 07820, 908/852-1894

A luxurious Bed & Breakfast with one-of-a-kind accommodations, picturesque scenery, 3 course European Style breakfasts, all while blending old world charm with modern conveniences. Minutes away from a variety of naturalist activities including hiking, biking, canoeing, riding, skiing and bird watching.

88 Hainesburg River Rd., Columbia 07832, 908/496-8855

Hand-crafted wines fermented, aged, and bottled at our family farm in the heart of the scenic Delaware Water Gap. In addition to wine tasting and sales, we offer indoor and outdoor rentals as well a full catering services for up to 250 guests.

594 State Highway 94, Columbia 07832, 908/496-8200
This story was first published: Spring, 2020