From the moment you turn onto the quiet lane leading to the Inn, you are transported into a world of natural beauty where wildlife abounds. Guests escape their busy lives in New York, Philadelphia, Washington, D.C. or as far away as Australia, to find gracious hospitality and relaxation in private, comfortable surroundings.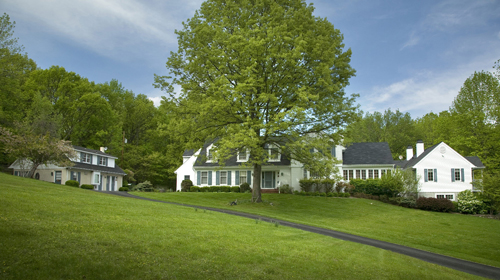 The Estate House contains 7 spacious rooms, each with a private bath, sitting areas, business workspaces, free wi-fi, flat screen satellite TVs, DVD players and fireplaces. Deluxe and Semi-Deluxe rooms include 2 person soaking tubs. Our Living Room features a gas fireplace, bay window and big cozy couches to relax and unplug. The Den has comfy leather furniture with a big screen TV, perfect to watch a game or movie. There is a snack station open 24 hours with coffee, tea, soft drinks and home baked goodies. DVDs and Games are also available for free use.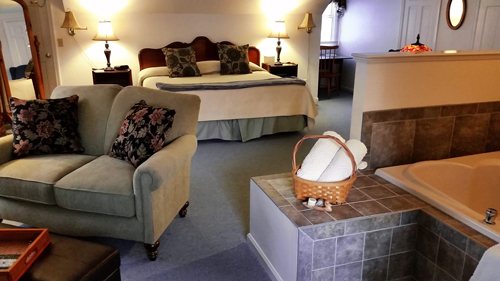 The Carriage House contains 3 more comfortable rooms, including a handicap appointed room, all with private bathrooms, flat screen satellite TVs, and free Wi-Fi. Enjoy gorgeous views any time of year, filled with wooded acres, rolling hills and wildlife throughout. Watch families of deer feeding at dusk while on your evening stroll or catch the dance of the hummingbirds as you sip your coffee from the patio or dining room.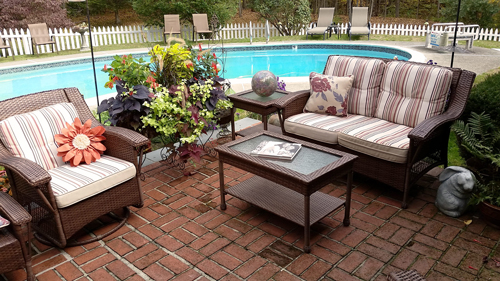 Start your morning by indulging in the scrumptious 3 course breakfast served in the dining room overlooking the in-ground pool and grounds. Relax and unwind by the pool and gardens or by the fireplace, whatever the season.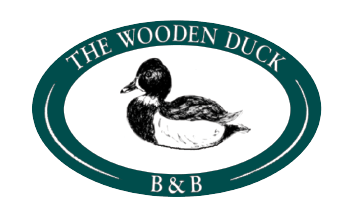 The Wooden Duck Bed and Breakfast is located at 140 Goodale Road, Newton, NJ 07860
Click or call 973-300-0395.
Nearby accommodations and attractions
A mix of historic buildings of varying architectural styles, a walkable downtown, and plentiful eateries surrounded by rural tranquility make Newton a fusion of the then and the now, with great expectations for the to be.

Wilbur's is the perfect destination on a drive through the New Jersey countryside. British foods and candy, Yankee candles, wind chimes, pet-themed gifts, preserves, much more. Charming location in barn complex between Newton and Blairstown.

735 Route 94, Newton 07860, 908/362-8833

Buy direct from the grower and save! Large selection of annuals, perennials, herbs, vegetables, hanging baskets, deck planters, succulents, tropicals and more. 10% off annuals for seniors on Tuesdays and everyday for Veterans and Master Gardeners. Fresh eggs daily.

47 Augusta Hill Rd, Augusta 07822, 973/948-0551

One day you are likely to find yourself headed to New Jersey's northernmost corner in search of adventure.
This story was first published: Autumn, 2012