From travelling to international competitions and symposia, wood carver McLain makes good friends and invites them to his home and studio to carve. He and his carvings have traveled to England, Scotland, Denmark, The Netherlands and Germany. He's been invited to far-away places like Japan and Australia, but so far hasn't made the trek.
McLain says his studio is "a living art gallery." The artists, along with McLain and his family, live, work, show and sell there. The artists, some from Germany, Scotland and England, collaborate on some pieces, each bringing his unique style. "It's like four or five musicians playing in unison. We get together and it's exciting and gets you out of your box. You do things you don't normally do alone."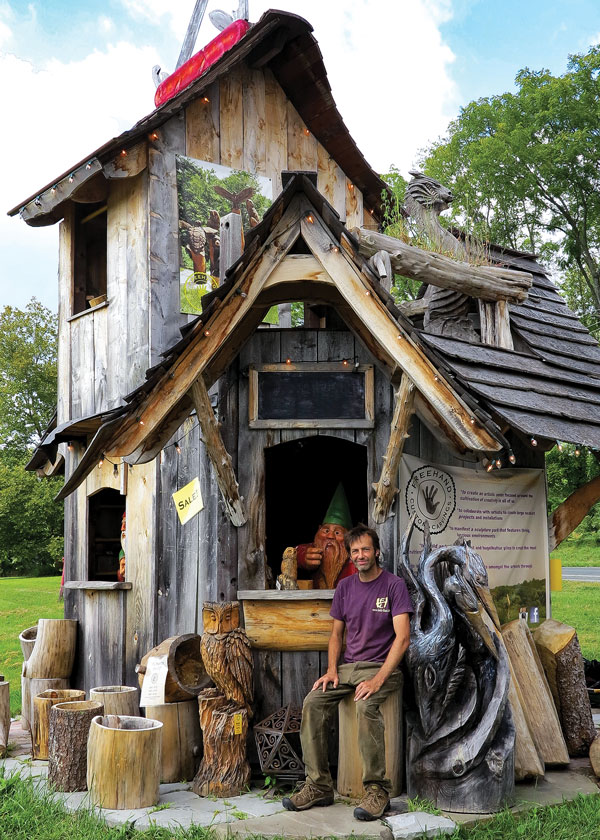 Twenty-two years ago, when he was still a teenager, McLain set up shop on Rt. 206 in Andover where he carved bears and other treasures from trees. With an art background, a father who harvested timber and had a wood shop, and both parents who were entrepreneurs, he was a natural at making art from wood.
Fifteen years ago, he found the perfect grounds for family and fellow carvers to fill the air with art – visually and musically in a sculpture park where a wholesome environment enhances the visual experience. "We try to get all the senses involved."
At his living gallery, McLain is looking to have quarterly or monthly art openings and shows once a year. As a citizen of Northwest New Jersey, he wants to increase art awareness and enjoyment. Look for his commissioned "Welcome to Netcong" sign, a roughly 12' x 12' carved sign on the corner of Ledgewood Avenue and Main Street. His work will also be at Peter's Valley Craft Fair, Sept. 23 & 24, 2017.
Click or call 973-383-5031.
Here are more artists who inspire their own inherent talents with other gifts from nature...
This story was first published: Autumn, 2017