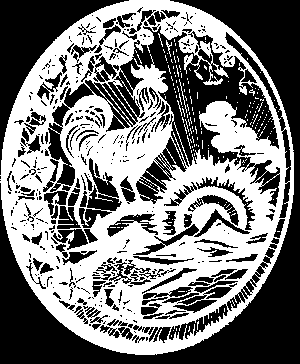 Hamann's work is stunning, dramatic in color, contrast, size, detail and story. Patience and passion is the name of paper-cutting Hamann-style, plus reverence for an art long lost in today's world. Her grandfather, a renowned German artist, was her muse through honest guidance and love while she was a child. Her return to her roots includes memories of him and all that she knew growing up on a farm and riding a big draft horse as a little girl. "My grandfather was a tutor and an artist. When he came to visit it was always a big event. He sat down on the sofa, got his sketch pad out and started to draw. Little characters came to life before my eyes." Thus began the mystery, fantasy, courage and imagination that spurred the young girl on to explore creative realms.
Hamann will not sell her paper-cuts. "These are my friends. I figured I would go back to something I did as a child. I wanted to amuse myself. It has been the most rewarding thing I've ever done. I think I've made a lot of people smile." She has books and books of essays and poetry, photos, letters from important people, awards, copies of her art, and photos of her and John's garden named "Pet Rock Acres" in Chester. She appreciates everything and is not afraid to stand up. Once while shopping in Bloomingdale's, she didn't like the art that accompanied a children's furniture display, so she called them and complained and described her own paper-cuts. They hired her on the spot and gave her a year to create enough for an exhibit. From there it was WOR and TV and even poetry for Pope Paul (and a response!). Thus began her journey in America with exhibits and awards galore.
Nowadays, Hamann is working on a book, "a children's story made for ages 10 to 92." She bases the fairy tale on her own life with added dimensions of a fine artist's imagination. The accompaniment: her own fine line pencil drawings. She is a writer with words and 2-D art and a poet who accompanies her art with silken words born of observation and emotion, yet simple to read and understand.
This story was first published: Autumn, 2013