Good old hospitality
Notes on the National
The National Hotel has been entirely refreshed and reinvigorated by new owners who began their guardianship of the boutique hotel, restaurant, and rathskeller in the fall of 2009. Ever watchful and completely creative, Pete and Marie D'Costa promise a perfect complement to the charming galleries and shops in the Hunterdon County village of Frenchtown for years to come.
Frenchtown attracts attention because of an exotic, romantic name, a sublime location along the Delaware River, and an impressive line-up of galleries, shops and restaurants tailored for visitors. In the early nineteenth century, the settlement that eventually became known as Frenchtown drew notice for different reasons. Construction of the Delaware and Raritan (D&R) Canal began in 1830 to provide a swift and safe route from Philadelphia across New Jersey to New York City. The main canal emerged from the Delaware River just north of Bordentown and ran forty-four miles into New Brunswick where ocean vessels reached via the Raritan River. A feeder canal ran along the Delaware River beginning at its highest elevation at Raven Rock and joined the main channel twenty-two miles south at Trenton. The D&R quickly became one of America's busiest navigation canals, and the feeder, although conceived to supply water for the main channel, was similarly navigated from the time of its completion, bringing brisk commerce to the tiny river towns from Frenchtown south to Lambertville.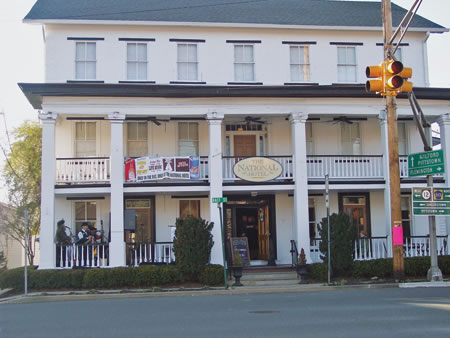 Since those heady days, a century-and-a-half ago, the welcome sign for Frenchtown has been the National Hotel, the building that stands at the town's entrance from the west and north, the intersection of State Route 12 and County Route 513. Samuel Powers built a blacksmith shop on that spot in 1833 and mounted a sign advertising rooms for rent in a road-front structure, while he did his work in the stable behind. The "Sign of the Buck" served as a brothel and stagecoach stop until 1850, when Robert L. Williams replaced it with the current structure, naming it the National Hotel. Inspired by the arrival of the Belvidere-Delaware Railroad and emergent industrial development along the river, the National, or "Upper Hotel", was one of three accommodations constructed to court the flourishing business in town. Although the "Middle Hotel" is long-gone, the "Lower Hotel" still exists as the present-day Frenchtown Inn, a restaurant at the foot of the bridge over the Delaware. In the 1890s, additions were made to the National, which also served as blacksmith shop, hotel stable, saloon and billiard parlor, horse shed, and restaurant. Hotel legend boasts of such illustrious guests as Annie Oakley and Buffalo Bill Cody in late 1800s.
A succession of owners coaxed the proud old inn through the twentieth century, through good times and bad. In the 1970s, the Broadway theatre actress and cabaret performer, Claiborne Cary, took up the National challenge. Like her older sister, Cloris Leachman, Cary also appeared on television, and her friends, Mary Tyler Moore and Valerie Harper, frequently took the limo out from the city for cabaret nights in Frenchtown. On Saturday nights, Claiborne would appear, dressed in full-length evening gown, to play the piano.
---
Should you desire to learn more about National lore, ask Pete or Marie D'Costa, whose affair with the building began two summers ago, in 2009. The National stood padlocked and shuttered, a victim of imperfect management in difficult economic circumstances. For visitors, the sheets of plywood that covered the windows were forbidding, but Pete and Marie wondered why this business could not succeed. They made an offer, not really expecting to rival bids from two competing investment groups. But the realtor called in June, they closed in July, and, to the relief of the townspeople of Frenchtown, the plywood came off the building when the National reopened in November.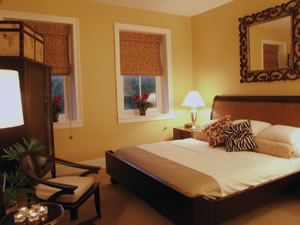 Rooms at the National are richly appointed, each with private bath.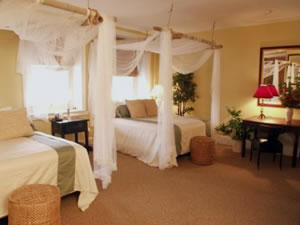 Previous owners had spent a half-million dollars on renovations aimed primarily at creating a boutique hotel for the cosmopolitan traveler. The décor of each guest suite was inspired by nineteenth century Colonial, Victorian, West Indies and African styles, each a sumptuous private environment. However, all those improvements, although exquisite and successful in their aim for the sophisticated and affluent visitor, were not the key. Three separate business inhabited the building, catering to different clientele and competing for attention. Downstairs there was the Rathskeller, which dates back to the 1851 renovations. It was a simple basement then, but was reconceived decades ago as a cellar pub, one of Frenchtown's favorite watering holes, affectionately known as "The Rat." Local patrons were not entirely welcome at the main level restaurant and bar, and the hotel management preferred that they remain invisible.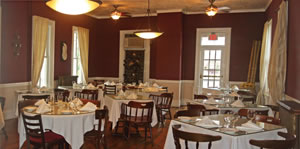 The dining room and adjoining bar at the National are irresistable for visitors.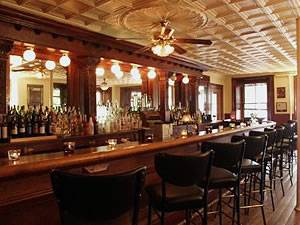 Hearing these stories, Pete and Marie have redefined the business, spinning the three threads into one. "It's not about Pete or me," explains Marie. "It's more about the building itself. The townspeople really felt that this was an anchor business, almost like an Irish pub in that it is like a cultural center where families can come, not just for a drink." The Rathskeller lounge now serves as a stage for public programs nearly every night of the week, all run by townspeople, one point-person for each program. There are poetry readings, open-mics, Scrabble and trivia nights. "We have intergenerational families come for the poetry, with stories from a fifth grader reading his first poem or a seventeen year old reading about heartbreak to an octogenarian telling about two divorces and one deceased spouse."
The D'Costas both have considerable experience in the hospitality industry. Marie's family has owned restaurants and bars in New York and Miami. "But this is a lot bigger than anything I've done before. It's three businesses in one. I do more the marketing, bookkeeping and sometimes jump in as a hostess. I also have a full-time job in New York, but I can get a lot done on my five-hour bus commute. Pete runs the restaurant and bar; he's here all the time." The National Hotel's chef has been there from the beginning, introducing ethnic flavors to complement traditional American selections on the menu. Marie adds, "We want people to come again and again and to feel like they can afford it, not just for special occasions, so it fits into their life style."
Marlon Aranha manages the hotel. A lifelong friend of Pete's, they grew up together in India and attended Jesuit school outside of Mumbai. Marlon has worked hospitality around the world: Dubai, Ireland, Canada, and the Washington DC area. The timing was perfect when Pete and Marie asked him to join. The richly appointed rooms, all with private bath or Jacuzzis, are the perfect accommodation for a well-deserved getaway in the old village by the river.
The National Hotel and Resaurant is located at 31 Race Street in Frenchtown. For more information, please call 908/996-3200 or check their website.
Locally Sourced Dining
Literally every dish on the National menu has some component of a locally-sourced ingredient. Some examples:
Delmonico Lancaster County Aged Rib Eye sourced locally across the Delaware River; Lancaster County Aged Rib Eye and other Lancaster County farm-fresh meats are known for their quality, freshness, and cuts.
Pan Roasted Wild Boar. Sourced locally from both NJ and PA, this new item on our menu has a burst of robust flavors that are unlike any of the other meats commonly found. Prepared with a gastrique that is infused with locally-sourced chili from NJ farms, this is a favorite of The National Hotel's patrons.
FreeBird Chicken is from a local, Pennsylvania Amish Dutch country farm that produces chickens free of antibiotics, free to roam, and free to eat a natural vegetarian diet. The FreeBird chicken is fruit-brined utilizing local fruits and herbs that are readily available in NJ. We also incorporate our own freshly-grown rosemary, sourced from local area farms, that we continue to grow in our own herb garden in our backyard.
Halloumi & Jalapeño Burger: Lancaster County Black Angus with Halloumi Cheese (a Greek-style cheese made from goat's milk) in this dish, acquired from local goat farmers who produce this incredibly delicious cheese that melts at a higher temperature than normal cheese and grilled so it produces a smokiness that is unique & adds a special flavor to the Black Angus cut of steak. The jalapeños are also sourced locally, as there are quite a few chili and spicy pepper farms in the NJ area now. And of course, NJ is nationally known for its delicious tomatoes!
The 'Raw' Wrap: Ground Walnuts, Fresh Vegetables in a Bib lettuce Wrap, Avocado, Red Onions, Cucumber, Tomato, Lemon Sumac Vinaigrette—we utilize a consistent supply of fresh locally grown vegetables in this vegan wrap, and always use locally-grown tomatoes and cucumbers, plentiful in our area from local farms.
Marinated Kale Salad with Halloumi Cheese: Kale marinated with Citrus, Garlic, Sliced Red Onions, Grilled Halloumi Greek Cheese & Pine Nuts. Locally sourced Kale adds an incredible taste with health benefits to this salad, complemented by the Halloumi Greek cheese (same as the Halloumi & Jalapeño burger.)
Besides an ongoing line up of special menu features and themed dining, regular events at the National include:
Bi-weekly Tuesday Trivia night , 8 - 9:30 p.m.
Wednesday Ladies' Night, 1/2 off drinks, 5 - 7 p.m.
Bi-weekly Wednesday Scrabble night, 7 - 9 p.m.
Thursday Open Mic Night, 9 p.m. - closing
Saturday Night Live Music series, 9 - 11 p.m.
Sunday Musical Afternoons, 5 - 7 p.m.
Nearby accommodations and attractions
114 Dreahook Road, Stanton 08885, 908/236-2327

Delightful fantasies beyond words! Gold, Platinum & Silver Jewelry, Wildlife Photos, Crystal, Lighthouses. Perfume Bottles, Santas, Witches Balls, Oil Lamps, Paperweights, Chimes, Art Glass, Wishing Stars. Now featuring Pandora Jewelry.

44 Main St., Clinton 08809, 908/735-4244

Artisanal cheeses, wood fired breads, 100% grass-fed beef, whey fed pork, and suckled veal, 100% grass-fed ice cream, pasta made with Emmer wheat and our own free-range eggs, and pesto made with our own basil! Bread and cheesemaking workshops are held on the working farm as well as weekend tours and occasional concerts.

369 Stamets Road, Milford 08848, 908/86GRASS

This wildlife art gallery contains the area?s largest selection of hand carved decoys, representing carvers across the US, as well as an extensive collection of original paintings by some of the nation's most renowned artists.

55 Bridge St., Frenchtown 08825, 908/996-6501
This story was first published: Summer, 2011