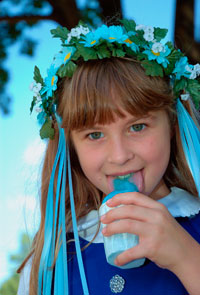 Five stages of continuous entertainment throughout the day feature music & dance ranging from traditional Nordic folk to classical to jazz to contemporary world music by a variety of accomplished and exceptional emerging talent. There's even a separate stage and a special activities area for kids, as well as a field arena and combat/contest area. All that, plus demonstrators, encampments, Norse combat, Viking ships, talks, demos, handcrafts, and much more.
Those interested in learning more about their Nordic heritage and anyone curious about things Scandinavian are invited to sample what's at ScanFest: good food, good works, good shows, good people, and good times.
The Fest is held on the Sunday of (US) Labor Day weekend, which will be Sunday, September 1 in 2019, from 10 AM to 6 PM. The current schedule, flyers with discount admission, list of vendors, entertainers, can be found on the website. Discounted, advanced-sale tickets are on sale at the tickets page. Every member of the family will love this remarkable event. All ages attend.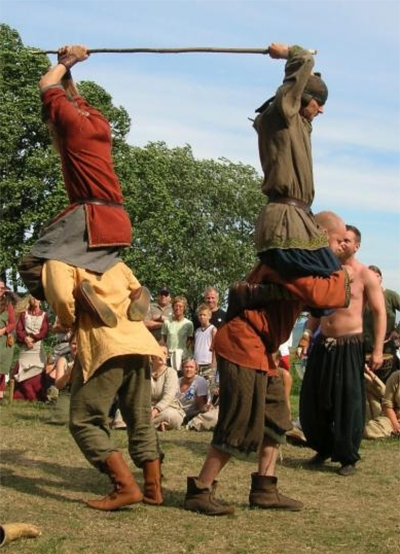 There's a discounted, advanced-sale price of $11. At the gate is $14, Seniors $13. There's also a flyer to download from the website with a $13 admission coupon to bring. You can get discount tickets here. Admission is FREE to those wearing authentic Nordic regional folkdress …. and FREE for children 12 and under.
ScanFest welcomes food and craft / gift vendors with a Nordic theme, entertainers, performers/presenters/reenactors with a Scandinavian theme and encourages other Nordic organizations to participate at the info tents. There's info and application forms on the website for that. If you or your organization would like to participate as a vendor, exhibitor, demonstrating artisan, entertainer, reenactor… check the website for info or email.
The event is held at the NJ Vasa Park, 1 Wolfe Road, Budd Lake, NJ, 07828. It's an easy day-trip from most Northeast locations. Simply take I-80 Westbound in NJ to X-26 onto US Route 46 WEST (twd. Hackettstown). Follow US46 West for 3 miles to the first traffic light after Budd Lake at Wolfe Road. Left onto Wolfe Road & 1/4 mile to Vasa Park on the right.
From NYC & No.Jersey: GWBridge or I-280 to I-80West. X-26off I-80W then as above.
From Long Island & Staten Island: NY/NJ 440 W from Verazzano & Outer- bridge Crossing & past the GS Pkwy & NJ Tpk. NJ 440 W becomes I-287 N. I-287 N about 20 mi to exit for US 206 North (just AFTER the exit for I-78). US 206 N 10 mi (thru Chester) to I-80 W. FIRST exit, #26, off I-80 W then as above.
From Philly & So. Jersey: PA Turnpike/NJ Turnpike (X-10) or GS Pkwy (X-127) to NJ440W/I-287N. NJ 440 W becomes I-287 N. Use I-287 North to US 206 North (just AFTER the exit for I-78). US 206 N 10 mi to I-80 W then as above.
From Eastern PA: US 202 or I-295/206 N to Somerville, NJ. Then US 206 N 10 mi to I-80 W then as above.
From the Poconos & Del.W.Gap: I-80 East to X-27(!). At exit, keep left & return BACK onto I-80 West. X-26 off I-80 W then as above.
From the Lehigh Valley: I-78/US22 East thru Phillipsburg to NJ57. NJ57 thru Washington to Hackettstown. In Hackettstown, US 46 East 3 mi to the light at Wolfe Rd. Right onto Wolfe Road.
ScanFest is produced by Scandinavian Fest, Inc., an independent, NJ non-profit educational corporation with 501(c)3 status. It's neither a fundraiser for nor an affiliate of any organization but exists solely to celebrate the traditions. Excepting hired set-up labor, ScanFest is organized and staffed entirely by volunteers. We welcome volunteers!
Nearby accommodations and attractions
, Denville

The Cultural Resource Program at Picatinny Arsenal has documented dozens of historic and Native American archaeological sites that tell a story that spans centuries in the New Jersey Highlands.

The Raptor Trust is one of the premier wild bird rehabilitation centers in the United States.

1452 White Bridge Road, Millington 07946, 908/647-2353

A visit promises ample scenic vistas, woodland or urban hikes with water views and flashes of Revolutionary and Civil War history.

, Rockaway Twp.

, Franklin Twp. ,
This story was first published: Summer, 2011