Apple Mountain is closed.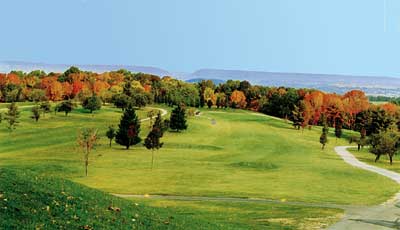 APPLE MOUNTAIN GOLF
Where does a hook or shank cause the least amount of pain? If your shot should go awry at Apple Mountain Golf Course, you've got some of the best views in the Skylands to keep you cool while you search for your ball. It is the beauty of the course and the challenge of holes such as the famous 650 yard, par 6 Seventeenth that has made so many fans for Apple Mountain.
Located between the Warren County towns of Belvidere and Oxford, the course offers exceptional views of the Delaware Water Gap, the Wind Gap in Pennsylvania and Jenny Jump Mountain Range. Until 1972, most of the land upon which the links now lie, was covered with apple and peach orchards. Conceived by Andrew Kiszonak, who still owns and operates the facility with his family, Apple Mountain was at first to include year round recreation, including golf, skiing, and other seasonal sports. The first nine holes of the golf course opened in 1973 and ski slopes were groomed for use that winter. Although the ski area eventually failed, golf thrived and another nine holes were designed, built and opened for business in 1977.
Kiszonak renovated the farm buildings for use as a restaurant and Pro Shop in 1985, preserving the structures and their rustic charm. Central to the allure of the course is the apple mountain itself. Geologically unique, it rises alone, unconnected to a larger range or other hills.
Over one million people have played Apple Mountain over its 25 year history; so many from out of the county that the course received Warren County's Tourism Award in 1996. Experts and beginners alike love this public course with country club amenities.
And the view.
Apple Mountain is closed.
This story was first published: Summer, 1998