Space Farms Zoo & Museum
Whatever dreams Ralph and Elizabeth Space harbored in 1927, when they bought a quarter acre plot in northern Sussex County, they could not have imagined that their tiny general store, gas station and repair shop would grow to the 100 acre recreational complex it is today. Space Farms might well be Northwest New Jersey's original Roadside Attraction and Menagerie, but only because Ralph wanted to supplement his family's income by trapping predators threatening farm animals for the state Game Department. Bobcats, foxes and raccoons were caged in the spring until their value as pelts would increase in the fall. But when the time came for their demise, many of the animals were saved by the pleas of the Space children. The animal collection soon grew to a size which began to attract attention.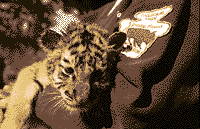 Young Bengal tiger cubs graduate from their nursery to the grassy outdoor enclosure in the zoo. When released to their outdoor home, the infant cubs will weigh about 75 lbs..
Today, people still enjoy doing basically the same thing as they did more than 80 years ago... visit the animal collection and maybe have some candy and a soda. Of course, there's a little more to it than that, well into the third generation of Spaces hosting visitors to Beemerville. The zoo now holds the largest private collection of North American wildlife in the world, including over 500 animals from than 100 species from around the world including tigers, lions, newborn jaguars and bison. The zoo's most prominent resident was Goliath, who at 2,000 lbs. was the largest bear in the world until he died in 1991. As the zoo has grown, so has the Space Museum which, since the Great Depression, when people traded items for food at the Space General Store, has become home to over 100,000 items collected throughout the USA. Now displayed in eleven buildings, the assortment of rare autos, carriages, wagons, farm tools, antique firearms and artifacts of nearly every description are a marvelous portrait of American rural heritage.
---
Space Farms Zoo and Museum, located on Route 519 in Beemerville, is open daily through mid October. 9 a.m. to 5 p.m.. Call 973-875-5800 or click to Website
Nearby accommodations and attractions
Located in Sussex County near the Kittatinny Mountains the camping resort offers park model, cabin and luxury tent rentals as well as trailer or tent campsites with water, electric and cable TV hookups on 200 scenic acres.

69 Kymer Rd., Branchville 07826, 800/526-2267

The Byram lake is a good kayaking destination.

Thousands of photos and artifacts document the lake's long and illustrious history. Open every Sunday through June, 12-4pm, October thru May. Free admission, parking.

323 Lakeside Blvd., Hopatcong State Park, Hopatcong 07843, 973/398-2616
This story was first published: Summer, 1996