The 200 acre property, part of Sparta, Byram and Hopatcong townships, includes a large perimeter around the 25 acre lake, assuring contamination-free water and allowing spacious picnic and recreation areas. Two brooks, one from the top of the mountain and one from Seneca Lake, provide constant flow through Tomahawk during the summer. In winter, the lake is drained, depleting most all vestige of the season's growth. The result is weed-free, crystal clear water for the ultimate summer refreshment.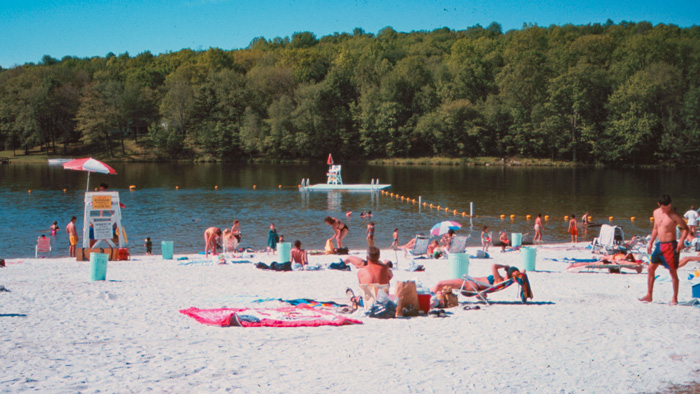 For the more traditional, Tomahawk Lake provides an immaculate sand bottom (no concrete, no chlorine) that slopes gently out to floating rafts. Outside the swimming areas, you can enjoy rowboats, paddle boats, and kiddie & adult bumper boats. Back ashore you can visit a large refreshment stand, outdoor beer garden (with live weekend entertainment), an ice cream trailer, a novelty trailer, an arcade, an 18 hole miniature golf course, a putting green and a brand new ball field.
Eight hundred picnic tables inhabit lawns and groves throughout the park, and four spotless bathroom facilities are a quick walk from anywhere.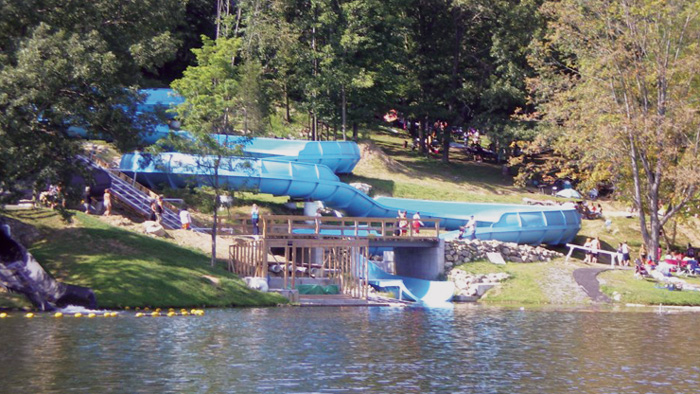 Tomahawk Lake provides an outstanding value for groups or large family reunions (50 people or more). Food prepared on site in the original 1857 farmhouse and served under large circus tents keeps guests happy eating all they want, all day long. Homemade donuts on arrival; homemade clam chowder at mid morning; hotdogs, burgers and salads for lunch; lemonade, birch beer, ice cream, cotton candy, and popcorn all afternoon; and freshly killed barbequed chicken with Jersey corn on the cob and ziti for supper.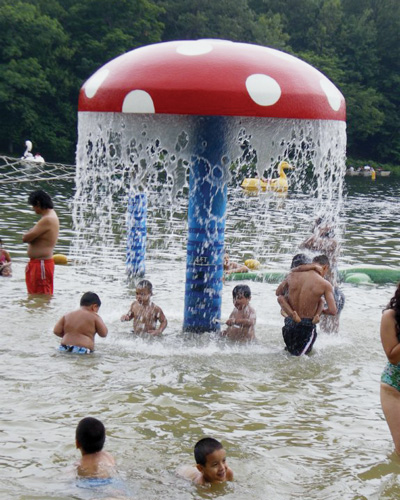 There is a large 200 ft. Kiddie Area with a variety of props for the under 4 set, including three kiddie slides, a Tarzan Swing, Lily Pads to walk on, a Tom Sawyer raft, and a splash fountain called Raindrop. Every move in this section- and all over the lake- is carefully surveyed by a team of 25 lifeguards.
Tomahawk Lake is a survivor; a classic summer place where you can bring your grill and do your own cooking. Or leave it all to a capable staff, knowing you have all the advantages of a family-run facility. The Wallaces are always there to make sure things are the way they're supposed to be.
For admission prices and information check the website or call the lake office at (973) 398-7777 or Group Sales at (973) 478-7490.
Tomahawk Lake is perfect for group functions!
The Tomahawk Lake is the host to many group functions, big & small from corporations to birthday parties, church groups & family reunions. We offer our Old Fashioned Country Picnic which we cater your picnic under large red and white circus tents with our "All You Can Eat Menu". If you prefer to do the work yourself we have many picnic areas available for groups.
Started in the '50s on a run down potato farm, a lake was constructed and developed into a private picnic and swimming club, Tomahawk Lake has since grown to be a popular recreational stop and water park specializing in family fun.
Nearby accommodations and attractions
There's always something fun happening at the Sussex County Fairgrounds. Visit our web site for a full year of family fun, right in your own backyard.

27 Plains Road, Augusta 07822, 973/948-5500

A mix of historic buildings of varying architectural styles, a walkable downtown, and plentiful eateries surrounded by rural tranquility make Newton a fusion of the then and the now, with great expectations for the to be.

, Sussex

, Sussex
This story was first published: Summer, 1998