Those that were disappointed with the trustees' decision should be happy to know that, after some delay, the former one-acre exhibit has been expanded to one thousand acres open for public exploration and enjoyment for the first time in one hundred years. The gardens have become Duke Farms Living Habitats, and their worldly cultural aesthetic has largely transformed into a focus on what belongs right here, right now.
Located on 2,740 acres in Hillsborough, in Somerset County, Duke Farms is one of the largest privately held parcels of undeveloped land in New Jersey, owned and supported by Duke Farms Foundation, an operating foundation of the Doris Duke Charitable Foundation. In the late 1800s, the tobacco and hydropower magnate, James Buchanan "Buck" Duke, purchased forty farmsteads to supplement the core of his estate along the Raritan River, and began to transform his landscape, adding scores of buildings, two conservatories, over two miles of stone walls, eighteen miles of roadway, and more than two million trees. Duke excavated nine lakes on the farm, partly to enhance his vision for a public park, but also as a system to power the estate. In 1899, Duke opened his park, and for sixteen years, visitors enjoyed picnics, ice skating, greenhouse displays, gathering wildflowers and long carriage drives winding through the property, which became increasingly endowed with formal, European-style effects and features; fountains, sculpture, and pergolas. Unrelenting vandalism eventually persuaded J.B. Duke to close his park to the public in 1915, and he returned his attention to large-scale farm operations. Aiding in the World War I effort, Duke's staff employed innovative equipment to cultivate hundreds of acres of wheat, rye, corn, hay, and miscellaneous crops.
When Buck Duke died in 1925, his daughter Doris was twelve years old. The Somerville estate remained her legal residence throughout her life, and she added another seven hundred acres in the late 1960s by purchasing land from surrounding farms that were threatened by development. A dyed-in-the-wool conservationist, Ms. Duke continued the legacy started by her father, most notably her world-famous Gardens of Nations. Upon her death in 1993, she directed in her will that Duke Farms be maintained as haven for wildlife and a place for horticultural and agricultural research. The gardens, however, were not mentioned. Although they were extremely nice to look at, and many people enjoyed them, they were extremely expensive to maintain. The gardens were not handicapped accessible and, because the greenhouses were not cooled, they closed to the public during the summer months. The Doris Duke Charitable Foundation turned to a broader horizon.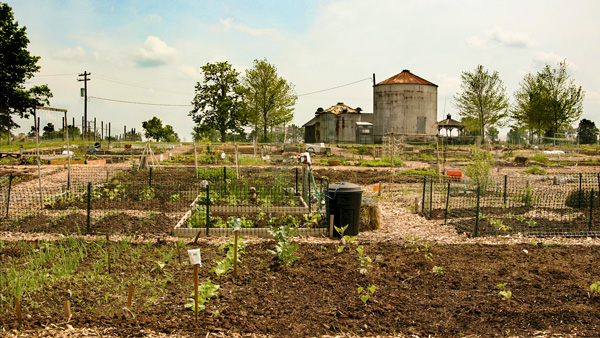 Visitors are no longer required to pass through guardhouse gates to the Duke Estate. Rather, they enter along Duke Parkway West off Route 206 and drive to the Farm Barn. Built in 1906, and former home to thoroughbred horses and dairy cattle, the Farm Barn now serves as the orientation center for visitors. Renovated to LEED platinum standards (Leadership in Energy and Environmental Design), geo-thermal wells heat and cool the building, a large 2.6-acre solar array supplies electric power, and rainwater flows off the roof for collection in underground cisterns. In the neighboring agricultural fields, there is a community garden with 420 plots available by lottery for local residents. The Northeast Organic Farm Association (NOFA) also offers an organic farm incubator for budding entrepreneurs from all over the country. Inside the Farm Barn, educational exhibits and interactive displays illustrate the concepts of sustainable design and regenerated natural landscapes on the property, and there is a short film about the history of the estate. Guests can also grab a bite to eat at the café, register for upcoming educational programs or events, and pick up a trail map (which they are reminded to return for reuse) before they walk, bike or hop aboard a tram to access the core area of the property where there are eighteen miles of trails. Twelve of those miles are accessible by bike, and four are paved for handicapped access or strollers.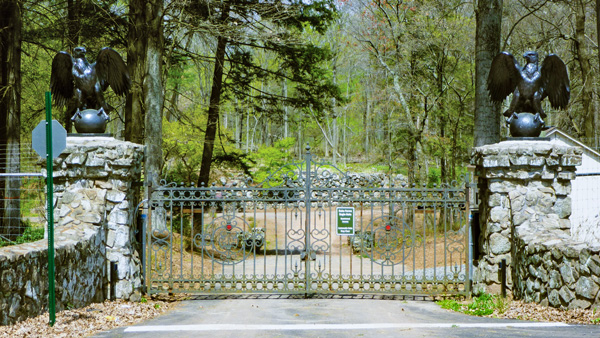 The tram, which runs about every thirty minutes enters the trail system through the Eagle Gate, so named for the magnificent bronze sculptures, cast in Paris around 1902, that perch on the stone posts of the entrance. They are a reminder that, not only is this a place of uncommon pedigree, but that birds are primary citizens at Duke Farms. There are 231 known bird species on the property, many attracted by the rare grasslands in the western section. Most popular are great blue herons, great horned owls, and, yes, bald eagles. Besides birds, Duke Farms is refuge for seventeen wildlife species considered threatened or endangered. The greenhouses that housed Duke Gardens were converted to a native nursery where more than 200,000 plants have so far been propagated from seeds collected on the property for native habitat regeneration. Invasive species that really have no benefit for wildlife, and crowd out the plants they need, have been removed from 830 acres, and 325 acres of meadows have been restored to date. The results of these efforts are on display along your excursion through the park, along with other fascinating items, all interpreted by twenty-six signs erected at important locations, and forty audio tours available for download to your phone via QR codes or from the Duke Farms website.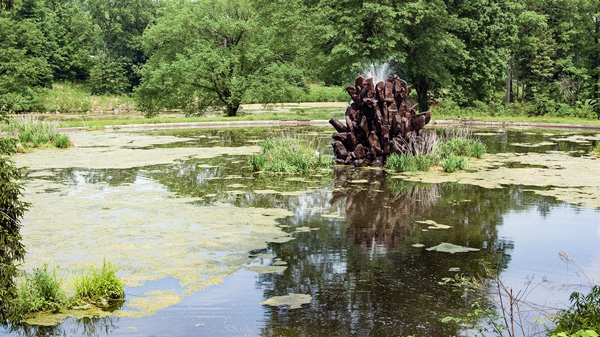 Turning left through the entrance, Vista Lake soon appears, the largest of the estate's artificial impoundments. Completed in 1908, it was originally referred to as Lake 45, because its surface lies forty-five feet above the surface of the Raritan River. Above Vista is Duke Reservoir, where, at eighty-one feet, water pumped from the Raritan River still cascades down to fill a total of nine lakes below it. Originally integral to the estate's hydropower plant, the system foreshadowed J.B. Duke's work in the North Carolina piedmont where he would eventually supply hydroelectric power to mills, factories, electric lines, cities and towns. The Mermaid Pool, which lies between the reservoir and Vista Lake, became a swimming pool for Doris Duke in the 1930s when she remodeled it with a cement lining. Environmental engineers have placed floating islets made of recyclable material and plants with roots that go down into the water to suck up some of the nutrients in order to control the algae that thrives here and in other lakes. The waterfall that spills from Mermaid Pool into Vista is now solar-powered, and the lakes remain home to a variety of fish, as well as some rather large century-old snapping turtles that nest in the nearby tree mulch.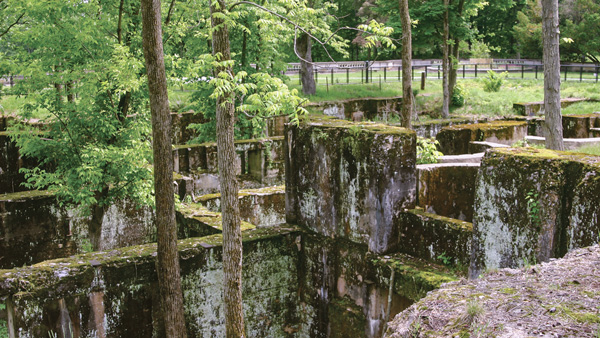 The tram's first stop is at the "old foundation", where Buck Duke began to erect and 80,000 square foot mansion in 1911. Why he decided to halt construction remains somewhat of a mystery, but stop he did; donating the steel built into the foundation to the World War I effort. A sign that shows what the completed house would have looked like overlooks a great lawn that was landscaped before the house's construction began. The terraced panorama leads down to the Great Meadow, which, after a controlled burn to get rid of invasive flora, has been reseeded with native grasses and wildflowers.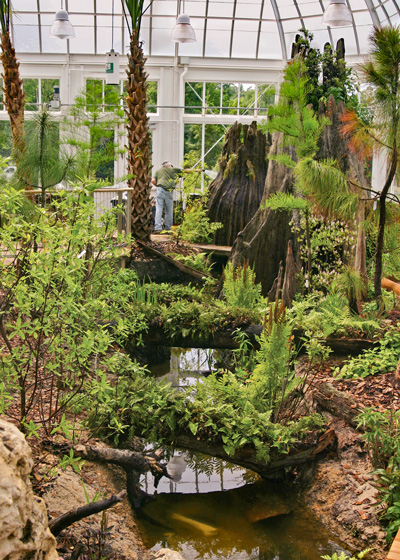 With paths trailing off into the perimeters of the park, the main loop continues past Otter Lake (guess who lives there) towards the tram's second drop-off point, the Orchid Range. This, the estate's first conservatory, built in 1903, is the birthplace for most varieties of orchids commercially available today. The greenhouse has been retrofitted to LEED Gold standards and showcases some of the hundreds of orchid species from tropical regions along with some that have been cultivated at Duke Farms. In another section of the greenhouse, reminiscent of the old Duke Gardens, an American Southeast Coastal Plain garden reveals a diversity array of plants native to this subtropical area, including an evolving population of orchids. Nearby, a trail leads to a garden where a native orchid, only recently discovered during a "bioblitz", weaves itself to maturity in the open air.
At the bottom of the Great Meadow, the third tram stop, the Hay Barn Meadow Path leads to another of the estate's architectural remnants. The hay barn, one of the buildings first constructed on the farm, burned in 1915. Doris Duke adapted the ruins as an outdoor sculpture gallery, relocating marble statues from other parts of the old estate, still visible today arranged along the high stone walls, covered with trumpet vines alive with summer hummingbirds.
Another early building, the Coach Barn, a carriage house and field office for J. B. Duke, later for Foundation staff (who will move to the Farm Barn), continues service as quarters for large group seminars and meetings. The Old Dutch farmhouse, the country manor where the Duke family resided, is in mothballs, with no foreseeable role in the Foundation's mission for land stewardship and sustainability.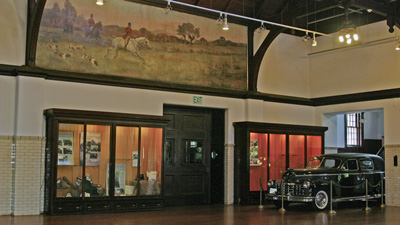 It is difficult to see it all in one day, but a few scattered afternoons would be well spent at Duke Farms. Even if you're breezing through on a bike, some areas are accessible only on foot. Whether you enjoy wildlife watching, wildflower photography, ancient champion trees, geocaching, tracking the marks of man, or a sublime picnic, remember that Duke Farms is a park with a mission. Although the $45 million model of sustainability here has been achieved in isolation of any thing close to normal economic pressures, pay some attention to the message. The knowledge, the science, and the techniques for a more sensible human environment are here, painted in bold strokes, courtesy Buck and Doris Duke.
Admission to Duke Farms is free, although some programs carry a fee. The park open six days a week, closed on Wednesdays. Be prepared to carry out what you take in; there are no refuse barrels. And you'll have to leave your dog home.
1112 Duke Parkway West, Hillsborough, N.J. 08844
(908) 722-3700
To learn more, visit Duke Farms Website
Upcoming Events
Nearby accommodations and attractions
Farmstead Arts, in Basking Ridge, is a vibrant arts center and serves as a model for adaptive reuse of an historic treasure.

, ,

Artisanal cheeses, wood fired breads, 100% grass-fed beef, whey fed pork, and suckled veal, 100% grass-fed ice cream, pasta made with Emmer wheat and our own free-range eggs, and pesto made with our own basil! Bread and cheesemaking workshops are held on the working farm as well as weekend tours and occasional concerts.

369 Stamets Road, Milford 08848, 908/86GRASS

The Jacobus Vanderveer house is the only surviving building associated with the Pluckemin encampment.

1 River Rd W, Bedminster 07921, 908/212-7000 x611
This story was first published: Summer, 2012