On this day, a group of sixth-graders learns about basic skills to survive a night in the forest. With hands-on workshops followed by "musical chair" style study stations for fire and shelter building, map reading and navigation, the kids gain curiosity, the excitement of a unique experience in this digital age, and perhaps a fire in the belly to connect more with Nature. The Highlands Nature Friends have conducted twenty such school field trips this spring with kids from all over the state. Proven favorites include Aquatic Systems, Expedition Weis and Funky Forest.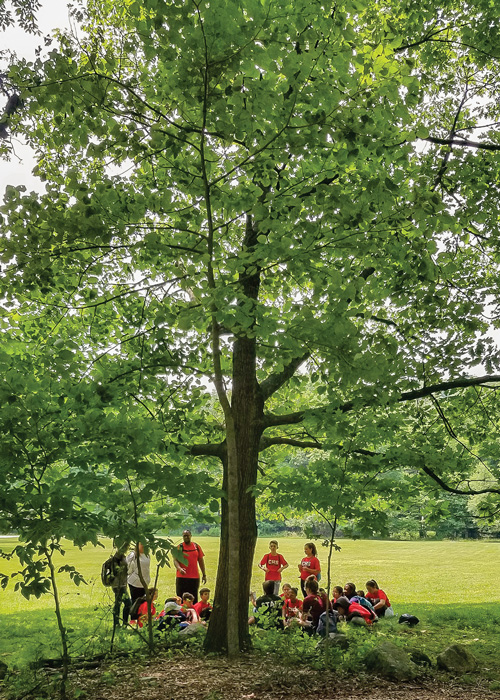 Just minutes away from the activity, I enter a small patch of woods with native hickory, birch, sassafras, maple, white pine and white oak with other trees that more recently call New Jersey "home" such as Norway spruce. The ninety-year-old Norways were planted by The Nature Friends and surround the brick building built in 1831. They will be wood-chipped and reincarnated to soften pathways, support a sundial, benches and other accouterments.
Pinecones litter a soft path of pine needles, and under some trees, myrtle, and a likely remnant of 1920s cabin life at Camp Midvale. The scents of Nature, the arboreal beauty and quietness awaken the senses and calm the spirit as voices fade. Lo! The brilliant red crown of a huge Bloodgood Japanese maple reaches out into a clearing in the woods while cabins peek from the understory. Approximately twenty-five cabins are scattered throughout the property with many being renovated (some are Eagle Scout projects) for retreats, workshops, programs, aquaponic farming and other outdoor and nature-related activities.
Soon, a gently moving stream spills from a waterfall splashing over big rocks quells all sounds – even a jet. The voices of tweenhood have disappeared; now only a few birds, the stream, the falls and the distant rumble makes one grateful for this 152 acres of Nature.
In fact, the The New Weiss Center for Education, Arts and Recreation came to be because two people, Jon Berry and Karin Adamietz Ahmed, armed with vivid childhood memories of camping and hiking here, co-founded The Highlands Nature Friends, the nonprofit that has owned The New Weis Center since November 2015. The land's recorded history began as a farm that was sold to The Nature Friends, a group from New York City that dubbed it "Camp Midvale," a get-away from city life. Ownership passed through several hands including New Jersey Audubon until they closed it in 2012. Berry, Board President, and Ahmed, Vice-President, and other Friends jumped into action and purchased the land and buildings when they learned that the NJ Department of Environmental Protection would buy it and destroy the buildings. They and a serious group of volunteers saved this special piece of the Highlands.
Says Berry: "Part of our mission is to stall time and to keep the past alive in today's techno world, to give children an option to technology, and to draw modern day kids and their parents back to nature." What could be more welcome?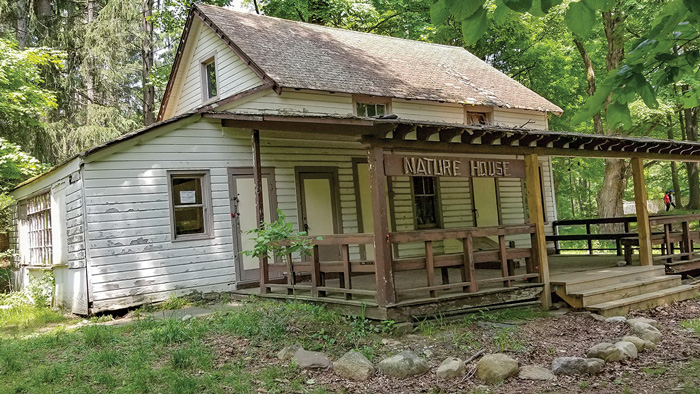 Programs, workshops and field trips abound with ways to learn and be inspired by nature. "They are oriented toward environmental education to reinforce the importance of respecting and understanding nature and helping the younger generation who don't get exposed to the wonder and vast variety of nature that surrounds us and supports us that make our lives possible. Kids need something to do, he says recalling his parents' small bungalow in the '50s, and Ahmed grew up here in Ringwood. "It was a wonderful innocent time for a kid and get exposed to and gain respect for Nature. This inspired us when the plan was to destroy the buildings. We thought that was a shame." Recognizing the great potential, they brought their memories back to life with the land's acquisition for new generations.
Staff and Trustees have a deep dedication to Nature and a desire to involve the community. All activities reflect an appreciation of the outdoors. Director and Trustee Anne Siebecker, whose gift for detail of daily duties is extraordinary, manages all programs, summer camps, interns and partnerships. Programs include visual stream assessment to look for macro invertebrates, importance of rain gardens, vernal pool life, forest decomposers and woodland walks and talks. Keen on an expanded mission to bring families here, The Friends developed art and recreation events such as theater and goat yoga. Developing partnerships such as with Iron Mountain Stage Co., Totes Goats and Earth Living Skills and a host of community collaborations with organizations such as New Jersey Search and Rescue, round out their mission with a curriculum of fascinating opportunities for everyone. Says Berry: "We see ourselves as a service to the border community."
College students can participate in well-rounded, part-time Internship programs – earning credit for learning at the Center. Two students a year may receive tuition and a stipend to work there.
Leaving a "step into Nature" snaking along the gorgeous and serene Wanaque Reservoir after just a short walk in the woods makes one a better person.
The New Weis Center for Education, Arts & Recreation is located at 150 Snake Den Rd, Ringwood, NJ 07456. For more information, click or call 973/835-2160.
Upcoming Events
Nearby accommodations and attractions
Thousands of photos and artifacts document the lake's long and illustrious history. Open every Sunday through June, 12-4pm, October thru May. Free admission, parking.

323 Lakeside Blvd., Hopatcong State Park, Hopatcong 07843, 973/398-2616

, Sussex

This early 19th-century restored village, once bustling port along the Morris Canal, contains a working mill complex with gristmills and sawmills, a general store, blacksmith shop and several historic houses, and a re-created seventeenth century Lenape Indian settlement. On Saturdays, June through September, the canal store, gristmill, visitor's center, Canal Museum, and Highlands Boat Exhibit are open, 10am - 4pm. Summer at Waterloo is a partnership between the Canal Society of New Jersey and the NJ Park Service.

525 Waterloo Rd, Stanhope 07874, 973/347-1835
This story was first published: Summer, 2019