In Sussex County, the local DAR chapter is called Chinkchewunska, the Native American word meaning "hilltop town" referring to the settlement that became Newton, and where the chapter organized in 1903. For the past forty-three years, Chinkchewunska's members have been concerned with the renovation of a house built around 1787 as well as its preservation as a museum that tells the story of post-Revolutionary settlement and accurately depicts domestic lifestyles of that era. The home was erected for Rev. Elias Van Bunschooten, a Dutch Reformed minister—also a farmer and mill operator—who settled there on one thousand acres along present-day Route 23 in Wantage, just as the road begins its steep ascent towards High Point.
Allyn Perry, who became a DAR member after retiring from a thirty-five year career teaching fifth graders in Lafayette, has spent many days since at the Van Bunschooten Museum, welcoming visitors and enriching their experience. "We have the petition for the farmers in the valley; they wanted their own minister. Rev. Van Bunschooten, who had spent time preaching at churches along the Delaware, visited them once in a while. They wanted him full-time." Allyn continues to explain that, although the Reverend never married, his nephew, Elias Cooper and wife Sarah come to live in the house, having ten children there. After Van Bunschooten died in 1815, the Cooper family remained until the early 1900s. "After a succession of tenant farmers, the Ramsey family lived here until they deeded the house and six acres to the Chinkchewunska Chapter." Allyn adds, "When the Cooper family heard that we were going to make it into a museum, they began sending all this furniture back. These are all original pieces that were here. This is a table that one of the farm ladies used to have her chicken dinners on!"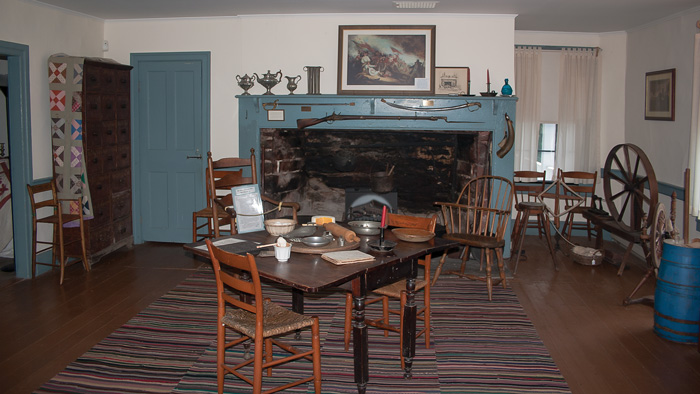 Allowing for the installation of electric, plumbing and heating, the Van Bunschooten house remains remarkably true to its origins, with only one addition built on in the mid 1800s. The room appointments, floors, doors and framing are original, and the rooms are decorated in the style of either the primitive Colonial period and the later eighteenth century when the Cooper family attained relative affluence. A parade of period antiques, most original to the house, embellish each room, and rotating exhibits of collections—including quilts, china, specialty chairs, vintage clothing, glass goblets, irons, coverlets, toys, portraits—complete the museum's historic expression. The home, which was listed on both the New Jersey and National Registries of Historic Places, also houses a 950-volume research library available to the public by appointment.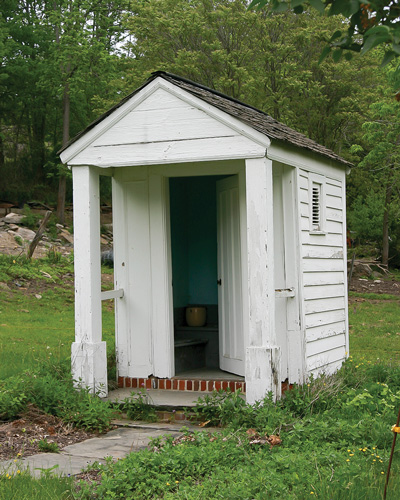 Outside, three other buildings—a large barn, a wagon house and an ice house—attest to the agricultural heritage of the property which has been actively farmed and maintained by Gene and Stephanie Bootsma, who moved in as caretakers in 1971.
The museum is open for tours on the second and fourth Sunday of the month from 1-4pm from May to October, or by appointment. 1097 Route 23, Wantage. Click or call 973/875-7634
Nearby accommodations and attractions
This early 19th-century restored village, once bustling port along the Morris Canal, contains a working mill complex with gristmills and sawmills, a general store, blacksmith shop and several historic houses, and a re-created seventeenth century Lenape Indian settlement. On Saturdays, June through September, the canal store, gristmill, visitor's center, Canal Museum, and Highlands Boat Exhibit are open, 10am - 4pm. Summer at Waterloo is a partnership between the Canal Society of New Jersey and the NJ Park Service.

525 Waterloo Rd, Stanhope 07874, 973/347-1835

Located in Sussex County near the Kittatinny Mountains the camping resort offers park model, cabin and luxury tent rentals as well as trailer or tent campsites with water, electric and cable TV hookups on 200 scenic acres.

69 Kymer Rd., Branchville 07826, 800/526-2267
This story was first published: Summer, 2017