Years ago, the couple met over another car: a 1966 Pontiac Tempest Custom, Theresa's first drag race car which she had taken to Rod's shop at Great Meadows Island Drag Way for a new floor and flames. Today she has sixteen cars; Rod has eighteen, and together they rent an airplane hangar to keep them in. Why? "Because I love them," she says. "I like to look at them and drive them. I like how they used to take pride in building these. They were real cars. There was mahogany, real chrome and leather. It was America then."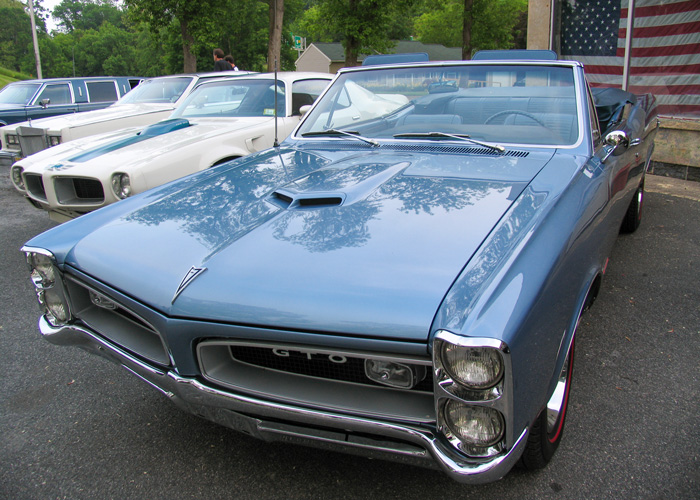 The fever of buying, restoring, modifying, collecting and driving "hot rods" and "classic cars" is spreading. More than ever, people appreciate the way cars used to be built for performance, appearance and luxury, and they're investing in them for fun and profit. Traditional hot rodding took off in the '50s when car enthusiasts put newer engines and drive trains into '30s and '40s cars. Back then, they grabbed parts from junkyards and neighborhood garages, often mismatching them to keep a hot rod going. Today, aftermarket parts are made specifically for the hot rod market, though some people still enjoy prowling the junkyards.
---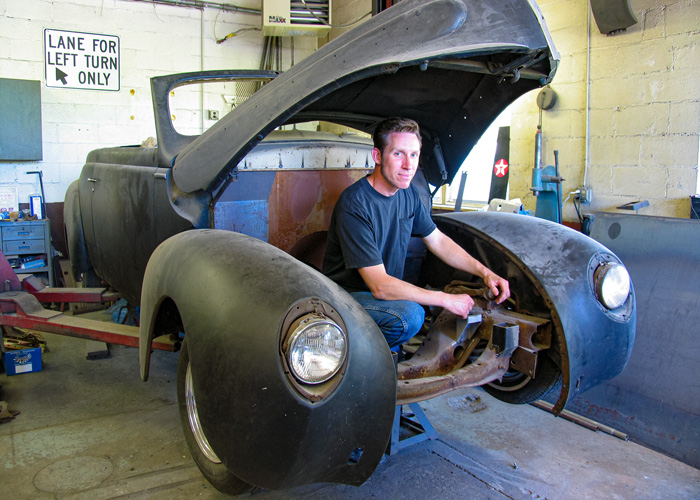 Enter car enthusiast/ artist Shawn Jennings of Jennings Restoration & Creative Customs in Sussex, who opts for the thrill of the hunt. He is hot-rodding a 1940 Mercury by upgrading the engine to a 1950 Flathead V8, period correct but with more power, as they did in the day. With metal fabrication a specialty, he welded in new floor panels and "boxed the frame" -- added a fourth side to the three-sided frame -- to keep its structural integrity and original appearance, but make it stronger than factory. "We're improving on an already good design," he says. Jennings will reinforce the frame even more by fabricating additional components, including custom motor mounts and radiator and transmission mounts. The chassis will be disassembled, sand-blasted, powder-coated and reassembled. He'll rebuild the suspension, brakes and fuel system. The windshield will lose three inches, and the Merc's body will be repaired and media-blasted with glass beads and baking soda to remove rust, then primed and finished with flat Hot Rod Black, as they did long ago, when style was performance, not flash. It will be a completely restored rolling chassis, then he'll put in the engine and transmission and lower the body onto the frame. Finally, he'll drop in reupholstered 1939 Ford front seats and a custom back seat.
Like Jennings and most other car nuts, Rich Mushenski, of Netcong, got hooked on cars as a teen. Mushenski's pride and joy was a white 1952 Ford Mainline convertible that he drag raced on Route 206 in Flanders, the area's popular highway track. The trestle was the start of the quarter-mile heading south. Radar didn't exist back then and drivers scattered if police showed up. Anyone caught got a slap on the wrist. The Ford was also his regular car, because there was no such thing as having car collections to bring to shows. People drove their cars. Nowadays, specialty cars are put in the garage and driven less than 2,000 miles a year.
Now Mushenski, founder and president of the Freewheelers Car Club, has a 1930 Model A and a '57 Olds Super 88 two-door hardtop -- a "mild custom" done the way it would have been done back in 1957 with limited funds. "Back then a '57 Oldsmobile was very fast Ð hard to beat," he says. "It was one of the fastest cars made in that era. That's why it became a pretty good car among kids. But they didn't want the big 98 four-door car because that would have been 'your father's car.' It wouldn't be too cool."
So, what about having your regular car being a sexy '76 Challenger or classic Cadillac from the time when Cadillac was King? Why not! After all, parts are readily available, especially for popular cars like a '57 Chevy or a '55 Ford, 1950s trademarks. Companies have jumped on the aftermarket bandwagon so enthusiasts can build an entire car from the frame and body up. Plus, they're easier and cost less to repair than a modern car that's out of warranty, for instance spending $3-4,000 to replace air bags. Plus, many parts for new cars are unavailable for purchase. Other enticements: cars with historic plates are not inspected, and some insurance companies allow driving 5,000 miles a year.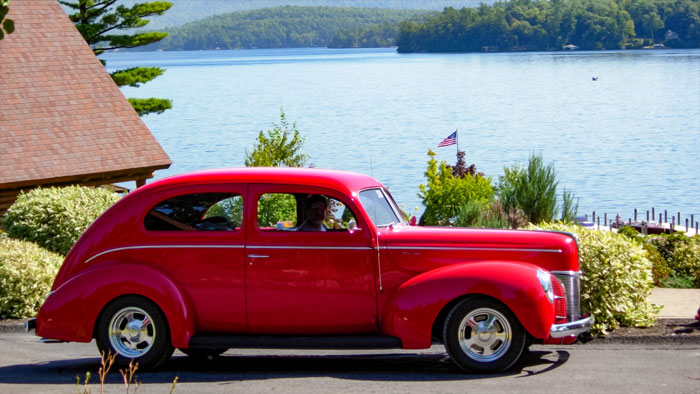 Jennings is dedicated to the perfection of a classic and the art of hot rodding. Metalwork, complete rotisserie restoration (like a leg of lamb on a spit) and custom paint work is at the core of his business. He does things old style. He hammers out dents and files flat, negating the need for body filler. He focuses on cars from the 1940s through early '70s because he likes them best. He admits he's not the shop for everyone and says if a car is worth $25,000, expect to spend $35K.
And spend they do. A kit car can cost $400,000 to build. Owners want big horsepower and can spend $12,000 on a motor so powerful it burns airplane fuel. Try 1,000 horsepower using 115-20 octane gasoline just to look good!
Trends change geographically, and in the tri-state area, people are looking for traditional hot rod stuff, says Jennings. They want the look and the power. People are going back to the Ô50s style, to "old school hot rodding." Rat rods are big, too. Some people even pay for paint removal as if it wore off naturally. "Resto-Mod," another hot trend, means the car is restored but modified and upgraded to today's standards with air, power windows and a "crate motor," ordered new at a dealership. It has the feel and drive of a new car, but the look of a classic. And there will always be classic purists that want all the numbers matching like the car came from the factory with certain engine size, options, paint colors. "It's more like a museum piece but some guys drive them" says Jennings who drives all of his cars including an all-original 4-speed 1974 Dodge Challenger (his first muscle car) to restore to factory specs; 1927 Chrysler hot rodded with a '50s style build, '56 hemi and no new paint; Ô60s Dodge Coronet built gasser style for yesteryear's drag racing (he'll drive it to Great Meadows' "Run What You Brung" night); '68 Corvette work-in-progress; his daily summer drive '71 Barracuda; and a '64 1/2 Mustang cut in half.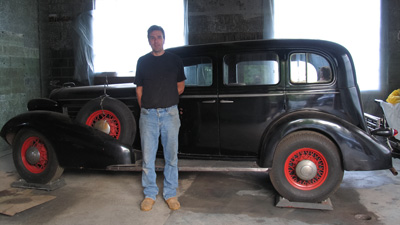 Rod Thoene sees an increase of muscle cars and station wagons from the '60s and '70s that bring back good memories to baby boomers who wanted them when they were younger and who now have the money. Want to find a car to suit your own personality? Capriccio Classic Enterprises, LLC in East Stroudsburg, PA, owned by the Thoenes, is a full service vintage car concierge that includes car and parts finder, appraisals, pre-purchase inspections and rotisserie restoration. They also plan to open an American antique car museum in their Columbia, NJ, building to be renovated in 1935 vintage Texaco style. Additionally, Theresa is vice president in Mechanics Education Association, an auto technician training school in Edison. They offer these tips when buying: Look in the trunk for rot, rust, and visible seams inside the quarter panels. Feel the bottoms of doors and look under the car for rot and rust. Check for door gaps.
In recent times, hot rod and classic car collecting has gone global. Most antique cars sold today are going overseas, says Mushenski, who has sold a few abroad, as have the Thoenes. "Scandinavians love everything with fins," says Theresa, who admits she'd rather keep the great automobiles in the U.S. "Americans better wake up. This sport/hobby is more popular than ever now. Due to government regulation and corporate greed, people can't build these cars anymore."
In fact, in an effort to get old cars off the road and boost new car sales, the federal government will spend a projected $4 billion on "Cash for Clunkers," a bill that offers up to a $4,500 voucher for an old car if the owner buys a new car with higher gas mileage. The clunker's engine, trans and drive train must be destroyed, thereby reducing resources for hobbyists. Mushenski belongs to Specialty Equipment Market Association (SEMA) that lobbies against it.
Tuner cars, mostly small European cars being hot rodded are trendy among the young. But will the real classics of the future please stand up? "These cars of today?" asks Mushenski, "I really don't see them becoming classics."
Car Talk
Hot rod: customized for performance and appearance to suit the personality of the owner
Classic car:more stock as it came from the factory
Street rod: a hot rod pre-1948, an all steel car made with parts not newer than the car
Rat rod: unpainted, pieced together like back in the day.
Tuner car: mostly small foreign cars with modifications.
Resto mod: The outside looks stock but mechanicals are modernized.
---
This story was first published: Summer, 2009