Painters and Visual Artists in the Skylands
Galleries of the Skylands are alive with the works of local artists. From Hunterdon to Sussex, and along the edge of Northwest Jersey, abstract figures made of metal, wood and artifacts, new-fossiled pottery, fun sexy jewelry, and paintings of our wildlife abound. If you're looking for a perfect gift, an accent for your home or yourself, or just want to get motivated, come to see our artists' work in the galleries of the Skylands.
---
Devin Kirschner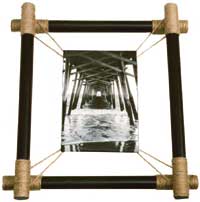 Devin Kirschner of Highland Lakes is a mixed-media photographer. He prints his photos on canvas for more texture and depth, and displays them in an unusual way--mounted on pieces of wood, rope, iron and branches, even a ladder.
As a business man/arborist for twenty years, Devin's learned to be creative in his presentation, to set himself apart from the competition. "I've developed a different perspective. You need to have people stop and pay attention to what you're doing. I thought I could do something a little different--take it to another level to create a comprehensive work of art."
A golden photo of a barn in a hay field at sunset is mounted on weathered wood to tie in with the feel of the barn. A shot through a window is framed twice in a shadow box to give the feel of looking through that window. A photo of tree trunks is mounted on black wood slats that mimic the tree trunks, and railroad tracks ride on horizontal pieces of wood.
Devin does series of paintings like the rising moon and his latest, a glamour series of a woman climbing a ladder. He does a lot of color, and his "black and white" pieces, shot on color film, are de-saturated to remove colors leaving a grey scale feel. "I take whatever's beautiful. I won't pigeonhole myself; I think you can find beauty in all sorts of areas."
On weekends, Devin is an independent contractor photographer at Hidden Valley where he photographs skiers and sells them portraits. But all other days he's working on his fine art photography. He plans to combine fine art, portraits, small occasions like weddings, and a program with hair salons where one can get a make-over and be photographed--Queen for a Day. Fun, exciting and lucrative. Devin is new on the scene--just one year--and having fun. His work is on display at Flying Pig Gallery, Sussex (973-875-8487) and Gallery Works, Branchville (973-948-7623)
Mary Jasch
---
Myron Leski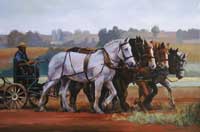 Myron Leski, sign painter, painted billboards for Gannett Outdoor for 16 years till they went high tech and used digitalized vinyl wallpaper. One of his pieces that everyone knows is the Pan Am billboard to the left of the Holland Tunnel. Ten years ago he took up a smaller brush with oils to canvas.
Myron is a big man and his work reflects his presence. Strong color and line fills his work, even when the picture fades into the imagination. He looks for the unusual angle in his paintings of animals and barns, city buildings and street scenes--like the hot-colored cows and a young man at a locked gate. If you look at the eyes in his fat little pugs, you'd swear they were laughing at you. His love for animals shines. "Ever see a painting of a goldfish?"
There's the Amish Teamster--a bold painting of big horses and power--all in your face like they were painted through a telephoto lens. He does chunks of buildings like the Roy Company and its old farm tractors in the weeds. Some work is realistic, such as the teapot on the old stove surrounded by fresh-baked pies and bread--he says it's a matter of light and shadow and color.
In other paintings he surprises by using soft colors as in the scene of a horse team pulling a plow. The fields are washes of color--impressions. "I'm loose and lazy in some areas because that's all that's necessary. I'm a making a point with a minimum of detail. Let the viewer fill in the blanks. I learned that from Edward Hopper." His Lake Mohawk Boardwalk in twilight gold and brilliant blues floats into space. He likes brushwork. "Strong brushwork has great appeal for me."
He paints sports--Pop Warner football, baseball and one he did on paper because he ran out of canvas and the painting was waiting to be done. Many demand to be done like the yellow barns that once stood on Rt. 181 in Sparta and the cows that lived there. The yellow barns now hang in the Sparta Library. "They were like temples to me. The proportions were ideal--amazing."
Myron and a partner just completed a mural on the old S. Klein building in Newark. While painting the plywood-covered windows he photographed passers-by and thought "There's paintings everywhere! I just got to do these paintings." Ten of the resulting paintings are on exhibit at the New Newark Foundation Show (973-643-1611 x106).
Myron's work is on exhibit at Lake Mohawk Gallery Sparta (973-729-0609) and at Jenny Pines Studio (973-729-9841).
---
MaryAnn Miller
MaryAnn Miller's passion is shaped like a box with a book inside. It is art within art, handmade with love, in the detail of memory, color and a message. She works in the medium of "book artsî.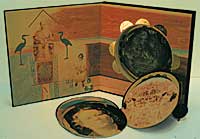 You pick up a box that opens like a book. Opening her piece "Haruspexî is like opening a box of sunshine. The cover is dark with a central golden sphere. It opens onto a brightly colored inside board with scanned photos and transfers of the Goddess of Dawn and Child Birth and visions of the pastóher grandmother, stamps from Italy, and the family chromosomes. It is Miller's history going back through the generations to the beginning of time and space. She questions "Where is my family in that?î A circle book set inside a recess of an image of her Grandmother's tambourineóan inherited link to the pastóis of universal theme. It's a look back at the women in the family and seeing herself in them, and concluding that the past is unknowable just as the future is. The book provokes the reader to think of her own family.
Miller's glassed-in studio that she shares with her musician son is surrounded by her garden. She's also been painting for years, mostly abstract interpretations in soft colors. Her series of ten paintings of poured watercolors interpret the blues. She also paints scenes in Italy.In the books that Miller makes, she's found a place to put old drawings. "It's integrative. It makes me feel like I've come together. Painting can't get everything I want to say, there's that text aspect."
---
Joan Marie Ross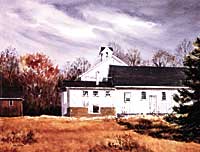 The windows of Joan Marie Ross's studio look out upon one of her favorite places to be and paintóthe largest of the Highland Lakes, near Vernon. She loves the lake's different moodsóthe sky and its reflections, the seasons, its islands. Her watercolor paintings portray her mood as well as the lake's, and seem to have the uncanny ability to cause a physical reaction in the observer. A piece with smoky blues and greys shows a deep, dark mood. The clear blue hues of another stirs feelings of warmth with its purple intrusions and rich verdant limbs reaching out under warm blue skies. "It's an intimate and odd lake."
Her blues can either warm or chill. There's a painting of European mountains that causes one to shiver and then there's a snow scene with blue skies and blue-tinted snow that's warm and cozy. Ross has discovered the link between sensation and color. Her recent challenge is using color that comes alive like in the painting of a mountain meadow in Vernon once captured by Hudson River painter, Jasper Cropsey. Her interpretation shows brilliant yellow grasses and blue trees. "Color is very important to me. I wanted something to express color and simplify the view.î Historic farms and the local areas of Vernon and Warwick color Ross's canvases. Her painting of a hillside with warm green grass and blue swirly skies makes you want to roll right down that hill.
Since Ross began painting at 30 years old, over 400 of her paintings have been collected. She is also an official Coast Guard artist. She's in The Who's Who of American Artists, Who's Who in America, Who's Who in New Jersey, Who's Who in the East, Outstanding Elementary Teachers and The Directory of Distinguished Americans.
Her paintings have won numerous awards Her work can be seen at Port of Call Gallery in Warwick 845-986-9500, the Cardinal Art Gallery in Vernon 973-764-5050, The Artery gallery in Milford, 570-409-1234, and the Salmagundi Club Galleries in Manhattan.
This story was first published: Winter, 2001