Painters and Visual Artists in the Skylands
Galleries of the Skylands are alive with the works of local artists. From Hunterdon to Sussex, and along the edge of Northwest Jersey, abstract figures made of metal, wood and artifacts, new-fossiled pottery, fun sexy jewelry, and paintings of our wildlife abound. If you're looking for a perfect gift, an accent for your home or yourself, or just want to get motivated, come to see our artists' work in the galleries of the Skylands.
---
Beth Parcell Evans
Beth Parcel Evans, oil painter, is awed by the beauty around her and she wants to show it to everyone.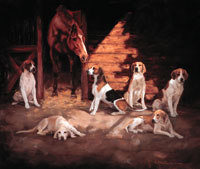 Hunt Staff, owned by Philip Jacoby, MFH
With the wonderment of a child in a toy store, she works on a few paintings at a time because she is fascinated by all her worlds. "It's torture for me to stay on one painting. Whatever I'm doing at the time is what I want to paint." When she goes to a fox hunt, she wants to paint that and the same for a horse race, and the same when she sees a dog or cat in the barn or a loon on a lake in Maine.
Beth goes right to the action to get the scenes she wants to paint. Once she borrowed a fox hunter and rode in the hunt, just to get the feel of it and learn the route. Then twice a week she follows on foot, weaving and chasing through the woods to capture the hunt on her camera.
"Fox hunting hasn't changed in a hundred years. I pretend I'm in England and in a different time. It's breathtakingly beautiful and it needs to be painted. I need to tell everybody how beautiful this is."
Her paintings have highly detailed animals against soft backgrounds with pretty light. "I want to convey emotion in my paintings."
Beth drew horses at 4 and painted in oils at 10 with her grandfather. She painted houses for a living, then decided to paint horses. Her motto: "Don't die with your music in you." Her work has been shown at Monmouth and Belmont Race Tracks, The American Academy of Equine Art in Kentucky, and the Devon Gold Cup in PA.
You can see Beth's work on her website.
---
Carl Burger
W. Carl Burger's collages are dramas of color and lives, captured in graphite, bronze and colored pencil. His work appears almost pristine as if seen through a crystal on a blue-sky day, with faceted, deep reflections. It is precision pushing the limit of imagination, yet he is always in control. The tribute,In Memoriam to Peter Jones, is of fire and passion for life and of an ethereal place of love and death.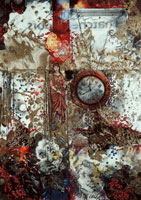 Clockwork 1, 1999, mixed-media collage.
The work is the man. He is a fastidious and obsessive perfectionist, by his own words, who believes creativity demands a clean studio. "Artists do not necessarily have to be slobs. People equate creativity with sloppiness. Most artists have very bad taste. They have lousy furniture, don't buy good art and have boring children. So I decided I am not a member of the herd." So, he works in a studio of a friend who is more relaxed­ a non-artist ­ where he tosses stuff as he likes. "They equate freedom with license. I get very upset."
Since he was 15, Carl has done more than 700 oil paintings, watercolors (some of the NJ countryside), collages and drawings. A Professor of Fine Arts for 40 years at Kean University, he is now Professor Emeritus. He studied interior design, history, anthropology and semantics in order to be well-rounded for his students. His level of perfectionism extends from teaching and his own art to personal philosophy. "Art is the very essence of the nature of our being."
Spunk, humor and eloquence are the man and his work. His career speaks of seriousness. He has exhibited throughout the US, including Lincoln Center and the National Academy of Design in New York, the Philadelphia Museum of Art, the Smithsonian Institution, the Newark Museum and Morris Museum, to which he gifted 62 paintings.
His work can be seen at Coryell Gallery in Lambertville and the Riverbank Arts Gallery in Stockton,
609-397-9330.
---
Jason Rosenfeld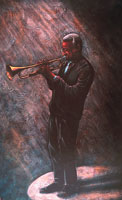 Jason Rosenfeld loves jazz. He learned about it by putting brush to canvas while listening to Miles Davis over a year ago. "It's a discovery thing to feel out the music and the whole mood of the music."
Before jazz, he painted with reference to photographs, like with Curler Girl, an oil of a saucy young blond in hair curlers. "I really enjoy the figure and human expression."
Before jazz, nothing grabbed his attention at length until he began his 15-piece series of life-size sculptures and oils of jazz musicians. Now, Jason is consumed.
He says that composition is important to portray the singular figures in his big oils to get that smoky jazz club feel. "I really love music and I'm trying to get the feeling of music in my art without people actually hearing it." He does it with lighting too, by working in layers of acrylic and oil to build up the surface, then taking it away to create subtle shifts in color.
His four piece abstract photographic series shows pieces of a 1940 Gibson hollow body guitar. "I try to use my talent to satisfy that part of me without being able to sing or play."
Jason grew up in Branchville, studied photography, then fell in love with painting. "As a painter I can perfectly reflect what I see in my mind. I don't have to find it."
He opened his studio in 1999 as a cultural center for the area and taught himself ceramics, sculpting, and painting in mixed-media. Ornate handles, like curly wrought iron, adorn his He-Man mugs, pitchers and teapots. "The wheel for me is there's not too much thought behind it. I don't get as attached to the pieces as the paintings, so it's kind of a release." He illustrated the children's book A Devil in the Pines, published by Afton Publishers.
His work is on view at JR Studios in Branchville (973-948-0704).
This story was first published: Autumn, 2002