Nightsong and the Raven
Dan Bacon's love for wolves started as a young boy in 1938, when he read about a wolf named Kazan. His affection is the base for a life abundant in creative endeavors, notably as an esteemed wildlife photographer, and more recently as founder of the Lakota Wolf Preserve at Camp Taylor Campground in Columbia, NJ. Dan's first wolf, named Kazan, is now going on sixteen years of age, one of 24 wolves at the preserve. At Lakota, visitors can encounter wolves here in the East in a natural surrounding for the first time in over a century. Now Bacon is an author as well.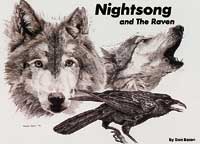 You might think that a photographer and nature enthusiast would logically construct something like a glossy, coffee table style volume full of striking pictures, graced with technical notes about the wolf's life-cycle and its precarious position in the modern world. But Dan has taken, as usual, another road. As if to infect another generation with his devotion to wolves, and, more generally, the empire of nature, Bacon has written what at first appears to be a children's book.
Nightsong and the Raven, is a fable handwritten on scraps of paper, passed to friends for review, scratched out, and written again. The story is told as if spoken around a campfire, unassuming yet fascinating. It's an old-fashioned tale you think you must have heard somewhere else.
"It's my hope that Nightsong and the Raven is a book that will help readers to better understand wolves and their ways. They are one of the 'Great Spirit's' beautiful animals and have brought us much joy," writes Bacon. Indeed the book will help people of any age to understanding wolves, their habits, abilities, and life patterns. More than that, as any good story does, Nightsong and the Raven contains valuable lessons for life.
Hand drawn sketches by Adam Todd, some based on Bacon's photos, illustrate the story, and the cover is from an original drawing by Marita Parisi. The easy to read format makes the 60-page paperback a perfect gift for children. It is available at The Buck Stop store at Camp Taylor (908/496-4333), at Made To Order in Clinton (908/735-4244) or via the Lakota website, $10
This story was first published: Autumn, 2002