Trades and Crafts
Will the Real Wood Please Stand Up?
In this fast-paced world of convenience and disposable goods, few things are meant to last, sometimes even the fabric of daily life. "House Beautiful" may be surface only, the trend for do-it-yourself lending itself to quick and easy fixes ­ kitchen cabinets included. Most are made of melamine and printed to look like wood. In this realm that prefer prefab to custom and ubiquity over style, two Sussex County craftsmen take a bow to tradition. Their pride and workmanship have earned them successful businesses and, as one says, "If you want us, you'll have to have heard about us."
---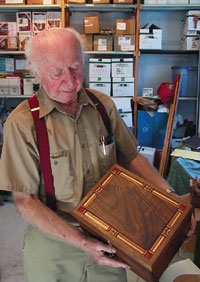 Arnold Weber of Weber's Cabinet Shop, Frankford Township, is an old-time yet modern cabinet-maker. At 76, he works 40 hours a week and calls himself semi-retired. "Sometimes I work half a day, eight to eight," he says.
He crafts cabinets, tables, mantles, and other special pieces from hardwood plywoods ­ mostly oak, cherry, and bird's eye maple ­ for homes and companies. He builds entire kitchens and wall units with sliding glass doors and hide-away doors that hold entertainment equipment, books and other homeowners' goodies. "I can make what you cannot buy," he says. "I just make people whatever they want." Sometimes he makes doors, depending on the profile the customer desires, and he can top off counters and vanities with Formica.
Weber learned his craft as his father's apprentice in Germany 62 years ago. As one of 20 men working in the shop, he said, "I better behave or get kicked. He shows you once and that's it." In 1960 Weber came to America and opened his business. "I came over here and I couldn't speak English. I just stuck to my trade." He started his business in 1960 in Wayne, where he lived for 20 years before coming to Sussex County. In Germany, cabinet makers make cabinets and doors and hang them, so he hangs his own here too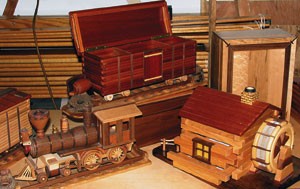 Like Gepetto in a time all his own, he savors the feel, the look, the texture and aroma of exotic woods and crafts them into toys, jewelry boxes in shapes of log cabins, handsome mahogany humidors and railroad cars for a gentleman's desk that come complete with barrels to hold business cards. He makes ballpoint pens, boxes for floppy discs, inlaid plates, and donkey-toting salt and pepper shakers. The crafts started during the slow times of the 1980s when people started buying do-it-yourself cabinets from big stores, he says. He won awards at the juried Peters Valley Craft show this year.
But the semi-retired Weber can't sit still. Before he moved to Frankford Township last year, he designed and built his own house and just recently built showcases for All American Crafts Magazine in Stanhope." I like to work with wood. I grew up with it and I like to make a good product and finish it nice," he says.
---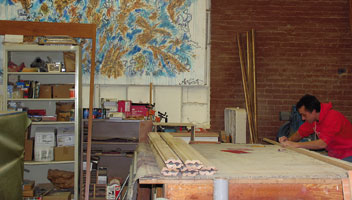 Michael Mnich, 38, is a cabinet-maker on the rise. As owner of Forever Cabinetry & Millwork in Newton, his energy seems limitless and shows in the long hours and detail he applies to every job. "It's a small shop with huge work," he says. He takes a job from start to finish, designing, creating and installing what his customers dream. "Most of our work is 'Mike, here's a picture. Can you build it?'" he says. This is his niche. "Skilled labor is not an easy thing to find, so not many cabinet shops do everything from shaking your hand and meeting you, designing specs for your house, then building it and installing it." In this thriving custom cabinet shop, he treats his workmen as commercial artists while his mother runs the show.
Mnich, born and raised in Byram/Sparta, freelanced making cabinets for a few years until 1997 when a building industry contractor urged him to open Forever and became a lasting client. Although he uses some pre-fab, he prides himself on custom aesthetic accoutrement, especially when melding older craftsmanship with new materials. In his determination to please customers, Mnich expects exacting work from his crew right down to the last person on the job. "I am in people's homes from concept to the end. We're like the Marines ­ first in; last one out." He's also willing to give the customer more for their money, such as beaded inset cabinetry that normally costs $150 per drawer. "We tend to give away the farm to sell the cow." He works with dovetailed plywood construction and veneer.
His method is meticulous. He looks at a photo, sees the finished product in his mind as it would be installed, breaks it down into components, and hands it to the shop for fabrication. "I visit job sites a dozen times before fabrication and check the evolution of the job. I personally am on every installation that I sell. The guy that took the check is the guy that nails the crown molding. You have to be a control freak if you're in a small business like mine."
All Mnich's work is referral-based. This summer he took first place with rave reviews at the Normandy Beach Yacht Club kitchen tour. He doesn't have the time to care what the competition does. "It turns me a bit sour anyway. I don't see what they're giving in relation to what they're taking. If I'm going to take your money, I'm going to be there. The guys I have are all good human beings, not just craftsmen. They like what they do and are content with their position."
Mnich is happy also. "I'm invited into my customers' homes with a hug and a kiss. I consider myself the Forrest Gump of cabinet-makers. I'm always in the right place at the right time."
---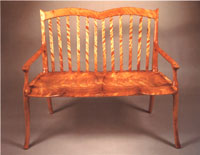 Peter Tischler is born again. From house painting contractor to fine and fancy furniture maker, Peter enjoys his renaissance of 15 years.
Six months ago, he set up shop in an old feed and grain mill in Warren County. Down in the bowels of the mill stands his sculpture that means life to him. It's called "Optimism". At 8 feet tall, the twisting spiraled "wiggle-wood" coils toward you. "Spirals have movement and life, and I'll paint it yellow because yellow has life to it."
"Optimism" was vacuum laminated on a vacuum press that sucked the air out and forced the glued surfaces of the wood together. Peter's workshop's got great machines--15 of them--old cast iron stuff with star-shaped knobs that fit perfectly in the hand, a big, boatyard bandsaw from the 30s, and a 1941 jointer made at the American Saw Mill Company in Hackettstown.
Another is a hollow-chisel mortiser that makes square holes for the mortis and tenon joints that Peter uses, and there's a special machine for his dove-tail joints too. "I use a mix of hand and machine work to cut my joints."
Peter throws a long board of padouk, a hard, brittle, bright red wood from Africa, on an old German-made planer-jointer combo. He wears a red shirt to absorb the red padouk dust. He puts the wood on the jointer first for smoothness, then on the thickness planer to make the surfaces parallel, shaving off excess thickness to get the wood ready to be worked. "One of the nice things about cast iron machines is when they're heavy, they're stable. It's nice to have mass behind your machines, except when you move them."
Peter's pieces have angles, curves and movement. "I like things that aren't square. It makes things more interesting visually." He does inlays and carvings with an exotic mix of spalded maple, birds eye maple, padouk, cherry.
"My customers are creative in what they ask me to do, so all I try to do is build their wishes in wood." His work is on display at his Workshop in Washington Township by appointment.
This story was first published: Winter, 2004