Higher Learning
School is Open, and Minds, Too
by Ken Branson
Perhaps your memories of education are none too happy. Perhaps your formal education ended so long ago that your diploma required the sacrifice of an actual sheep. Whatever your situation, consider this article an invitation to the examined life, the altered course, the awakened mind, and perhaps, even, the inspired heart.
The College of the Second Chance
"Unfortunately, most people, when they think of college, think of it through the prism of an 18-year-old mind," says Vincent de Sanctis, former president of Warren County Community College. That is, they think of ivy-covered walls, dormitories, four years of intellectual and emotional intensity, graduation, and then, real life. All this costs money, lots of money, great, unconscionable gobs of green stuff. However, a thorough education for the first two years of college might cost between $2,500 and $4,000 per year. Community college students often are up to their eyeballs in real life. For them, high school was a drag, or maybe torture, and for some of them, it was a long time ago. Work and family demand attention. For such students, a community college is the College of the Second Chance.
County College of Morris, in Randolph Township, was originally conceived to serve Morris, Sussex, and Warren counties. Now, Sussex and Warren counties each have their own community colleges. Raritan Valley Community College serves Somerset and Hunterdon counties. De Sanctis' description of his WCCC's general mission might describe any of them. "We have a three-fold mission," de Sanctis says. "One is helping people get ready to transfer to a four-year institution; another is helping them prepare for a career, and the third is learning some very specific things."
Most of the 375 full-time students at WCCC fall into the first category. Student nurses, to take one example, are in the second category. And the half-dozen people who recently became dental assistants after a 12-week program are in the third. "Then there's really a fourth mission, I guess," de Sanctis says. "That's getting people up to college level. We do a lot of development work, a lot of remediation." For many students, the second chance is also a second career. These days, with many first careers going prematurely smash, second careers are newly attractive. People who thought to retire comfortably after 25 years with AT&T, Lucent, Allied Signal or Telcordia are now finding themselves adrift. Community colleges are slinging lifelines into the water, shouting as they do so, "Start your own business;" "Become a nurse;" and, especially, "Become a teacher!"
In New Jersey, as in many other states, one can become a teacher through "alternate-route" certification. A high-level view of the process looks like this: Assuming you have a bachelor's degree in something, you have to pass a test in your subject area, then apply to the Department of Education for a certificate of eligibility (which the DOE will grant at a leisurely pace); then get hired by a school district, which will assign you a mentor and put you in a classroom, while you take education courses at night. Three of our community colleges ­ County College of Morris, Sussex County Community College, and Raritan Valley Community College ­ offer those courses.
WCCC's 625 part-time students are pursuing terminal, professional goals. The most popular program on the vocational side of the curriculum is probably the two-year, registered nurse program. De Sanctis recently had to move the art classes to accommodate more nursing classes.
Four Different Ways to Do the Four-Year Thing
Let us return to the de Sanctis' "prism of an 18-year-old mind". There are four, four-year institutions of higher learning in northwestern New Jersey: Centenary College in Hackettstown; Drew University, in Madison; Fairleigh Dickinson University's College at Florham in Florham Park; and, the College of St. Elizabeth in Morris Township. They're very different, but they have some things in common.
They're all small. Drew, the largest, has about 2,400 students, including 1,550 undergraduates, with the remainder divided between the university's graduate school and its theological seminary.
They're all relatively expensive. Including tuition, room and board and other expenses, Centenary costs about $24,000 per year. The College of St. Elizabeth costs about $26,000. FDU costs just over $30,000, and Drew costs about $40,000. They all point out, first, that very few students pay the full freight, and, second, that they each offer a unique experience and an intimacy between faculty and students unavailable, say, at Rutgers University.
---
Centenary College in Hackettstown.
Centenary College began as a college-preparatory school in 1867, but by 1929, it had become a junior college for women. It became a four-year college in the 1970s and went co-ed in 1989. Over the past several years, the college has undergone a physical and academic revival, spurred by a $15 million capital campaign. The dormitories have been remodeled, and a new one is being built. The college has built a new technology center and modernized its library. This year, the college will provide all incoming students with laptop computers, linked to the college's new, wireless network. Finally, Centenary provides an intense program of tutoring and academic support for its students. The college enrolls more than 1,800 students, and is especially well known for its equine science program ­ most of which is carried out on its farm on Schooley's Mountain, in Washington Township, Morris County. However, the college's highly regarded teacher training program may have more long-term impact on the state and region.
"Well, I can tell you what drew me here," says Paolo Cucchi (KOO-kee), Drew's vice president and dean of academic affairs, a teacher of romance languages who's been at Drew University since 1984. "There was a very, very wonderful bond between the faculty and students. Princeton (Cucchi's previous academic home) was a wonderful university, but it was more of a research university. Here, the faculty really knew the students, not just as students, but as whole people."
The campus itself is undeniably beautiful ­ full of white columns and red brick and green grass and huge, ancient trees. Mead Hall, which houses Cucchi and the other administrators, is a Greek Revival mansion built in 1836 by the Mead family, and purchased by Daniel Drew, the 19th century robber baron and pious Methodist, who gave the site to the Methodist Church for a seminary. The seminary is still here, and the university has grown up around it in the past 70 years.
Drew's undergraduate strength is the liberal arts ­ languages, history, literature, mathematics, and the life sciences. Cucchi concedes that the liberal arts can be a tough sell these days. "We have to explain the relevance of what we do," he says. "People ask, 'If I'm going to pay $160,000 for an education, what am I going to get for it?'" Eighty percent of Drew's students won't pay the full cost, anyway, Cucchi says. Beyond that, he insists, what Drew University does is teach; it produces literate, educated, civilized people who are open to the world and prepared to change it. "If you believe in that kind of education, it is worth the money," he says.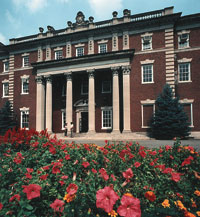 Almost literally a stone's throw from Cucchi's office, Kenneth Greene does the same job. Greene is vice president and acting provost of Fairleigh Dickinson University's College at Florham. "We're supposed to be the 'small college' of the university," Greene says. "Teaneck (the university's main campus) has more graduate students, fewer resident students, more international students. We're more of a classic college experience. We sort of have the look and feel of a small college." And so the Florham campus does, once you get out of the mansion ­ built in 1887 by Stanford White for Hamilton Twombley and his wife, Florence Vanderbilt Twombley. Scattered around 187 acres carved from the original 1,200-acre estate are classrooms, dormitories, a library and student center for the 2,100 students, of whom about 1,500 are undergraduates.
While Drew's heritage is religious (despite being named for a robber baron), FDU's heritage is entrepreneurial, and business and marketing have always been among its strongest suits. In the new student center in the College at Florham is a wall honoring distinguished alumni, displaying their pictures, academic honors and post-graduate affiliations. Investment banks, stock brokerages, and great communications companies like AT&T are prominent among them. However, the university proudly describes itself as "the leader in global education." Greene insists this, thanks to the Internet, is more than an advertising slogan. "The thrust with global education is this," he says. "We have a "global challenge" course, which all freshmen take. We have a global virtual faculty, were there are individuals around the world who participate ­ scholars, journalists, all sorts of people."
In addition, Greene says, the university enjoys non-governmental-organization status with the United Nations, which entitles its students to receive UN briefings and which brings the UN ambassadors from various countries to campus for lectures. Asked for the one thing about FDU he would like prospective students to know, Greene replies: "That we're really on the move."
If Drew and FDU descend from robber barons and the Gilded Age, the College of St. Elizabeth is all about strong, educated women. Founded by the Sisters of Mercy (who still run it) in 1899, it is the oldest four-year college for women in New Jersey, and one of the first Catholic colleges in the United States to grant degrees to women. The heart of the school is the Women's College, where 550 young women pursue undergraduate degrees and generally live on campus. The School of Graduate and Continuing Studies offers master's degrees, but is also "for students 23 years old or more, who want to begin, or maybe re-start, studies toward their bachelor's degree," says Johanna Glazewski, St. E's vice president and dean for academic affairs.
The college, drawing on the resources and inspiration of the many corporations headquartered nearby, is very strong on business education, both graduate and undergraduate. But there is also a broad streak of social consciousness running through the place. This is not, and never has been, a place for pious families to hide their daughters from the world. The school's mission statement is emblazoned on every floor of every building on campus: The mission of the College of St. Elizabeth is to be a community of learning in the Catholic liberal arts tradition for students of diverse ages, backgrounds and cultures. Characterized by a strong Catholic identity and values, the College is committed to scholarship and critical inquiry. It fosters just and ethical relations and the promotion of women as full partners in society in all its programs, including those which enroll both women and men (graduate courses are open to men) with quality teaching as a primary activity and the development of leadership in a spirit of service and social responsibility for others, the College promotes a caring personal environment where students learn by example as well as by participation throughout their educational experience.
"Diversity is a big thing for us," Glazewski says. "When (the college) was started, it was intended as a place for women to provide a higher education for women. Now there is equal access, but there are some groups of women who don't have equal access. We have a significant number of African American and Hispanic students, and a nice collection of international students. We also have many students in the Women's College that are first-generation college students. We really work with these women to enable them to become leaders in society...to live and work in a global society."
Talking Out Of School
Aside from its academic functions, every college has appendages and attachments that make it more useful to the community ­ sort of like a vacuum cleaner with a full range of attachments.
Centenary College, for example, is home to two theatre groups. The Centenary Stage Company presents serious, adult theatre from fall through spring; the Young Performers' Workshop trains and showcases young actors from 8 to 18 all year long. The young people learn all the tricks of their trade (including stage combat, the technical aspects of theatre, singing and dancing) and then show what they've learned in musicals and straight plays.
FDU's College at Florham uses its NGO status at the United Nations to get its students inside UN organizations; it also draws UN-affiliated speakers to its campus in Florham Park.
Drew University and the College of St. Elizabeth are hosts to the New Jersey Shakespeare Theatre, which is headquartered at Drew and performs (weather permitting) at St. E's Greek Theatre. Drew also hosts the United Methodist Archives.
That leads us to another observation: There is something slightly odd about every institution. Nothing sinister necessarily, just odd, quirky, uniquely bizarre. For example:
Part of the movie "A Beautiful Mind" was shot at the College at Florham.

The convent of the Sisters of Mercy, on St. E's campus, had sufficient pull long ago to get its own train station, Convent Station. School officials say it got its name because the conductors on in-bound trains didn't know what else to call it. "Convent Station! Station stop is Convent Station!"

Centenary's cafeteria is Tillie's, named for Tillie Smith, a maid at the college who was murdered in 1885. Her murder, and the subsequent trial and conviction of a man who, in the language of the time, violated her honor, made a considerable local impact. Miss Smith is buried on a hilltop at Union Cemetery in Hackettstown.
And then there are those Methodist Archives, housed in a modern building in the center of Drew's campus. The Archives contain, among other things, John Wesley's death mask, George Whitefield's thumb, and a pair of fried shoes.
John Wesley was the founder of Methodism. Someone made a cast of his face shortly after his death, and it reposes under a glass case in the archives. George Whitefield, a friend of Wesley's, was an 18th century British evangelist credited with igniting the Great Awakening in this country. He died in Massachusetts in 1770 and was buried under a church pulpit in Newburyport ­ none too securely, it would seem, because pieces of his mortal clay found their way all the way back to England and then back here, where, somehow, his thumb fell into the hands of a pious person who gave it to the archives. I'm not making this up. I've seen the thumb.
The shoes are supposed to have been worn by a lady exiting a church in Quakertown, Hunterdon County, on a stormy day in 1895. She was also wearing a corset with metal stays, and was in the process of opening her umbrella when she was struck by lightning. She wasn't killed, but the lightning blew her out of her shoes and knocked down a room full of people standing behind her. Sometimes the Lord moves in mysterious ways, and sometimes he comes straight to the point. ~kb
This story was first published: Autumn, 2003