Ed Foley
Ed Foley of Andover is one who was dared by a sign in a music store to make his own banjo, then ten years later, a guitar. He did both and today Ed makes his own brand of flat top Foley Guitars with bellied-bottoms for customers whose names are revered by musicians and music lovers around the world.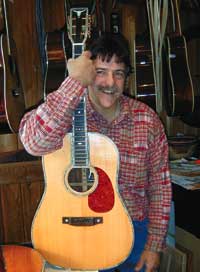 In '91, Ed went to Nashville to show his guitars. Bill Monroe and his grandson were among the first to buy."Grandaddy and I met Ed Foley at The Ernest Tubb Midnight Jamboree in August of 1993. Granddaddy was so impressed by the beauty and sound of Ed's guitars, we both owned a Foley by the time the night was over," says James Monroe in a letter to Ed.
Don Henley owns one, so do George Strait and band, Larry DeBarry of Blood, Sweat and Tears, Aspen Pittman (owner Groove Tubes), Joe Diffie and band, Kyle Lehning (pres. Asylum Records), Wanda Vick, Billy Joe Walker Jr., John Pearse (Pearse strings).
Foley comes from a family of woodworkers and world-famous furniture makers. His love of wood comes from his grandfather, whose furniture is on permanent display in the Smithsonian. Ed carried on the tradition and refinished antique furniture. When he decided to build a guitar, he took the Martin factory tour and bought parts from them. He returned there frequently, learning from each visit, then applied the knowledge. In 1988 he completed his first guitar.
One particular full-sounding beauty ­ the J200 auditorium guitar with an inside pickup for sound amplification -- has Brazilian rosewood and Adirondack Spruce with one-eighth inch wide abalone trim and abalone snowflake inlays on the graphite-reinforced, flamed maple neck. Abalone trim drips down the side of the one-piece neck, the heel and heel cap, around the fingerboard and headstock and on every edge of the body. It has mother-of-pearl buttons and bronze tuners.
Arched backs and hand-carved thin, flexible bracing that vibrates and angles toward the sound hole are signatures of Foley Guitars. A True Tone System with three internal microphones helps retain the genuine sound of an acoustic guitar. Some people say Foley Guitars sound like a baby grand, for Ed concentrates on the sound of the wood. "My guitars are delicately made to produce ringing sounds. I gear my guitars to the sound people want."
Ed likes Brazilian rosewood that produces volume and is visually appealing, but its harvest is regulated. "It's hard to get. The tree has to die and be air-lifted up." Mahogany gives a warm sound for studio work, bird's eye maple gives a bright sound and a wide grain means bigger bass. Hawaiian Koa is a cross between mahogany and rosewood. For tops he uses Engleman spruce for finger-pickers and bluegrass players, and Appalachian red spruce for those who want greater volume. Tops must pass the tap test ­ they must ring for at least five seconds.
All wood is quarter-sawn ­ cut from the log like a piece of pie ­ for greater strength and a straight, tight grain. The stock is book-matched, meaning, a log is sliced and opened up like a book ­ a mirror image, side-to-side on his two-piece backs.
For the trim, Ed inlays handpicked slivers of abalone into a channel between the binding, then sands and lacquers it. There's no difference between the feel of the trim and wood ­ just one smooth river of sound. Ed's quest to make a comfortable guitar with exceptional sound encouraged feedback from musicians, resulting in more bass, treble, resonance and a stronger midrange. He'll customize anything, even size and shape.
"It takes passion and pride in your work to make guitars. People say 'how do you have the patience?' It would drive me nuts to just sit around. When I see somebody pick up my guitar, I want to be able to say 'I made that.'"
Foley Guitars start at $3,500. Ed Foley: 973-786-6077
---
Dale Unger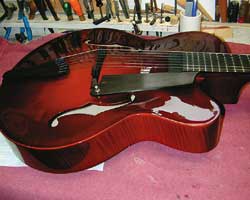 Dale Unger of American Archtop Guitars in Nazereth, PA creates functional works of art for jazz players and other aficionados of blues and classical. A seven-string flamed maple guitar with German spruce top and caramel candy violin finish, floating pickup, f-holes, an ebony foot-shaped tailpiece and a carved, solid ebony neck is his American Legend model and it's gorgeous ­ a liquid shimmer of music.
"I was always intrigued. I grew up in Nazareth. My friend worked at Martin. My father was a woodworker." Dale remodeled and built houses on spec until he built his first flat top guitar in '77 with Dick Boak of Martin. In exchange for renovating a church into a studio and performance center, he bartered with Boak to learn to build a guitar. He built flat tops till '92 when he apprenticed with Bob Benedetto, archtop builder. "I had the opportunity to go for it, so I did it." Dale started his own brand in '95 with three 7-string guitars. (The seven string, popularized by jazz guitarist Bucky Pizzarelli adds a bottom bass string) "The seven-string is the niche I went for. There was a need and not many were being made at a reasonable price."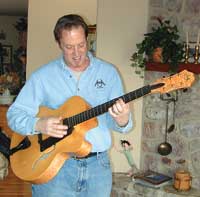 Dale starts with a one-inch piece of wood and carves the top and back cello style with the same arch, first by machine, then with scrapers by hand. He loosens the top and back so the sound responses are better. The sides are soaked in a tub of water, placed into a homemade bending machine, then clamped to a guitar body form overnight. He dries neck wood for 4-6 years. Tiger maple which grows locally is the best hardwood for necks. Dale uses jumbo frets that help in intonation. The Collector Series are one of a kind.
The archtop guitar is the only instrument designed and built in America ­ an American art form. Originally designed to cut through an orchestra to keep rhythm before amplifiers were built, an archtop will project across a room.
"Not only are my guitars beautiful, they have to work in the end. One of my most enjoyable things is getting them into the hands of the players, not having them hang on the wall."Dale enjoys turning the wood into a piece of art that's an instrument. "I make a living doing what I like to do. Having players play them and going out to hear them is the true enjoyment. It's a dream. Really. Sometimes I have to pinch myself."
American Archtops start at $3,500. Dale Unger, 570-992-4956
---
Peter Granata
Hanging on the wall of Granata Guitars in Oak Ridge, scrawled in pencil, is an inscription on a 16th century lute:
I was alive in the forest.
I was cut by the cruel axe.
In life I was silent.
In death I sweetly sing.
Peter Granata was a carpenter all his life until 12 years ago when he journeyed west and saw Jim Olson, a Minnesota man, build a guitar. He was fascinated. "I found that not only did the guy make beautiful guitars, there's so much more we can do as individuals than a factory that can't push the envelope like we can."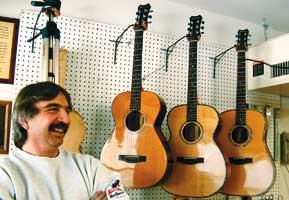 When Peter returned to the East Coast, he visited every guitar shop he could find. He too went to Martin and looked at their tooling and watched them machine their famous instruments. It took him a year and a half to make his first guitar. "It's like a four-year-old made it, but it's my sweetheart."
On the table in the shop lies a beauty. Fine strands of Paua abalone set off the curvy lines of dark Indian rosewood and gently bowed Engleman spruce with abalone trim. Mother-of-pearl sparkles on a matte ebony fingerboard and bridge. Slender light pieces streak between frets on the wide five-piece neck. Glue is stronger than grain he says.
His wood closet holds the strips, sheets and 3x3s of wood that one day will be instrument. He saves the scraps to experiment on wild stuff like V-necks and offset centers.
Granata Guitars have wood binding, a high gloss finish and an arched top. Most have ebony knobs and fingerboard on the hand-carved necks. Peter makes most of his own equipment, like his "sidebender" with metal forms heated by three 200-watt bulbs that dry the wood to shape. "Half the work is making your own jigs and fixtures, and making them work for you," he says. One jig cuts the neck. "I got drawers full of cool stuff."
Performing songwriters like Cliff Eberhardt and Cheryl Wheeler buy the small-body, wide neck Granatas. Finger style players love them for their balanced voice and volume. Peter makes a resonator too, with a spun aluminum, vibrating cone that the strings are set into, for a delta blues or bluegrass sound.
Granata Guitars start at $2,300. Call 973-208-9686
---
Tom Barth
We're sorry to report that Tom passed away on Thursday, September 1st, 2005. We were fortunate to talk to him about his invaluable contribution to guitar making in America.
In the sales room at Tom Barth's Music Box in Succasunna, Tom leans against a 100-year-old 80-RPM crank Victrola Edison phonograph. It's almost a mascot for this rocker-gone-luthier with his sideline of vintage and collectible guitars, although he is best known for his TommyHawk.
He smiles as he says, "What you need as a pacifier if you're a guitar player is the miniature TommyHawk. I can keep up with any big guitar with it. It's made to play in a chair with arms on it."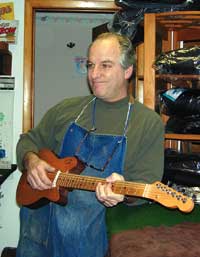 Tom opened the Music Box in 1971, making prototypes for a few years. His first guitar was made with Bob Benedetto, an original Benedetto and Barth Vintage electric guitar before anything was vintage and cool, he says. They made the body from a headboard and Tom did the electronics. In 75, he made the full-sized BarthVader, one of the first graphic-equalized guitars.
He sees guitar-making from a repairman's point of view, and his first series TommyHawk was handmade in 1971. Tom makes most parts himself, but the bodies are machine-made from one piece of mahogany. In 1997, a blue TommyHawk was put on display in the Smithsonian. "It was quite an honor to be among all the finest guitar makers, and all in one place.
Guitars, he say, are a niche market, and he's found his with his backpacking TommyHawk and blues guitar, the Little BigHawk with a full scale, Fender-style neck and 10-inch body.
"My stuff is so plain. The Little BigHawk is almost like a keyboard, more of an old-fashioned dobro." It's an old-fashioned acoustic blues guitar with a Fender-style neck. Bruce Springsteen owns one. "We've gotten so sophisticated with our guitars, we've forgotten what the old sound is like. How do you get the old sound from a new guitar?" Tom tries to simulate the sound of old guitars by making skinny bodies smaller so the notes have a short, quick decay.
Tom's made about 400 Little BigHawks and 300 ukulele-size TommyHawks over the years. He says the biggest problem is there's not a lot of profit. "It's a tough racket for making a living." In addition to building guitars, Tom teaches guitar, does restoration and sells vintage and collectible guitars.
"It's so deceiving what it takes to stay in this business. It's amazing if the mom and pop shops survive." Large franchises are hitting the music industry with guitar centers. "It's just awful. If I had to do it all over again, I'd do it again. It's in my heart. It's what makes me go."
---
Martin Guitars
Since 1833 when C.F. Martin opened a small shop in New York City, guitar players everywhere have tasted the indelible sound of Martin. Through 180 years and six generations, from hand-made to high-tech, among hundreds of models and changes in detail, Martin has maintained musical excellence. From the X-bracing system to the Dreadnought and 14-fret neck, Martin sets the standard.
The lobby walls at C.F. Martin & Co. in Nazareth, PA are covered in legends. Posters, album covers and CDs depicting famous musicians and their Martins shape the gallery in the factory tour waiting area.
Every day, almost 100 visitors tour the Martin factory. Some are celebrities like Steve Miller, who showed one day with his wife and band, Dylan, even Elvis once upon a time. "It makes it special for the workers," says Dick Boak, artist and public relations manager, one of the 700 Martin employees. And every day, 280 to 300 guitars leave the factory -- that's 75,000 a year ­ and each one is warranted for the life of the original owner.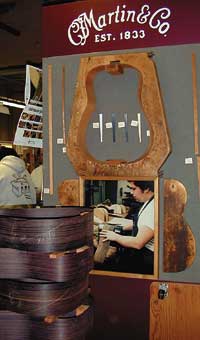 Below, neck fitter Susan Cummings at the
Martin factory in Nazareth, PA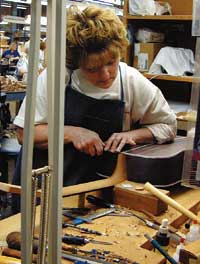 Martin builds an army of guitars for every type of acoustic play possible, including the collectible Limited Editions program that offers a limited run of special guitars or availability for a limited time. A 2001 production of 50 ornate Dreadnought guitars sold for $50,000 each, and more recently, 200 MTV-2 specials with Indian rosewood on the bass back and side, flamed maple treble back and side, spruce top, mahogany neck and ebony fingerboard. Signature Editions, collaborations with celebrity artists, began in '94 with the singing cowboy, Gene Autry, with a percentage going to charity. Since then, over 60 collaborations including Eric Clapton, Willie Nelson, Joan Baez, Paul Simon, Kitty Wells are introduced every two years. They are now accepting orders for the Graham Nash edition until April 16. The Vintage Series are reproductions of pre-World War II legendary Martins.
The factory tour begins near the computer-run milling machines and a modern woodworking shop where parts are made. It follows the route of a guitar being built. At every station along the way, like individual shops, expert craftsmen ply their skills. Carl Hann hand bends a cutaway treble side on a bending iron that's heated to 400 degrees, and across the room, workers hand-carve braces with a chisel -- not too heavy for a dark sound, not too light and fragile, but just right. "The trick," says Dick, "is to walk the border line between strength and tone."
They glue fingerboards to necks. They do binding and inlays. The dimensions of edges trimmed in L-shapes are checked with a riffler before binding is applied. There are a lot of tricky contours that require hand filing. They use German-made herringbone trim and the rosettes are mostly inlaid abalone and pearl. In sealed rooms, guitar bodies ride through electric heat to be lacquered.
The linings of Martin guitars are Spanish cedar with a gentle scent. Indian rosewood is great for resonance and a warm bass. Brazilian rosewood is the best, according to Dick, with a specific gravity that is perfect. Mahogany has a bright crisp treble. Dick explains "musical wood." "The top wood causes vibration, the back and sides absorb and reflect sound." A Martin is a sensual experience.
Susan Cummings, neck-fitter, has one of the hardest jobs. The dovetail of the neck contains many compound angles and very small amounts of wood have dramatic and critical effects on the way the guitar plays. Susan must center and pitch the neck.
Every completed guitar sits for ten days to settle and cure before it's released to the world. "The action is set just right. It doesn't change anymore," says Dick.
The Backpacker, a mini guitar to take anywhere, went to Everest, the Poles, the Grand Canyon and outer space. "We wanted to build the first guitar to jam in space," says Dick. They've sold 150,000.
Martin presses forward in areas of new technology, craftsmanship and environmental concerns. Their new X-Series uses non-wood materials, such as the brushed aluminum top of the Alternative X and graphite in Graphite II. Some have photos on laminate tops, including four cowboy Limited Editions. The innovative "1 Series" with laminated sides brought the guitar to a greater public without sacrificing tonal quality.
Martin works with the Forest Stewardship Council to promote the use of sustainable woods by using certified spruce, cherry and basswood for a certain line. And in the Custom Shop, players can design their own dream guitar.
The museum displays the great stuff, like The Peacock guitar worth $300,000 with over 20,000 hand-cut pieces of pearl.
"Martin is the best acoustic guitar around. It's got a great evolved design, the best materials, and flawless craftsmanship," says Dick. Scott Brodt, owner of Nazareth Music Center, says, "Chris Martin's grandfather and my father had a good relationship. We sold imported guitars. You look at the quality of the construction and then you play it. Twenty years ago, we gave up on imports. You have some darn good guitars built right here continuously by the same craftsmen. Their warranty is the best in the world. It's a great flat top and they have a huge selection for anyone. People come from all over the world."
C.F. Martin & Co. Call: 610-759-2837 or 800-633-2060.
This story was first published: Spring, 2003