Come Valentine's Day, or whatever special occasion lurks in the near future, take advantage of the special talents resident in crafts shops, galleries and jewelry stores. Take some time to seek out the creations that speak a little louder so that the one you hold dear cannot help but hear when you say "I love you." Give some art with heart!
---
Dawn Hale

Timing is everything, and so it was for Dawn Hale the day she decided she could make her own jewelry, learned about "precious metal clay," and sat in a TV audience with a friend, later pitching the producer for a make-over, leading to connections with a mentor at The Jewelry Arts Institute in New York who knew people at the Metropolitan Museum of Art, who liked new-comer Dawn's style. Now, four years later, her necklaces, cuff bracelets, earrings and quality cufflinks are sold in the Museum's stores and specialty stores around the nation. But let's not forget her talent and passion. "They filmed me on my birthday and I told them I've been a wife and mother for 16 years and I love it, but now it's my turn, and I've fallen in love with making jewelry."
Dawn, a Clinton resident, makes bracelets in "precious metal clay"- a high-tech mix of gold or silver and water and flour that is worked as clay. She sculpts the jewelry, then fires it in a kiln and burns off the water and flour, leaving a bracelet in the precious metal.
Dawn collects antiquities--etched stones and seals from 2000 B.C. Mesopotamia. She's fascinated by their nondescript appearance, the interesting design they make when stamped in clay, and their history and beauty when set in precious metal. "This is a perfect medium to bring out the ancient Mesopotamian culture, the Babylonians, the Samarians, for people to see on your wrist or your neck."
Dawn has three lines: Ancient Echoes made with the antiquities; Snakes made with ruby heads and sapphire eyes; Buds, leaves and vines carved in wax, then cast in gold or silver with briolette-cut stones for buds. Prototypes, immediate desires, or one of a kind are made in precious metal clay. Pieces for reproduction are cast in gold or silver.
"What I like most lately is finding that futuristic material and the antiquities, and being able to bring the two together to get a connection to our past. That's really fun. I just love the fact that you end up with something that's really beautiful and you get to wear it and people feel good when they're wearing something pretty." Dawn Hale's jewelry is at Things We Like, Clinton (908-730-9888); Fragments, New York City and Metropolitan Museum of Art Stores 1-800-468-7386
---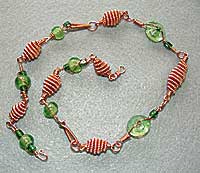 JoanLisi of Denville smoothes problems away from the bodies of people. As a Swedish and shiatsu massage therapist, she uses her body to help heal others. Her hands, elbows, forearms and thumbs push and pull muscles and energy fields, and as a jeweler, she stretches and pulls wire and wraps it around glass beads.
Joan started as a potter with her own business "Rothbury Pottery, Jewelry and Glass" and got into jewelry by making ceramic beads. Her work is contemporary and some is unconventional--like the solar system necklace made of green hemp and silver beads, some spiraled with saucer-shaped suns and moons on them. "Hemp does everything but the dishes." Her necklaces range from chunky, heavy, ethnic to delicate pastels. There's one with African glass beads wrapped with oxidized-to-perfection copper wire, and the ethereal one with sterling silver beads and wire and home-made pink swirled glass beads with flowers on them. Chokers are a favorite because glass and metal are heavy.
A silver watch pin hangs upside down so she can read the time on her breast. Her watches are incorporated into cuff bracelets, and decorated with silver, glass and enamel and strung in color-coated copper wire.
Joan taught at Montclair Adult School and CCM. She was a partner in Mudworks in Boonton, a pottery studio and gallery. Her jewelry is on display at Gallery 23, Inc., Main St., Blairstown. (908-362-6865) and at Diviana, a new age gift shop on Sussex Turnpike, Randolph. (973-895-2661).
---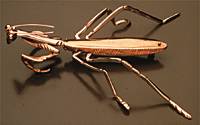 Photo: Mantis Brooch, 5" x 3 1/2".
Witty and sophisticated designs are the trademark of Luna Parc, the signature of the fertile and zany imagination of its creator, Ricky Boscarino. A graduate of the Rhode Island School of Design, he first caused a stir in the artistic community and captured public attention when he created the unique genre of "RoachArt" using the hitherto unappreciated but ubiquitous cucaracha as an object d'art. The droll antics of his bug stars so appealed to discerning connoisseurs that he soon expanded the genre, creating a line of cockroach greeting cards for the American Postcard Company, and a line of insect jewelry. Nearly all the Insect brooches have articulated legs, and many heads and wings are jointed to move characteristic of each individual bug. Making the original model is a time consuming process, after which a mold is made of each separate part and cast by the Lost Wax process. Though the finished pieces are from the same mold no two finished assemblies are exactly alike, and each bug has it's own individual movement.
Ricky's work is available at Peters Valley Crafts Store, 973/948-5200
---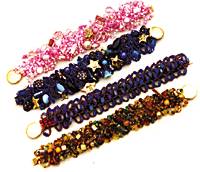 Catherine once attended architecture school where a professor told her that "a design should always leave a door for a lion to enter." In other words, leave room for surprises. Catherine's beaded bracelets always contain a surprise or two, sometimes discovered after years of wearing the piece. The bracelets are extremely lightweight, yet chock full of different elements such as antique buttons, charms and metallic baubles. Each piece usually concentrates on a theme such as color, season, holiday, seashore, garden... People like the way beads capture and reflect light.
Catherine's Beaded Bracelets and other work can be found at Gallery 23 in Blairstown, 908-362-6865.
---
Pam Bacon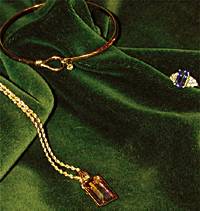 For 25 years, Pam has served a large and diverse clientele from her shop, Made To Order, on Main Street in Clinton. Specializing in jewelry design, Pam loves to reinvent old antique jewelry so that it will be worn again. "For instance a bride brought in an old ring of her mother's that looked like a cocktail ring that one wouldn't wear these days. We did six drawings for her of different ways to put the stones in a necklace for the day of her wedding. She chose what she liked and we had it made for her." While a large part of Bacon's customer base is traditional- wedding bands, sterling silver, gold, platinum- her forte is special colored stones and opal, using the precise combinations that bring out the colors in each. With a long list of sources from over 25 years of business, she can get any stone within days. But people frequently bring in things from trips they've taken all over the world to have set in jewelry. Pam also works with catalogs of other craftsmen, customizing for her customers. Call 908-735-4244 or e-mail.
---
Jane Voorhees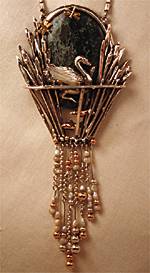 Jane's award-winning work has been shown in galleries all over the Northeast and featured in Ms. Magazine, Adirondack Life, Yankee, New York Times, and the New Jersey Star Ledger. Her pieces are known to be in the collections of Sylvester Stalone, Susan Anton, Ralph Lauren, and Walt Disney World Resorts. Having served apprenticeships and trained in-house with Century Casting in New York City, Voorhees began her own line of jewelry in 1975. In 1990, pursuing a long admiration for Adirondack rustic motifs, she began producing rustic furniture, frames and accessories. She also paints and works in pastels. Her work is also available at Peters Valley Crafts Store, 973/948-5200.
---
Sue Sachs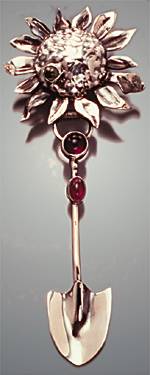 For over 20 years, Sue has been selling and teaching jewelry making, currently at the NJ Center for Visual Arts in Summit, at the Newark Museum and at workshops in Connecticut. Sue's current work is inspired by the garden, and she makes a series of miniature silver garden tools; shovels, rakes, hoses; as pins. This successful line has expanded to include hammers and saws, and she plans to include a paintbrush and quill pen for the year 2000. Sachs also creates leaves, flowers and vines as necklaces, earrings, bracelets and rings. Most of the work is hammered, forging wire and sheet thinner and narrower, using Repousé (the artisan hammers into pitch tar to create texture) on some parts for texture and shape. She adds semiprecious stones and sometimes gold for accent. For more information you can reach Sue at her Riker Hill Park studio in Livingston by calling 973-992-5746. Her work is also available at the America Craftsman in Morristown (973-538-6720) and Peters Valley Crafts Store, in Layton (973-948-5202).
---
Bill Brewer, Jason Baskin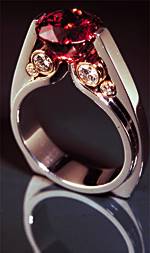 Together, Bill Brewer and Jason Baskin make a prolific and creative team, producing a large portion of the jewelry available in their shop, the Gem Vault. Brewer, with a long professional background as a gem cutter and goldsmith, builds the pieces designed by Baskin. In addition to gold jewelry, they specialize in fine, rare, and unusual colored gem stones and custom pieces. This Baskin-designed ring won a 1999 International Platinum Honors Award. The Gem Vault is located at 40 Liberty Village Premium Outlets, in Flemington, 908-788-1770.
---
Neile Cooper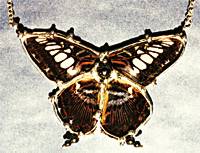 Educated at the New York Fashion Institute of Technology, Neile Cooper began learning the art of stained glass from Jim Pinto at Northeast Stained Glass in Newton. She lives and works in Andover Township, creating jewelry, windows, lamps, sculpture, gift boxes and frames. Her jewelry is made with real butterfly wings, leaves, rose petals, and ferns pressed in glass and set among beautiful stones such as turquoise and hematite. The butterflies are imported from farms all over the world, where they are harvested but not killed; the leaves and ferns are collected locally. These necklaces are made with a lead-free silver alloy and decorative solder. >
Available at Gallery 23 in Blairstown, 908-362-6865.
---
Frederick Marshall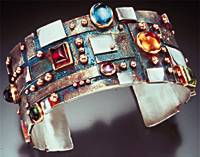 Currently, Frederick Jon Marshall is the Fine Metals Department Head at the Peters Valley Crafts Center. In addition, he taught and lectured at many universities and art centers. He is an award winning studio art jeweler. His honors include a National Endowment for the Arts/Mid-Atlantic Art Foundation Fellowship and three time recipient of the NJ State Council on the Arts Fellowship. His work has appeared in numerous publications and museum exhibitions.
Frederick draws his inspiration from ancient art with a modern edge. He describes his work as "artifacts for the future." Mr. Marshall works in a sculptural format creating objects that contain a piece of jewelry that may be removed and worn. These small sculptures have a powerful presence and are intended as maquettes for larger installations that he intends to create. Frederick Marshall's work reminds the viewer of sacrificial shrines and barbaric rituals that he attributes to his Nordic heritage. 973-948-7360.
This story was first published: Winter, 1999