---
Walt Bibinger
Walt was self-taught in his early years of playing. He picked things from Beatles records. The explosion of 60s music coincided with the full symphony of music within his home where his uncle played guitar, his dad played accordion and his grandmother played classical piano.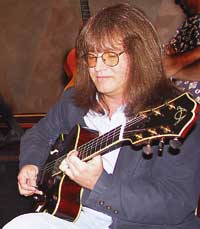 Walt Bibinger of Glen Gardner is a jazz guitarist. His music is like meditation that frees him of troubling thoughts.He finds a deep place to be where the music is happening. "Every time I play I feel like I gave the performance of my life. It never fails. It's very spiritual."
Playing guitar goes back to his earliest memories at age 3. "I remember a plastic guitar being broken and I was crying. My mom remembers going to the store and I wanted a plastic guitar. It was an obsession. At 4 he played a ukulele and in a year he got an acoustic guitar. "I even played along to Lawrence Welk"Walt started playing bass lines along with his family until the 60s when he played his Beatles act with the Ed Sullivan Show.
"I read from early Mel Bay books with songs like London Bridge. I was a natural player. I was already working professionally without having studied. I played in a grammar school band a few times a month at grammar schools"
At 13, he started lessons with Harry Leahey, a legendary Grammy award-winning New Jersey jazz guitarist. He studied for 15 years until 1990. "He was my mentor.It was a great opportunity to tap into a genius"
Walt became interested in jazz. He couldn't figure it out--not like rock and blues. "I couldn't play a whole Wes Montgomery tune, not like I could Hendrix. But the intrigue began when he heard Hendrix use an Octavia device in Purple Haze to simulate the sound of John Coltrane's tenor sax. "The jazz came through the rock music"
Walt says that for jazz, the vocabulary is not any different than classical and that a guitarist has to have all the knowledge of classical music. He had to make that choice--classical or jazz. The improvising aspect of jazz made that decision for him.
Walt does studio work and is involved with local artists, jazz or not. It keeps him in touch with other music styles that he likes. "I find it very difficult to put my guitar down."
For Walt there was never any choice about what he would do with his life. The last time he had a real job was in 1983, and when he quit he made the decision to keep the same schedule playing music. "When you have that much time, it's amazing what you can accomplish. The more time you can spend on the music, the more avenues open up"
Although Walt loves every one of his twenty guitars, he plays a custom-built instrument made by Dale Unger of American Archtop Guitars. "This guitar feels like a third arm."
The Walt Bibinger Trio plays at the Roaring Rock Restaurant, Washington (908-453-2322). Walt plays at the Deerhead Inn, Delaware Water Gap, PA (570-424-2000) and The Ship Inn in Milford, NJ (908-995-0188). He hosts The Jazz Listener radio show, on 91.9FM on Thursdays from 12-2.
Mary Jasch
---
Karl Latham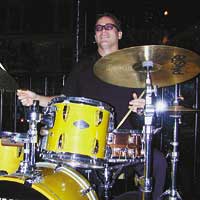 The world is a little better place to live thanks to drummer Karl Latham. Communication is his favorite thing. He does it with music and commitment to community.
Karl brings a positive influence to his students at Passaic County Community College as adjunct professor and to the community where he lives as Chairman of the Sparta Cultural Affairs Committee. He believes in touching people--with the songs he plays and in how he lives his life.
"To be a good musician, I have my hands in a lot of pies," he says.
At his home studio in Sparta, Karl snaps his fingers, energized and upbeat, as he explains his spread of equipment including the computerized recording software "Pro Tools"He adds drums to CDs that come by mail and even email. He downloads, records, does a session and adds balance, then burns everything to a disc. "If I play a tune and say, hey, let's mute it, I can select it, and copy/paste it"He's done whole CDs pressed right from his house. "It's freaky deaky."
He's got software with an interactive session with a super high-speed modem. "It's out. This is the wave of the future"He even plays sessions with other musicians on the computer and they can be from anywhere--Japan, Germany...
Karl plays a tune from his new CD called Monk's Corner with Kermit Driscoll, one of his favorite bass players. "When I'm playing my best I'm completely surrendered. That's why I love playing with this bass player. Sometimes it's genius. Sometimes it's crap. It's totally fresh with this guy."
His advice to musicians can be applied to anyone: "You've got to have a good ear. The most important skill is to learn someone's music quickly--it's the acquisition of information. Be open and receptive. If you're open and let someone's music come in, you have it"
Karl concentrates on the positive in his music--a life philosophy. "Feeling is the most important for me. I have to be sure I don't get involved in negative things in the room. Be in the moment. Play the tune. I play songs. I need to know the lyrics. I like to bring someone up. I'm not playing for myself."
Karl tours Europe in early 2003 doing James Bond music in a new jazz/dance style called dance floor jazz--technology-based with live jazz and DJs. "Music transcends language, differences and beliefs. It's vibrational. It's like light--a different wave-length."
Karl Latham has a sense of purpose and place--family, students, community and his own passion. Thanks to him, music in the park summer concert series thrives in Sussex County. He also brings well-known sidemen out of the city to local venues in the area.
Mary Jasch
---
Peter Karp
Every Sunday Peter Karp draws a crowd of 300 St. Cecelia's Church in Englewood. They flock to the 6 o'clock Mass just to hear his songs.
Peter agreed to play the church if he could play the tunes that would draw him. And for two and a half years he's been packing the church with his magic mix of soulful bluesy tunes. "They stay, applaud and bring in a lot of money"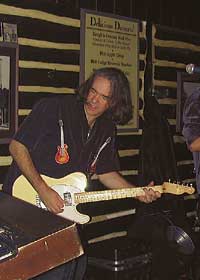 If you can weave something into it with threads of experience as part of a human experience and have a melody to pull it off, then you have a good song"
Drama is his style and touching people is his method.He brings an amp, an electric telecaster and an electrified dobro. He sits on one side of the altar under a spotlight and the priest is on the other. "It's like a show."
He might play Tom Waits Come on Up to the House and then People Get Ready at the end of the Mass. He also writes his own gospel, plays piano and slide guitar. "I do gospely, spiritual kind of blues. It's spooky"
It's easy to step over the line though, like when he played piano with a touch of Little Richard. "It was a little too raucus"But Peter likes the unusual venue and says he'll stay until they throw him out. "It's one place where people are open. In a pause in the silence, I can feel everybody's together and it's cool. It's what you shoot for in a show"
Much of Peter's style is wrought from his younger years of spending time back and forth in a trailer park in Alabama and the Yankee land of Bergen County.
His influences come from folk, blues and a little country--Dylan, Phil Ochs, Bill Monroe, Freddie King, Jimi Hendrix... You can hear their ancestry in his newest CD, Peter Karp Roadshow. "It's from a singer/songwriter side with a bluesy thing. The lyrics--that's my thing. Music for me is a venue for writing"
Peter comes from a writing family with a reverence for the language. Ten years ago he had an epiphany--he knew he had something to say and that people would listen. Now after a lot of writing and playing, the undefined Peter Karp has a following of wordsmiths and sometimes-crazy people with a need to fill. "I sing the lyrics and I see them sing them back to me. A positivity comes through. The music and lyrics fill a void. People who follow us are usually into the writing. That's when our band is at its best--when I'm singing the tunes that are story-telling"For Peter, the essence of a good song comes from personal experience. and says people relate to honesty rather than a false sense of vanity or cool.
"If you can weave something into it with threads of experience as part of a human experience and have a melody to pull it off, then you have a good song"
Peter's songs can be tender or rough, evoke fun, love or even raise the memory's hackles of fear. The honesty of his songs is an extension of his thinking when he says "If you don't do what you like and have no passion, you might as well pack it in. Follow the gift, even though it may take you to ruin."
Mary Jasch
This story was first published: Winter, 2002