Jazz, Pop and Blues
Noteworthy
---
Mark Bodino, Ethereal Boy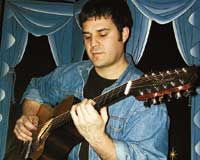 He sits in candlelight, Takamine classical in his hands, on a tall stool he plays. Mark Bodino's soft voice floats through the cushy room of Uncommon Grounds Coffee House in Boonton. Parsley, sage, rosemary and thyme... the anonymous folk song adapted by Simon and Garfunkle, followed by Beethoven's Joyful, Joyful We Adore Thee. Finger picking, comfortable, dressed in blue, the young baritone sifts sounds across the room waves, while his guitar
gently sings...
Strumming, pulsing his fate with his fingers, plucking deep and light, feather fast with melody sailing slowly -- the sound of romance, of classical Europe. His right hand moves like a bunch of mice nibbling at nuts, faster, brighter, softer -- after the ethereal song. Electrified.
In smoky crowded rooms of coffee houses, bars, self-taught with the written Ben Bolt, he sends his passion crashing. Classical's his thing. "I just like the sound of it. It's a very warm nice feel. It's the hardest to many. I don't know how I remember it. It's there somehow." Ethereal as his song.
Mark loves classical and also sings and plays original folk/rock pieces. "It would be great to play out with a full orchestra like the Moody Blues. I don't listen to new music. I don't get it. It doesn't make any sense to me. I listen to the 60s and the 70s ­ the good stuff."
He always had a fascination with the guitar before he played it he says. "Classical is so soft I can do a lot with it. I can put it in distortion and it'll sound like an M16. The guitar always changes music. I can really manipulate it."
The twelve-string acoustic for new songs unrecorded is now on his lap. Time in the Bottle... guitar and man sing serious, full. Close your eyes and drift into Dreamsville.
Mark plays the tri-state area, like The Gold Hawk Tavern in Hoboken on 3/20 and the Hanover Marriott on 3/21. CDs: Mark Bodino: Classical Guitar Work and Mark Bodino: A Moment in Time. Look him up at www.bodino.com.
---
Vince Giantomas, Renaissance Man
In the blue room of Trumpets Jazz Club, Vince Giantomas slices at his drums, swift soft strokes, rolling over snare
and tom tom.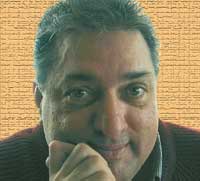 The music flows...it moves and flutters into Autumn Leaves... into notes like tendrils that float out and grab. They pull you in then drop you gently when the tune is done. Perfect songs, the unrelenting melodies of the Betty Liste Trio. Today is a major treat as Vince's sticks skip across drumbeats with a guest singer, sultry sax, touches of harmonica and Russian jazz violin. They swirl to the cymbaly sounds. A listener can't help but get lost.
Vince stayed away from music for 35 years after playing drums as a kid in Stephen Crane Village in the northern part of Newark. He studied with Keith Necessary, disciple of Joe Morello, for two years before he jumped back into the jazz he loves ­ mainstream, more towards the cool side. "I already knew how to play the drums. I polished up and started working. Music is a part of my life and I guess I can't live without it," he says.
As a kid he rode the subway downtown to play rock and roll with other kids. In high school he studied with Carl Wolf, performing nights and weekends with his own jazz quartet. Then, for three years he served on a Navy attack aircraft carrier during the Viet Nam War. There were a couple rock groups on the ship, and Vince sat in with them.
In '68, he left the Navy and bought a new set of drums but never played them, for Wall Street and marriage beckoned with silky fingers of fate. The music was on hold.
He immersed himself in the boxing business, editing Boxing Beat Magazine. He promoted boxing, traveled the world, then got seriously into acting. He did commercials and produced "Inside the Ring" on cable TV. He just finished shooting Shut Up and Kiss Me with Burt Young.
One day while walking through a Whippany Shop Rite, he came upon Rio Clemente, "who played a little baby grand." He ended up working with Rio doing Wednesday gigs for five years.
Vince also writes for the Italian Tribune and Jazz Improv Magazine. "Everything I do is in the arts, utilizing my business background." He's Jersey's Italian Renaissance Man. Catch Vince and the Betty Liste Trio with their perfect sounds at Trumpets for Sunday brunch and also on Thursday night, March 20. Call: 973-744-2600
This story was first published: Spring, 2003