Galleries of the Skylands are alive with the works of local artists. From Hunterdon to Sussex, and along the edge of Northwest Jersey, abstract figures made of metal, wood and artifacts, new-fossiled pottery, fun sexy jewelry, and paintings of our wildlife abound. If you're looking for a perfect gift, an accent for your home or yourself, or just want to get motivated, come to see our artists' work in the galleries of the Skylands.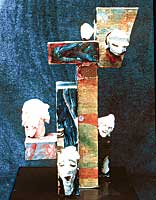 The first floor of Lila Ryan's Sculpture Workshop & Gallery in Wantage houses a menagerie of machinery. Table saws, drill presses, an electric welder, and a scroll saw hunch and hulk like sculpted beings waiting for action. Shelves and drawers full of electric tools and paints are interspersed with sculptures, mostly of heads stuck on up-ended aluminum railings. "I like to make faces. I don't always need faces to show emotion or dance. Faces speak for themselves and other things speak for themselves. They don't always have to be united," says the sculptress.
The Gallery houses 30 years of Lila's work, from her early bronzes to some recent architectural pieces. Sculpture No. 626 is a newspaper clad, wooden one-room hotel with ceramic faces of homeless people hanging out of the windows. A 4' vertical wall piece of four polished aluminum bird-like figures on teak looks aerial and free.
Lila abstracts the essence of her subjects from their realities. Figures of dancers and families are created in aluminum and wood, and painted with swirling and geometric black designs on white. Some figures are sculpted in chromed-brass and others have Plexiglas shadows. "Coquette" is alabaster on marble. A majestic, braised butterfly of stainless steel piping decorates a wall.
"Journey into the Unknown", a large-scale wooden sculpture of displaced people searching and hoping for a good life is on loan at Clifton Municipal Sculpture Park. Lila's had three dozen solo and many group exhibitions. She's an Honorary Lifetime Member of Artist Equity of NJ. Her work is found internationally, and can be seen locally at The Flying Pig Gallery in Sussex (973-875-8487) and at Ryan's Sculpture Workshop & Gallery (973-875-3616).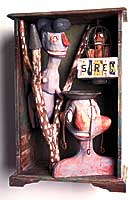 Bill Skrips of Blairstown is a sculptor who uses old pieces of metal and wood--funky functional found things that have seen worse days. He puts them together to form figures that have an aura of humor and darkness.
Take "8 Propositions" ­ a sculpture of an androgynous person with a gracefully-curved wooden body decorated with keys, hinges as epaulettes, four wire strands of long hair, a garden hand cultivator as a hand holding a ball, and a small dented, steel bowl for a hat. An uneasy yet intriguing grimace adorns its carved face. This quirky person has a story to tell. Or look at "the Beacon"--a stick-like metal man with ghost-like eyes and a skeletal grin, carrying a lantern with no light.
"I've always loved the idea of re-using because Dad is a pack rat. The apple doesn't fall far from the tree." Bill just bought a box of maybe 135 fake brass covered doorstops that he can't wait to use.
Bill's sculptures are unrefined, funny, mythological, mystical. His most recent constructions are of multiple interacting figures inside a box shape. The running theme is "being lost in the woods."
Three days a week, he heads to his studio to sculpt his mesmerizing pieces with his two dogs he calls "flat dogs" because they plop down flat when they see a floor.
Bill exhibits in The Gallery at Forest Hall, Milford, PA (570-409-0902), and Designer Crafts on Main, Stroudsburg, PA (570-420-1228).
This story was first published: Autumn, 2003