Art in a private landscape is the accoutrement that makes a vista delectable. No matter the style, form or medium, it causes pause in our hurried lives as we scurry through our garden's gate. It brings pleasure to those who enjoy spending time in their gardens and yards. Henry L. Mencken said, "The true function of art is to criticize, embellish and edit nature...and so make it coherent and lovely."
And as it is true that sculpture enriches our own personal views, so can a yard dress up sculpture. "Sculpture can be enhanced in an outdoor setting and the setting is integral to how you view the sculpture," says Aylin Green, educator and volunteer services manager at Grounds for Sculpture, a 35-acre sculpture garden in Hamilton. There, each piece is sited in the landscape with careful consideration to surrounding landforms, water features, and plant types so that the best way to view the sculpture is achieved.
Sculpture itself provides a whole new viewing experience and often goes beyond that to thought and philosophy, and why the artist created the piece. A wealth of artists and sculptors live in the Skylands. Here are a few who create art for your yard.
---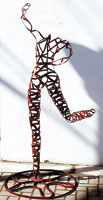 Bill Murphy of Wantage makes angels and dancers for your landscape. The human-size figures shimmer and shake in the wind.
The fantasy began a few years back when Murphy welded for a living. One day at his millwright job for Allied Signal, the idea just popped into his head. "It came out of nowhere," he says, "out of the blue." He saw the dancer in his mind and planned to make her out of pipe. But soon he was laid off, so with severance pay and a few months time, he decided to just buy thin iron bars ­ good thing too, so the dancers can dance in the breeze.
Murphy got busy. First he made the "Blue Dancer" ­ a five-foot stunner painted candy apple blue. He placed it in a gallery but the owner wanted more. He went back to work and made a six-foot candy apple "Red Dancer" and then a seven-foot metallic gold angel. He stick-welded three widths of bars ­ 3/8, 1/2, and 3/4 inch. "I mixed it up and it seemed to work. I'd love to keep doing this just for the fun." Each sculpture took three weeks to complete.
Murphy's back at work again, now as a union carpenter, where he builds schools and airports and other big places. But he always wanted to sculpt ­ even as a kid he played with clay. "I worked with my hands most of my life, but getting toward my time at Allied, I got the bug."
Steel works the best for his flexible dancers. "The curves make the figures. You can see through them, so if you move them around there is movement. The dancers stand on one foot, so if you flick the top they will shimmer around."
Call Bill Murphy at 973-702-1478 or see his work at the Flying Pig Gallery, 15 Main Street, Sussex 973-875-8487
---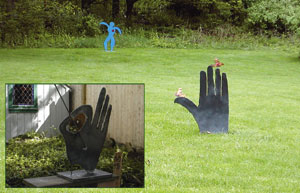 Sam Seamans combines his love for his hand-made stained glass, copper and steel to form art for yards and gardens. Most of his work is two-dimensional ­ like "The Fire Within" ­ a four-foot steel flame with a stained glass flame in a cut-out center.
"Sometimes I get a vague idea," says Seamans. "I try to settle into the idea and let it develop. I sketch right on the metal and work the chalk line until I'm satisfied with the way it looks. All of us have a desire to create in nature, so when I was doing "The Fire Within" I was thinking of the creative force in a lot of people."
Thirty years ago, Seamans took a course in welding, but couldn't afford the equipment while sending his kids to college. He started creating in stained glass, then carved in soft stone . But deep in the recesses he still wanted to weld. He continued taking welding classes while he made silver jewelry and sculptures with ivory scrimshaw. Eventually, he acquired all the right equipment for metal and began combining stained glass and steel. Seventeen stained glass lamps light his home.
Two years ago, he retired as director of Social Services for Sussex County, and now his passions have come to full fruition. He creates with cutting torches and welding, then finishes the work in clear coat or two-tone paint to handle the outdoor elements. Take "Dancing with Matisse" ­ a brightly painted Matisse character dancing in the artist's yard, or "Could This Be Magic," an unpainted hand holding a magic wand sprouting lightning bolts. He is currently working on two versions of a steel/copper Native American sculpture ­ an indoor one with a deer skull and leather. "I'm doing a flashback to spirituality."
One of Seamans's commissions stands in a courtyard at the Montague Elementary School. It's a giant hand with seven copper birds flying from a stained-glass globe. He takes commissions as a collaboration between the customer and himself. He delivers.
Seamans' work is on display at Gallery 23, 23 Main Street, Blairstown 908-362-6865. Or contact him at 973-383-3718.
---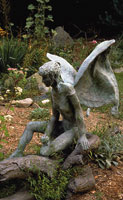 Ailene Fields of Andover swishes her magic fingers and voila! ­ creatures of myth and fables! Look! In the garden! Is it a bird lioness or a naked emperor of childhood lore? A frog prince or our favorite grinning cat?
For almost 30 years, this diva of childhood dreams has been carving stone and sculpting bronzes. She started as a potter in her late 20s, studied clay at the Sculpture Center in New York, then went on to carving stone. She blew glass, wrote poetry (and still does), and worked in bronze. "With clay I can add on until I get what you want, and I can take it off. In carving stone, I have a boulder and leave everything I want and take everything off I don't want. It's an opposite way of thinking," she says.
"I never thought of myself as an artist, but I think in 3-dimensional terms. It was a fluke. My husband was in a bad car accident and I took a pottery class to relax. I had to do it. I never in my life thought I would be a sculptor when I grew up. I always made dragons and mermaids growing up. If I hadn't been an English major I wouldn't have these stories to tell. You never know what you're going to need. It never gets wasted and you could get lucky and fall into something you love. All of those things add to your art."
She's done large outdoor pieces drawn from mythology, among them a five-foot dragon, a big sphinx, the head of Posidon, a large narcissus. Classic bronzes have brown, black or green patinas. Sometimes she carves pieces in stone, then casts them in bronze to get a museum edition ­ 11 pieces.
Bronze endures the rigors of the weather and is a great garden or yard accent. Although stone is natural to the outdoors, it deteriorates from air pollution. "The last 100 years have done more damage than the previous 500," she says. Her big yard-size pieces are first done in clay. Then a mold is made and bronze is cast. "It's astounding how hard it is to do one image and tell a whole story." She's done Jack & the Beanstalk, the Princess and the Pea first in combinations of stone and bronze, with bronze copies. The bronze Princess lies on a pile of stone mattresses on an acrylic pea, and Cinderella rides a stone pumpkin with steel wheels and bronze mice. And how about a 25-inch Velveteen Rabbit or a 30-inch Fee-Fi-Fo-Fum?
Her pieces are at Drue Chryst Gallery, 14 Winona Parkway, Sparta.
973-729-0609.
This story was first published: Spring, 2004