To Be Or Not TV!
The theatre community in the Skylands Region is rich with educational and children productions, and it is more than just coincidence.
"Children can be creative outside the sphere of the rigors of their regular schoolwork and take it one step further. It also gets kids more excited about learning," says Lori Lawrence, Director of Educational Programming at the GROWING STAGE in Netcong, a theatre whose primary focus is young audiences and family viewing.
"It's not that schools are failing, but they can only do so much to bring some things alive and create interest in theatre," adds Stan Barber, a former schoolteacher who's now the Administrative and Art Director of PAX AMICUS THEATER in Budd Lake. "I would say that theatre and education are brothers in that they both should be educational, interesting and stimulating for a young mind."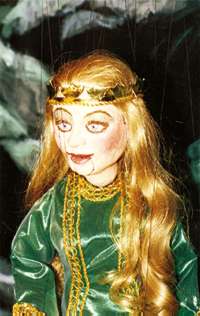 The Marionette Players have been performing childrens' productions at the Morris Museum since 1963.
Theaters are not only trying to stimulate creativity in today's younger generation; they are also attempting to cultivate their future audiences. "The family is our primary target audience," says Steven Klindt, Executive Director of Morris Museum's BICKFORD THEATRE in Morristown. "This does not only mean family programs, but sometimes those directed only to children or only to adults, or maybe seniors or single adults. "But we look at children's programs as a way to educate tomorrow's audiences about the joys of the performing arts. If there is going to be vibrant theatre in the future, today's children will be its practitioners and it's patrons. We have no quarrel with the current fare in TV or movies, we just love live people performing to live, responding audiences."
Klindt's comments echo most of his colleagues, who are reluctant to bash other entertainment mediums. Still, it is no secret that television, computers and violent movies are being blamed for much is what is wrong with today's youth. "Parents, as much as educators, want their children out from in front of the TV and computers," Lawrence says. "They are not social activities or family activities. You don't sit and watch TV together or sit in front of the computer together. But if you attend a play, it's something parents and children can watch together, and conversations are then prompted by the kids. It sparks a whole other method of learning." That's not to say all children are not corrupted by advancement of modern technology, but the ones who are seem to dominate CNN in a scary way. Schools are doing their best to try and educate children, but family values start at home, and passion for love and life can often be stimulated by performing arts.
For some time, theatre interest by youngsters leveled off because the arts were eliminated from the school curriculum as a result of budget cuts. But the wheels are in motion to re-implement such courses by the New Jersey State Department of Education, and theatres are following suit. The Morristown Community Theatre is producing Hansel & Gretel, Les Miserables and several Shakespeare productions this winter. "Children's programs are an important part of our mission," says COMMUNITY THEATRE Producing Director Linda Smith. "We have more than doubled the number of offerings this season with an emphasis on shows for the entire family. The New Jersey Shakespeare Festival made our theatre their home a couple of years ago while their new theatre was being built, and we are delighted to welcome them back and give our teenaged audiences a wonderful introduction to the Bard."
Ahhh yes, William Shakespeare. A name that often makes teens of all ages cringe due to the sophisticated language that emenates from actors dressed in totally unfamiliar clothing. However, anything that has lasted over 400 years must have something positive to offer, which is the message the SHAKESPEARE FESTIVAL of Madison is trying to get across. The Festival will spend the winter producing an educational tour that includes Romeo and Juliet, Midsummer Night's Dream, and The Tempest. In keeping with the attention span of their youthful audiences, the Festival will offer abridged versions of one-hour and 45 minutes.
"The Shakespeare Festival has been providing education for a lot longer than the bad influences of movies and TV," says Rick Engler, the Festival's Director of Marketing and Public Relations. "We have a very strong commitment to education and introducing students to the classics. These are plays that have to be preserved. They are taught in the school system and from the books, but for kids to be able to see them live brings it to life and is the way Shakespeare intended them to be done. He didn't intend them to be studied in the classroom."
Engler is quick to add that the productions being shown to the youth may not be the same thing their parents see on A&E or public television. "We don't present it the way people think of it being done," he says. "We present it in new words and new visions that hopefully make the plays more a part of today's society, so that a kid watching it can get a feel and understanding of it. We're not modernizing it, but we are exploring new worlds for them. Hopefully, we can destroy those pre-conceptions and fears that kids and adults have that it would be impossible to understand Shakespeare."
The PLAYWRIGHT'S THEATRE is the only professional (Actor's Equity) theatre in the state devoted solely to the development of new plays and writers for the stage. Even there, an emphasis is put on youth, as the Playwright's educational program, entitled New Jersey Writer's Project and Language in Motion, reaches over 17,00 students each year in a number of area and statewide venues. It comprises one of the largest creative residency programs in the country.
Lest anyone doubt the impact of theatre on youngsters in this day and age, consider the comments of Alan Liddell, Director of Theatre and overseer of the Performing Arts Center at RARITAN VALLEY COMMUNITY COLLEGE. "In the past 20 years or so, especially on the educational side of things, there has been a shift and emphasis toward children's theatre. I'm not an educator, I'm a theatre person. So, the whole concept is different. People learn in different ways. Some learn by moving or experiencing things, others learn through reading, others through the arts. Theatre can be very effective for kids from all different backgrounds. A lot of it is non-verbal and can be used for kids who have recently come to this country and don't have the language skills, or even for kids who are so young they haven't gotten the language skills yet."
Two of the region's biggest trumpeters for the cause of children's theatre are Barber and Lawrence, who can not stress enough the impact it can have on the youth.
"Removing arts from the curriculum was a blow to our civilization for me," Barber says. "The arts are what makes us human, it allows us to communicate our deepest feelings and thoughts. It should be first and foremost. One of the things I've noticed in the school system is that popular kids are cherished more, they matter more. That's lethal. When you separate children and make some feel ugly, unimportant, unpopular, there is going to be potential for revenge (aka Columbine High School). It's up to the school system and us to cherish every child equally. When you start saying that a kid throwing a football is more important than a kid who's an artist, that's setting a back-drop for some pretty horrific things." Children who may be laughed at by athletes for relishing theatre, get the opposite treatment at Pax Amicus and other playhouses. "We reverse that trend when we have our question-and-answer sessions after the show," he says. "The little shy ones can finally speak up because they feel it's OK to talk about MacBeth. And the one's who think it's not cool to talk about it, feel they have to be quiet because it's not their time to speak, but to listen."
One of the most popular productions at The Growing Stage is a history of New Jersey, entitled Tales of the Garden, which enables students to learn about their state without feeling confined by the classroom. "The material is presented in such an entertaining fashion they don't even know they're learning, but they walk out excited," Lawrence says. "The more children are exposed to theatre, the more they want it. New Jersey has a wonderful network of theatres, all parents have to do is open the paper any weekend and see dozens of theatres listed that are reasonably priced for the family. It's not as much of a gamble as it is to go see a $100 show that wasn't so great in New York. Our whole mission is to nurture the development of the performing arts in our community through education, and to create, produce and perform works that engage the entire family."
Not a bad mission. And in the Skylands, not an unpopular one, either.
Pax Amicus Theater, Budd Lake 973/691-2100
The Growing Stage, Netcong 973/347-4946
NJ Shakespeare Festival, Madison 973/408-5600
Morris Museum Bickford Theater, Morristown 973/538-8069
Morristown Community Theatre, Morristown 973/539-8008
Raritan Valley Community College , North Branch 908/725-3420
For children's theatre productions please check our calendar for schedules or call
Rich Fisher
This story was first published: Winter, 1999