Hunterdon Museum of Art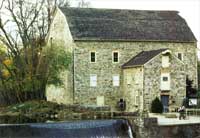 Hunterdon Art Museum
Just before the South Branch of the Raritan unfolds at the Clinton falls, the river's banks are home for two long-time repositories of New Jersey's history and culture. On the west bank, the landmark Red Mill, built in about 1812 to process wool, has played host to a succession of industries and activities spawned by the region's remarkably rich agriculture. In the 1830s a large stone mill rose across the river on the east bank where the proprietors stuck to grinding grain, the reigning business at this site since Colonial times. The two mills stood and stand yet as eloquent testimony to a once keen harmony between man's needs and Nature's possibilities. In 1952 a group composed of artists and community leaders acquired the stone gristmill for use as a nonprofit cultural center.
The building, which became known as the Hunterdon Art Center, was extensively rehabilitated after a severe flood in 1984, preserving the building's architectural integrity, installation of museum-standard environment and security controls and barrier-free accessibility. In 1997 trustees voted to change the building's name, now on the National and State Historic Registers, to the Hunterdon Museum of Art. Just beyond Clinton's charming, Victorian shopping district, the Museum is perfectly located for a non-stop succession of exhibitions featuring local, national and international artists. Supplementing the displays of modern and contemporary art are studio classes, workshops, lectures, exhibition tours, and other interpretive and outreach programs.
For more information call 908/735-8415.
This story was first published: Winter, 2000