Natural building considers a structure's impact on the local environment and culture, the global ecology, the needs and well-being of the inhabitants, and the quality of the building itself. Priorities are given towards the use of minimally processed, naturally sourced materials with maximum energy conservation standards in mind. The straw bale house at Genesis Farm in Frelinghuysen demonstrates the use of locally available, time-tested renewable materials to construct an energy efficient, aesthetically pleasing home. This prototype was fully permitted and approved for residential use in 2001, connected to a solar array for its electricity needs, a solar–space heating system, a composting toilet and a grey water system.
Although straw has been a common component in human domiciles for thousands of years, the first homes in the U. S. constructed with bales of straw didn't appear until the 1800s on the Nebraskan Great Plains. As pioneers moved into the grass-covered prairies they found grasslands that stretched for miles with hardly a tree in sight. With scarce obtainable lumber, they built with straw. There are now two contemporary approaches to the design of straw bale buildings. "Nebraska style" bale buildings are "load-bearing"—nothing other than walls made of stacked bundles of straw supporting the roof. Where timber is available, straw bales readily combine with a traditional post and beam bearing frame to provide thick, highly insulated walls as "in-fill".
Straw bale homes can make a significant contribution toward relieving the many challenges we face due to the effects of climate disruption, the increased scarcity of safe fossil fuels for our energy future, and the increased demands on the planet's forests for construction materials for our human buildings.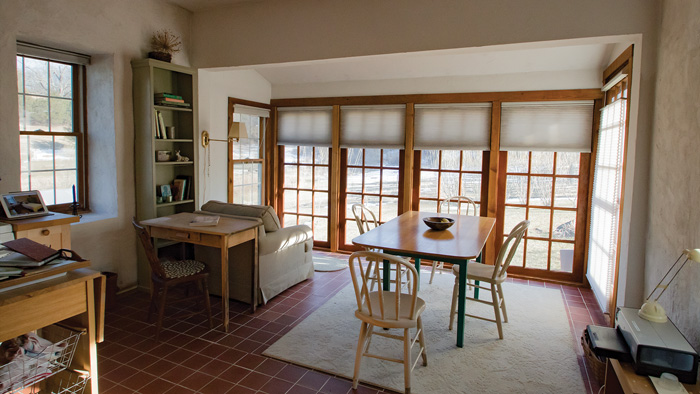 Genesis Farm's straw bale house was constructed using the post and beam design. This also made it easier to build the roof with trusses to keep the bales covered and dry during construction. The bales are not only super energy efficient, they are so tightly compressed that they are fire resistant, especially after they are encased in a plaster shell. The interior walls were treated with lime whitewash. The straw for this building was planted, grown and harvested by a local farmer and demonstrates the logic of investing in this "renewable building material" which can provide a significant second crop for farmers who are already planting grain for other purposes. Straw, the dried stalks that remain after cereal plants are stripped of their grain, is often burned or plowed under. Here, straw becomes a truly sustainable, affordable, local material that could meet many of New Jersey's housing needs.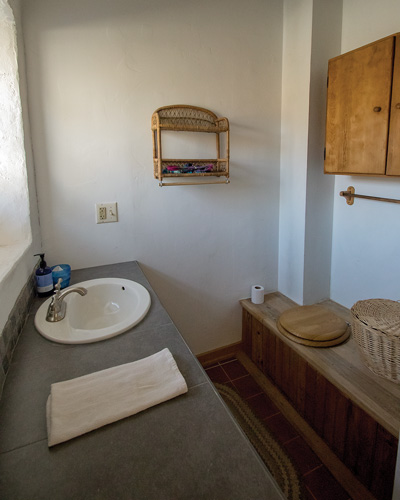 Sister Miriam MacGillis, who has served as the director at Genesis Farm since its founding in 1980, researched the advantages and techniques of straw bale construction, as well as the solar heating, grey water system and composting toilet she planned to install. Inquiry regarding all the details required to implement her design was the easy part. Obtaining all the necessary permits to proceed with construction however was not a simple matter. "The mentality of McMansions was so strong when we built this that it dominated all new models of construction," recalls Miriam. "At first there was a lot of kidding, and we had to endure warnings about the Three Little Pigs and the Big Bad Wolf. But we were able to provide the educational materials and articles being written around the serious revival of straw bale construction, and the approvals were granted. The Warren County health department was very accommodating; in fact they had permitted the earlier construction of our first composting toilet in our farmhouse. But Miriam had to go to the state level for approval of the grey water system, which was outside of the jurisdiction of the county health department. This was a much more time demanding and expensive process.
"Martin Hammer, one of our 'straw bale colleagues' in California, has been working for years to create a uniform code for straw bale construction for any state that chooses to adopt it. New Jersey approved the uniform code about five years ago," explains Miriam. Now, it can't be denied because of prejudice or a lack of understanding about its safety or durability. Still, Miriam is disappointed that the idea hasn't caught on in New Jersey. "I think necessity will shed a new light on these ideas. All of this could work in the next wave of how we inhabit the preserved farms and open spaces left in New Jersey. The climate crisis, the need for a restoration of small, diversified, non-toxic farms for the food needed by our local populations will need fresh, Earth-friendly solutions to the basic needs of food and shelter. We are able to start over to rebuild our communities without the old baggage. Warren County is just the right scale to be a pro-active leader in a Green New Deal."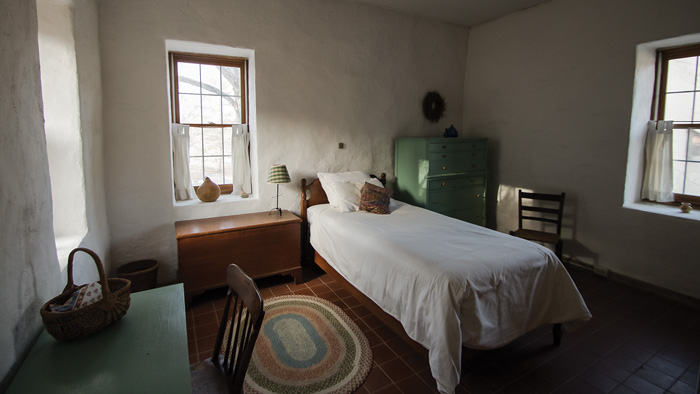 Late last autumn, Miriam's friend, Eileen, came to Genesis Farm seeking shelter because she was diagnosed with Multiple Chemical Sensitivity, and forced to flee from her own home which contained toxic building materials. "I have been here for about two months now and I have not only found refuge and safety from toxic materials in this peaceful haven, but the simple, natural beauty of this dwelling has renewed my spirit. I've had a soul crushing time having to leave all that is familiar to me, but here I am beginning to feel restored. The deeper healing effects of this space are in the shining beauty of this light-filled place, the elegant design and locally sourced materials. Everywhere my eye falls, everything my hand touches, speaks to me of a much deeper belonging—my connection to the earth and sun. The bale house speaks to me of all that is alive, all that is renewable."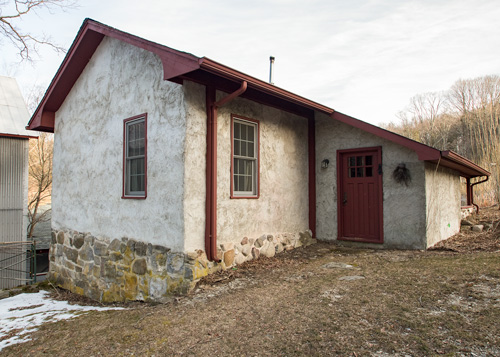 Genesis Farm, 41A Silver Lake Road, Blairstown, NJ, 0782
To find out more about the straw bale house call 908/362-6735 or email office@genesisfarm.org
Nearby accommodations and attractions
, Columbia

, Bloomsbury

Formal Elizabethan herb garden, medicinal garden, herb plants, flowering perennials, dried flowers, gift shop.

205 Mt. Bethel Rd, Port Murray 07865, 908/852-5390

Local roots!

56 Mine Hill Rd, Washington

Choose and Cut from thousands of trees! Blue Spruce, Norway Spruce, White Pine, Scotch Pine Fraser Fir, Canaan fir, Douglas Fir. Family run on preserved farmland. Open Nov 27 - Dec 23, 9-4. Closed Mondays and Tuesdays. Easy Access from Routes 78 or 80.

77 Jackson Valley Road, Washington 07882, 908-835-0557
This story was first published: Spring, 2019