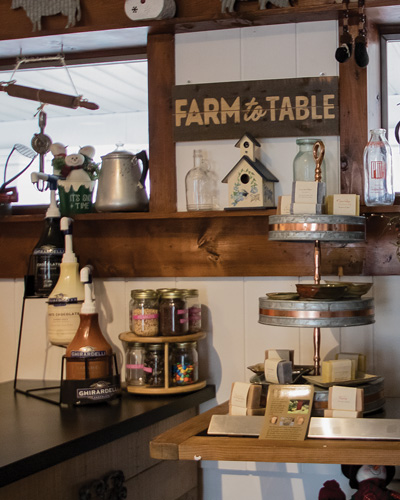 The big old Anderson Hotel on Route 57 in Port Murray has new life. The Country Corner Store and Café has settled in on the ground floor, welcoming a steady stream of patrons with a sign mounted on the back wall, painted with the comforting words "Farm To Table." The café's owner, Christina Seeger, explains, "We take pride in using local meats, produce, dairy, eggs and any other products that are available. One of our goals is to become fully sustainable. The main objective and motivation in using local products is the confidence in knowing where our food is produced, along with supporting our local agricultural businesses." If nothing else, the farm-to-table signature assures customers that they can dine in comfort knowing their food is carefully prepared and safe for consumption while allowing them to "give back to their community with every bite." Christina has located her farm providers through family friends and suggestions of peers, partners easy to find in the local Warren County agricultural community.
---
One of Ms. Seeger's partners is right up the hill on Rockport Road, where Lorene Lavora has operated the 18th Century White Chimneys Farm homestead since 1986. Ms. Lavora grows organic (not yet certified) vegetables, fruits, and flowers, manages a cashmere goat herd, and keeps flocks of chickens. She retired in 2015 from her IT job at Princeton and went back to managing the farm full-time, "with a goal toward selling to a very specific market. I feel very strongly about the 'ecosystems' of local economies. And I have loved Warren County since I first moved here. I truly believe that the farm-to-table movement fits this area like a glove, and I would love to see a more concerted effort to promote this in our county."
The farm-to-table "movement" of which Ms. Lavora speaks has appeared along with changes in attitudes about nutrition, food freshness and seasonality, and local small farm economics. For anyone with a garden, the taste of a Jersey tomato off the vine or pesto made with fresh basil is unequivocal validation for the pursuit of fresh food. The loss of family farms, along with the scarcity of heirloom and open-pollinated fruits and vegetables, are the result of industrial agriculture in a centralized growing and distribution system. For Ms. Lavora, the emergent farm-to-table market is a great opportunity. "My specific partnerships have been a matter of my determining a good fit for the quantity and varieties I grow. I approach them and offer a sample. I am much smaller than the kinds of places they would usually do business with so I want to offer items that they would not get elsewhere. I want to focus on a few crops so that I can keep them supplied during the appropriate season. So what this ultimately means is that I am planning my plantings very specifically with them in mind."
---
Ms. Lavora found another customer on Main Street in Hackettstown where chef Bill Van Pelt established the James On Main restaurant in 2016, offering a seasonal bill of fare, built around local farms, a long time local bread baker (Bill Harper of Harper's Bakery in Hackettstown), a young and energetic staff (also local), and the area's seasonal harvests and offerings. James on Main has also incorporated many of the area's artisan food and beverage producers. With his roots in Warren County, chef Bill has been an advocate of local agriculture from a young age. Starting with Best's Fruit Farm in Independence, Bill worked at the farm's market place, initiating his understanding and appreciation of what the local area was capable of producing. Apples, peaches, nectarines, plums, corn, brassicas and many other row crops, including peppers, tomatoes, zucchini, cucumbers, radishes, snap peas, fennel, hard squashes and leaf lettuces are all being grown, sold and consumed by the local community. Today many small farmers have the ability to sell their products directly to chef Van Pelt's restaurant. In addition to working with Best's Fruit Farm and White Chimneys Farm, the Old Mill Pond Farm in Changewater, and Four Fields Farm in Great Meadows all have a direct relationship from producer to consumer. "Arguably these producers provide some of the best fingerling potatoes, heirloom variety garlic, heirloom variety peaches, organic strawberries, raw wildflower honey, heirloom squashes, and even the coveted hakurei turnip," say Van Pelt. "The excitement behind this model stems from the hint of a free and open market. Instead of the product being transported to market, then purchased for distribution, transported once again, possibly shelved until sold, this farm to table relationship starts with the farmer bringing a particular harvest or product directly to the door of the restaurant. If the product is liked and required by the chef, it is then curated and worked into the menu of the day."
---
In December, 2018, Van Pelt found himself with a new neighbor a few blocks down the street where Don and Donna Sherman opened Soups on Main, the culmination of the couple's desire to educate the public about the importance food plays on one's health and quality of life. Donna, who grew up in Hunterdon County, worked as a health coach for nearly fifteen years where she learned that the largest contributor to the epidemic of chronic illnesses is our ever-increasing exposure to "new-to-nature" toxic chemicals in our food and environment. "Get patients on the program to eliminate toxins and eat healthy and they flourished," remembers Donna. "Once they completed the program, more times than not clients would revert to old 'bad food' habits and end up back where they started. Weight gain would return, blood pressure and cholesterol issues would return. Aches, pains, restlessness, irritability, tiredness and other maladies would resurface. I was frustrated that I couldn't keep them on the straight and narrow; that I was unable to convey the importance of eating healthy organic foods, free of as much processing as possible."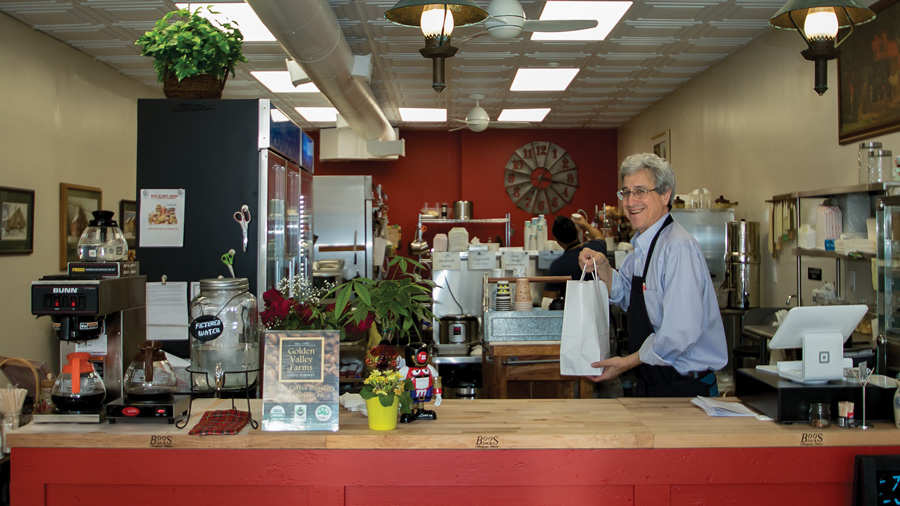 Instead of pointing fingers and complaining about the challenges we face today, Don and Donna decided to do something about it. In addition to trying to educate the public, they wanted to offer people an alternative to the typical "fast food" restaurant—healthy, organic style fare. What does "organic style" mean?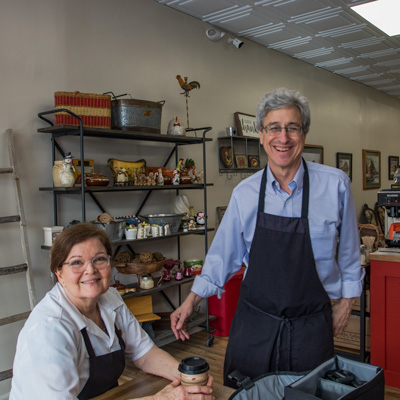 "Although the producer/farmer is not a certified organic producer/farmer, we make sure they are practicing organic standards. Smaller organic farms often times can't afford to pay the fees and inspection costs, etc., involved in the organic certification process," explains Donna. "We spent countless hours visiting local farms, talking to farmers and employees of those farms and gathering information on where we could buy the most nutritious foods. We wanted our food free of GMO's, pesticides, herbicides and toxic chemicals." Ms. Sherman continues, "The public generally believes that buying from farm-to-table growers provides them produced organic food that contains no pesticides and herbicides. Yet many of our farm-to-table growers use the Rutgers-championed Integrated Pest Management Program (IPM). Its stated goal is to reduce, not eliminate, the use of pesticide chemicals, claiming it is impossible to profitably grow food without them. Ironically, pest control accounts for over thirty percent of these farms' production costs, while it only reduces crop loss an average of twenty percent, and YOU still get to eat the residual chemicals!"
Soups on Main provides organic style soup, made fresh daily, in a convenient, healthy environment. There are dozens of delicious hardy soups, all of which contain ingredients that are locally sourced, often times being delivered by the local farmer right to the store. The organic sourdough bread is baked in store daily, as are their organic cookies and other offerings. You'll also find a farmhouse chopped Cobb salad as well as wraps and grilled cheese sandwiches on the menu. The day's menu is posted online each morning so that you can pre-order for quick pick up or delivery. Or enjoy your soup, salad or sandwich in the restaurant's casual friendly atmosphere. Get it while it's hot: farm-to-ladle, pot-to-table, organic style!
This story was first published: Spring, 2019