Harvest Recipes from Hackettstown Purveyors
Mama's and Café Baci
Profile and photos by Alison Hein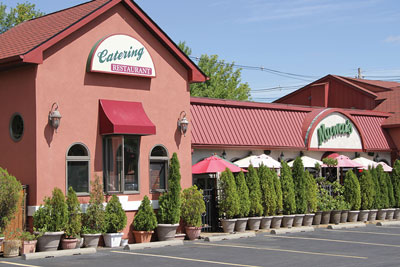 A delightfully sprawling yet cozy restaurant, Mama's has a homegrown, comfortable feel – the kind of place you want to stay awhile. Owner Tom Schiano and his family have been satisfying patrons with fresh, local Italian cuisine since 1970. The restaurant's mantra is "Local Farms + Freshness = Mama's.
General Manager Sheri Riva has been with Mama's for 25 years, completing her college degree and then returning. "When I started here years ago we had a one-page menu", Riva says. "Now the menus are 16 pages long. I've grown up along with Mama's. We pride ourselves on quality of both food and service. We take a lot of time to train new employees and everyone is considered family here."
Schiano's father bought three stores years ago and gradually cobbled them together to form the present day Mama's. The building is flanked by delightful garden areas, front and back, for alfresco dining. Baci's was added later to accommodate private parties and catered events. Catering, both on- and off-premises, has become very popular for the Schiano family, who also own the Bello Giorno catering and banquet hall in nearby Belvidere.
Produce and other supplies are sourced from local area growers, and food selections change with the seasons. Vegetarian, vegan and gluten-free alternatives are readily available. Mama's partners exclusively with Ringoes-based vintner Old York Cellars to provide a variety of wine choices. Menu options include traditional Italian fare like Pizza, Fried Calamari and Chicken Parmigiana, but also extend to modern, innovative dishes such as Brandy-Peppercorn Veal and Champagne Penne Palma, the pasta dish Mama's chose for this article.
"This is by far our most popular dish", explains Riva. "It's a warm, heavier comfort food nice for the change of seasons. I think people like it because its unique. When you go out you usually get baked ziti, penne vodka, chicken parm; but this you won't get anywhere else."
The sauce for Mama's Champagne Penne Palma begins with a rich Alfredo base made from butter, parmesan cheese and heavy cream. It is then lightened with white wine and seasoned with fragrant rosemary. Sun-dried tomatoes, spinach, and artichokes are added, making this a satisfying vegetarian dish. Riva recommends pairing the penne with Old York Cellars off-dry red Cabernet Sauvignon, or for white wine drinkers, the smooth Pinot Gris.
Champagne Penne Palma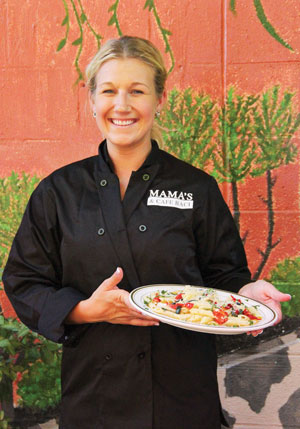 Ingredients
1 cup Alfredo sauce*
¼ cup white wine
Pinch of fresh rosemary
½ cup sun-dried tomatoes
½ cup chopped, cooked spinach
½ cup marinated artichoke hearts
2 cups penne pasta
Fresh grated parmesan cheese, for garnish
Fresh Italian parsley, chopped, for garnish
Preparation
Add Alfredo sauce to a heavy saucepan and heat over medium low heat. Add white wine and rosemary, and continue to cook until sauce is slightly reduced and alcohol is cooked off, stirring frequently. Keep warm.
At the same time, cook penne pasta in boiling water per package instructions. Drain, then add hot penne to champagne sauce and cook for another minute or two to allow the flavors to meld. Garnish with fresh grated parmesan cheese and chopped parsley and serve immediately.
*To make Alfredo sauce, add 1 pint heavy cream, ¼ pound butter, and 1 cup parmesan cheese to a heavy saucepan. Heat over medium low heat until mixed well. Let sit to thicken sauce.
260 Mountain Avenue, Hackettstown, NJ 07840
Hours: Mama's is open late and offers a full lunch and dinner menu all day (Sunday to Thursday 11:00 AM – 11:30 PM; Friday and Saturday 11:00 AM – 12:30 AM)
Other Offerings: On- and off-premises catering available; weekend entertainment and open mic night.
Alcohol: Full range of wines from Old York Cellars
Click or call 908-852-2820.

This story was first published: Autumn, 2014