Harvest Recipes from Hackettstown Purveyors
Marley's Gotham Grill
Profile and photos by Alison Hein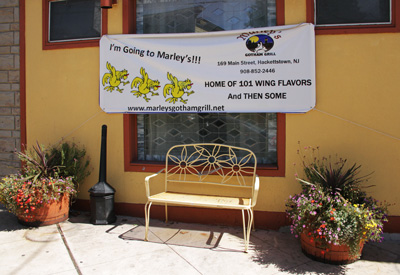 The banner outside claims that Marley's is the "home of 101 wing flavors and then some". Seriously? Is this possible? With co-owner and Chef Bruno Pascale's crazy wing obsession and kitchen innovation, it certainly is. Flavors range from Kickin' Chicken to Embalming Fluid, and Chef Pascale's continuous desire to experiment with sauces and seasonings (the current wing count is 140 and rising) means there's always something new on the horizon.
Marley's extensive menu offers a full range of delicious entrees, but it's not surprising that Chef Pascale picked one of his unique chicken wing recipes for publication – Bea Irish Man Chicken Wings. Laced with both Bailey's Irish Cream and Jameson Whiskey, thickened with brown sugar, butter and heavy cream, these wings make a delightfully rich and different dish for autumn.
The Star Ledger's Munchmobile recently ranked Marley's as one of Jersey's best for their "big, moist, cooked just right" wings.
"The wing thing started when we first opened as a Monday night challenge", says Pascale. "I thought, let's get people in here and see how many wings they can eat. We started with ten flavors and then I said you know what? I'm gonna do 101. Our latest is Cashew Bacon Brittle. I make nut brittle and grind it up, fry the wings, roll them in Nutella and then the ground brittle."
But wings are not the only thing on Marley's extensive menu. Chef Pascale and co-owner Joann Donaldson offer a full listing of "crazy, casual cuisine" including American favorites like burgers, soups and salads, as well as Northern Italian dishes such as Angel Hair Pasta and Chicken Marsala. The restaurant has been open for four years, and the atmosphere is bustling and friendly. You can join friends in the pub-like bar area for drinks and small plates, or sit down for a full meal in the cozy dining room.
Marley's makes local Centenary College students feel welcome, accepting the school's 10% discount Cyclone Card, hosting special student events, and providing comfort food at a reasonable cost. Mondays are reserved for 50 cent chicken wings. On Taco Tuesdays, $2 dollar tacos, margaritas, and Coronitas are served. Thursdays are Three Dog Nights - 3 substantial hot dogs like The Godfather, Cardiac Arrest, and The Joisey – can be purchased for $7.50.
When I jokingly asked when Veggie Night is, Chef Pascale responded, "If you're a vegetarian I've got tofu wings in every flavor. We can also accommodate gluten-free options, or tailor food to customers' specific needs. We've got something for everyone. We like to say that the food is so good, you'll leave here howling".
Indeed, Chef Pascale has a deep love of food and a passion for offering "great food and service for a reasonable cost". He started his first restaurant, a pizzeria, at age 17 and never looked back. In addition to running Marley's, Chef Pascale also operates two summer concession stands, and teaches in the culinary program at Middlesex County College.
Bea Irish Man Chicken Wings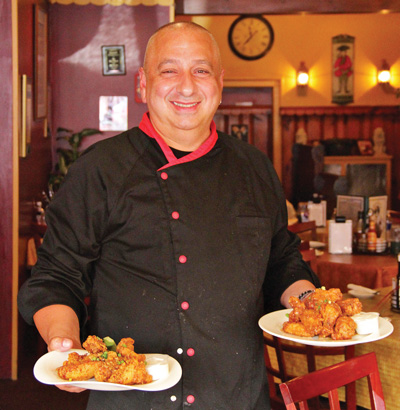 Chef Pascale
Ingredients
2 ounces Baileys Irish Cream
2 ounces Jameson Whiskey
1 tablespoon brown sugar
1 ounce heavy cream
1 tablespoon butter
12 chicken wings
1 cup flour
Dash cayenne
Oil for frying
Preparation
Add Baileys, Jameson, brown sugar, heavy cream and butter to a sauté pan and heat over medium heat. Let the ingredients cook for a few minutes until the flavors come together.
At the same time, pour flour into a bowl and add a dash of cayenne. Mix well. Dredge chicken wings in flour mixture and deep fry.
Remove wings from oil and drain on paper towels. Toss with sauce to coat completely. Serve immediately.
169 Main Street, Hackettstown, NJ 07840
Hours: Marley's Gotham Grill restaurant is open for lunch and dinner seven days a week (11:30 AM - 10:00 PM Monday through Saturday and 12:00 noon - 9:00 PM on Sunday). The bar is open from 11:30 AM - 2:00 AM Monday through Saturday and 11:30 AM - 1:00 AM on Sunday.
Other Offerings: Happy Hour every day from 3:30 PM - 6:30 PM; Karaoke every Thursday at 9:30 PM. Off-premises catering services available.
Alcohol: Full service bar
Click or call 908-852-2446

This story was first published: Autumn, 2014