Harvest Recipes from Hackettstown Purveyors
TOPO
Profile and photos by Alison Hein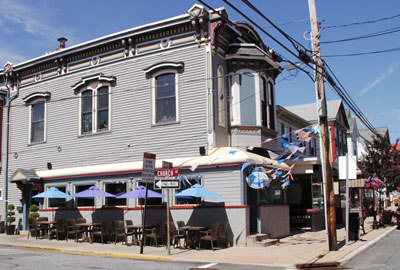 Th Old Post Office
From the outside, TOPO is intriguing – a historic building brightly painted in shades of blue, gray, crimson and amber. Colorful flags are strung across the sidewalk, and cheerful blue umbrellas shade the outdoor dining tables. The building was built around 1870 and was later converted into Hackettstown's first post office, thus the restaurant's name, TOPO, for "The Old Post Office".
Get ready to leave the history behind as you enter. Vibrant blue walls are enhanced with hand-painted, welcoming words such as "may all who enter here as guests leave as friends". Large, modern booths line both walls and are each outfitted with a water filler, electrical outlet, and service button. Everything looks sparkling and new.
The restaurant is, in fact, the latest to the Hackettstown dining scene, first opening its doors in June of this year. Chef Jay Djong and partner Allan Bradbury conducted a complete renovation of the building, peeling down through 5 layers of flooring and a couple of ceilings to create this fun, fresh environment.
Also fun and fresh is the Vietnamese menu created by Chef Djong. House specialties include the traditional noodle soup Pho, simmering Hot Pots, and soy milk tapioca Bubble Tea. "Our large tables are built for sharing", says Chef Djong. "We need lots of room for big groups, and to line up the meats and vegetables for cooking at the table."
Asian flavors are nothing new for Chef Djong, who grew up in Indonesia, or for partner Bradbury who has traveled extensively throughout the East. Together they also own the thriving Pandan Room on East Moore Street which specializes in Thai and Indonesian cuisine.
On weekends, Vietnamese Crêpes are available for breakfast at TOPO, or for the not so adventurous, Allan's Full English Breakfast or Eggs Benedict. The menu abounds with vegetarian and vegan options as well as meat dishes. The Bubble Tea is a must-try. Chef Djong prepares many flavors including "distinct and subtle" taro. When he asked me to describe the taste, the words that came to mind were: deep, aromatic, and mysterious.
Chef Djong selected a dessert recipe for this story, Kabocha Pumpkin and Coconut Custard. "Kabocha is a fall vegetable"' says Djong. "This recipe calls for lots of fresh, grated pumpkin and not so much sugar. Asian desserts are typically not so sweet, and include all natural ingredients."
To prepare the custard, Chef Djong grates raw kabocha pumpkin and mixes it with coconut milk, brown sugar, cinnamon, nutmeg and eggs. He bakes it in a hot oven, then serves it warm with a dollop of vanilla ice cream, a gob of fresh whipped cream, and a ripe, ruby strawberry.
Kabocha Pumpkin Coconut Custard
with Vanilla Ice Cream and Whipped Cream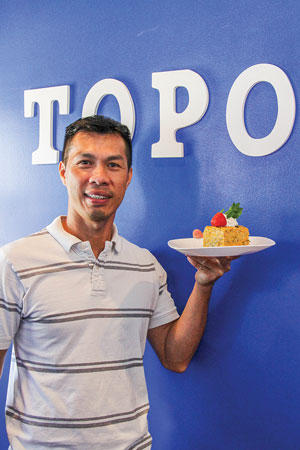 Chef Jay Djong
Ingredients
1 medium (4 to 6 pounds) Kabocha pumpkin (available in Asian and gourmet stores)
2 13-ounce cans coconut milk
6 eggs
2 teaspoons ground nutmeg
2 teaspoons ground cinnamon
2 cups brown sugar
8 ounces butter, melted
6 tablespoons cornstarch
Preparation
Preheat oven to 375°. Clean and core pumpkin; julienne or shred flesh. Add coconut milk, eggs, nutmeg, cinnamon, brown sugar, butter and cornstarch to a large bowl and mix well. Add julienned pumpkin and mix until fully blended.
Place a sheet of aluminum foil in a 9 x 13-inch pan and spray with nonstick cooking spray. Pour pumpkin mixture into prepared pan and cover with another piece of aluminum foil.
Bake for one hour. Cool, then chill overnight to allow custard to set. When ready to serve, cut custard into 3-inch squares and reheat. Serve with vanilla ice cream and whipped cream, if you like.
218 Main Street, Hackettstown, NJ 07840
Hours: TOPO is open for lunch and dinner six days a week (11:00 AM - 09:00 PM Sunday through Thursday and 11:00 AM - 10:00 PM on Friday and Saturday). Breakfast is available on Saturday and Sunday from 9:00 AM - 3:00 PM. Closed on Monday.
Other Offerings: Asian breakfast and full English breakfast available on Saturday and Sunday.
Alcohol: Bring your own
Click or call 908-850-5888

This story was first published: Autumn, 2014