We gathered up Bambi with some towels and a blanket and headed over to a local privately-owned rehabilitation center in Warren County, where a Wildlife Rehabilator licensed with the NJDEP showed us the cage where we stowed the helpless infant.
Little did we know that my wife and I would spend every Sunday afternoon for the rest of the summer feeding the orphaned fawns (all twenty-seven of them), and helping with many of the other animals acquired during three years of operation at the 120-acre preserved farm. The state-licensed sanctuary provided emergency care for fawns, raccoon, skunks, opossums, squirrels, rabbits, woodchucks and other small mammals that are sick, injured or orphaned.
Wildlife rehabilitators follow a prescribed regime for introducing rehabbed critters back into their natural environs. Patients remain in captivity only until they are able to live independently in the wild. Because fear of humans is a necessary survival trait for wild animals, an elaborate time-consuming process is often required to insure that every effort is made to minimize human contact and avoid taming.
The NJ Division of Fish & Wildlife has strict guidance on how and where rehabilitated animals are put back into their natural habitat. Ideally, all terrestrial animals should be released as close to the initial site of capture as possible. Normal home ranges and dispersal distances for a species should be considered to prevent unnatural spread of disease and unnatural gene flow. Release of wildlife in a location other than the site of capture exacerbates competition for limited resources at a given location and should therefore, be avoided whenever possible.
In the case of rabies vector species (raccoons, skunks, etc.), the animals must be taken back to the county where they came from in order to diminish the potential for spreading the disease. Although all wildlife rehabilitators are trained to readily recognize the symptoms of rabies, a positive diagnosis cannot be made unless the animal is euthanized and brain tissue sent out for analysis.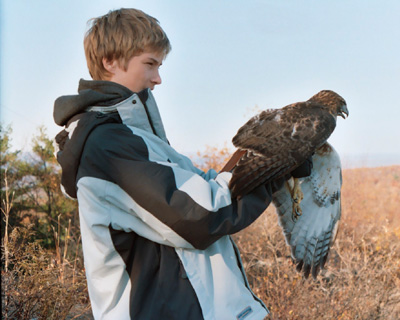 In some cases, an injury may be so persistent that it will always threaten an animal's ability to survive in the wild. Some wildlife rehabilitation centers make use of these debilitated animals in education outreach programs. Giselle Chazotte Smisko founded and runs the Avian Wildlife Center in Wantage with her husband, John, and their two sons. They take in all wild bird species but specialize in raptors and songbirds. The birds that cannot be released back into the wild become subjects for presentations to school groups and local organizations. Giselle shares with other wildlife rehabilitators the idea that making the public aware of the stress and perils that New Jersey's wildlife must endure is a vital component of their mission. The fragmentation of range and habitat forces these animals to closer human contact that would otherwise not happen. The common goal of wildlife rehabilitators is to work in concert with the public and to promote a responsible concern for living beings and the welfare of the environment.
Wildlife rehabilitators in New Jersey need to be licensed with the Department of Fish and Game under the Non-Game and Endangered Species program. Besides submission of reports and various permits, a minimum of one-year apprenticeship is required prior to being issued a license. Working with federally protected species migratory birds and federally listed endangered species requires permits issued by the US Fish & Wildlife Service.
Although a college degree is not required to become a licensed wildlife rehabilitator, a background in biology or a related field provides obvious advantages in understanding the needs of distressed wildlife, as well as their relationship to humans and the environment. Kelly Simonetti, Hope Kosch-Davison (Wild Baby Rescue) and Donna Fox (Rocky Springs Wildlife Rehabilitation Center) are registered nurses. Giselle Smisko is a veterinary technician, has a BS in Biology and served as a volunteer intern at The Raptor Trust in Basking Ridge with that organization's founder, Dr. Leonard J. Soucy. Harriet Forrester (Turtle Rescue of New Jersey) is a trained veterinary technician. But as Linda Mihatov (Wildlife Rescue) points out, "There is no classroom learning that can substitute for the hands-on experience from serving as an intern working along side a wildlife rehabber."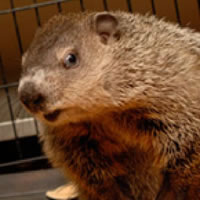 A number of colleges and universities have recently included courses on wildlife animal care within their veterinary and wildlife management curriculums. At Wild Baby Rescue Center in Blairstown, Hope Kosch-Davison receives help during the summer from pre-vet college student volunteers who are interested in learning more about the animal husbandry requirements of wild species and what it takes to be a wildlife rehabber.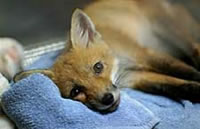 Family members all contribute their time and talents towards the effort whether it involves building cages and enclosures, feeding and caring for the animals or helping with the business end of running a wildlife rehab. And none of the rehabbers could function effectively without a corps of volunteers who show up on a scheduled basis to assist with the feeding and caring of the animals. In March and April, the rehabbers conduct training sessions for people who want to participate, and special training sessions are held throughout the busy season on a case-by-case basis. For special projects, like building or assembling cages, a team of willing folks may show up as part of their employer's community service outreach. This spring, a team from Home Depot in Newton will assemble a donated large enclosure for foxes or coyotes and a fawn pen at the Wild Baby Rescue Center in Blairstown. The Girl Scouts will provide refreshments for the volunteer workers.
None of the wildlife rehabilitation centers mentioned here receive public funds, and therefore rely heavily on monetary donations. You can donate directly from some of their Web sites. Other rehabbers tap into Internet Web sites that will contribute a portion of their advertising revenues. For example, you can help Rocky Springs Wildlife Rehabilitation Center by using MissionFish , a site that allows eBay users to donate some of their earnings to the center.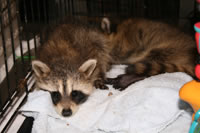 If you find an injured or orphaned bird or animal, call a licensed professional wildlife rehabilitator, who will be able to recognize if the animal is in distress or not. Do not feed a wild animal. Providing the wrong type of food or drink could cause serious harm.
If it is necessary to move an injured or abandoned animal, wear gloves. Put a baby in a secure box or pet carrier. Provide a heat source for warm-blooded animals (a soda bottle filled with hot water put in a sock, or a sock filled with rice and heated till warm in the microwave are good sources of heat). Keep rescued animals in a dark and quiet place away from pets and children.
Wildlife and Animal Rescue Resources
Avian Wildlife Center
All bird species including waterfowl, raptors. Wantage, 973-702-1957
Rocky Springs Wildlife
Rehabilitation Center Small mammals, songbirds, waterfowl and raptors, snakes, coyotes, bats, turtles. Broadway, 908-835-9991
The Raptor Trust
One of the premier wild bird rehabilitation centers in the United States. 1390 White Bridge Rd., Millington, 07946
Turtle Rescue of New Jersey
Hardwick, 908-362-7747
Wild Baby Rescue
Small mammals, bats, coyotes, woodchucks. Blairstown, 908-362-9453
Wildlife Rescue
Rabbits, squirrels, small mammals. 973-948-0037
Under My Wing Avian Refuge
A sanctuary for exotic birds. 1243 Rte 23 North, Wantage, 07461
This story was first published: