For those who have never attended the Warren County Farmers' Fair you will be delighted to find old-fashioned fun at old-fashioned prices. The event, which also includes a Hot Air Balloon Festival, is held in scenic Warren County, New Jersey and is easily accessible from Routes 80, 78 and 22. Admission is $9 for adults and $5 for children ages 5-12; ages 4 and under are free. Parking is also free of charge.
The the Fair has not followed inflation trends. The director's idea of inflation is the Mass Hot Air Balloon Inflation each evening of the Fair – which is included in the low admission price.
Over its long history the Warren County Farmers' Fair has remained an agricultural fair. In more recent years the Fair introduced more attractions like the balloon festival, traditional arts expo and Kids' Corral. Main Arena attractions also include two demolition derbies, an ATV and Truck Mud Bog, along with Truck and Tractor Pulls. Opening day will kick off on Saturday, July 29 and the Fair will run through Saturday, August 5, 2023.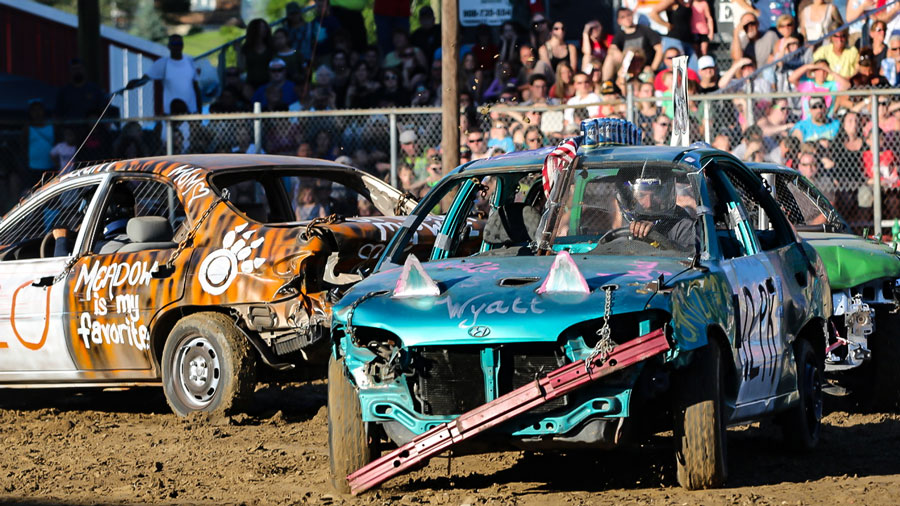 There is nightly action in the Main Arena, which includes two Demolition Derbies, Truck Mud Bog, along with Truck and Tractor Pulls. Tickets for Main Arena events may be obtained in advance by mail order. To order your advance tickets download the form from the Warren County Farmers' Fair website. and fill out and send with a check and self addressed stamped envelope.
There are plenty of contests that visitors can participate in or will enjoy watching. In 2012 the Fair introduced a Country Idol Contest, Truck Show and Mr. Warren County. By popular demand there will be a Ms. Warren County contest. Traditional favorites include a variety of 4-H & FFA shows, Kiddie Pedal Pull, home and garden contests, a talent show and numerous car shows throughout the week.
Teens can compete in individual contests from 1-6 pm each day, as a "crew of two" or in a triathlon. Contests for individuals include watermelon eating and a cotton ball count. For the crew of two contests its hay bale rolling and a balloon shave. The triathlon includes the Egg and Spoon, Tricycle Race and the Orange Peel contests.
What better way to kick off the Fair on Saturday, July 31, than with a Fry Pan Throwing Contest for women, at 12 noon, in the Horse Ring. It's time to release some pent up energy! We did not forget about the men. Both men and women can build their Ag Olympic Team and compete in the new Ag Olympics Obstacle Course, at 3:30 pm, following the Fry Pan Throwing. Farm chores include the Water Bucket Carry, Wheelbarrow Driving, Horse Jump and the Hay Bale Roll!
New to the Fair is the Warren County Jackpot Show – an open Breeding Sheep Show with commercial and junior divisions, beginning at 12 noon. In the Main Arena, the Fair welcomes back Rafter Z Rodeo, with bull riding, barrel racing and horse racing. The main event kicks off at 7 pm, after the Lil Buckaroos show. Lil Buckaroos are selected from ticketholders, for some mutton busting and other activities. Other events on opening day Saturday include a truck show, performance by Circle Round the Sun, beer garden and hot air balloons.
The Fair is most magical for small children and youth. If you are a member of the 4-H or FFA (Future Farmers of America) the Fair is a place where you can show off projects you worked on throughout the year. The Fair also gives these youth an opportunity to hone their communication skills. On your trip around the Fairgrounds don't miss the following stops – the 4-H and FFA buildings – to check out the incredible work these students deliver! When you are done in the FFA building check out the animal barns.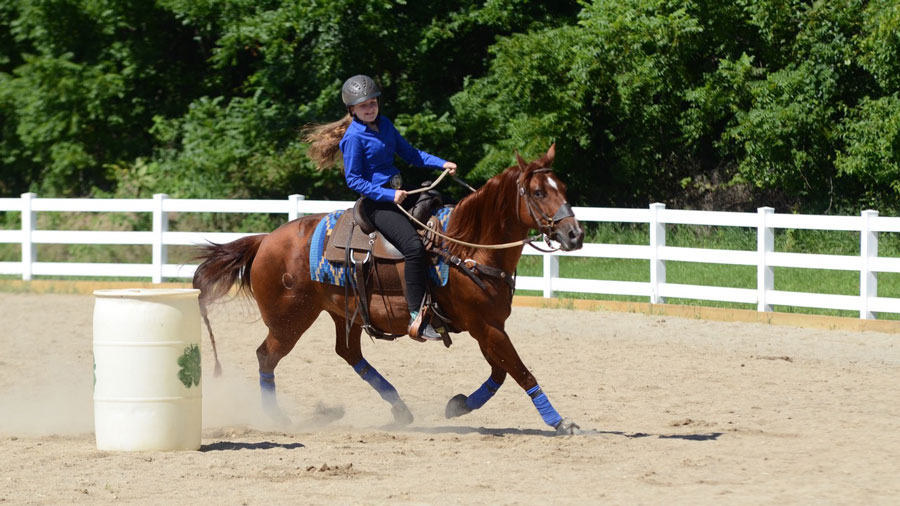 Beyond the FFA and livestock buildings is the Horse Ring. Each day you may watch a different horse show, from Western and English competitions to a dressage and even a jousting demo.
For those that have an appreciation for the old fashioned, on either side of the Kids' Corral and Circus area you will find the Traditional Arts Building and the Home & Garden Building. Catch demonstrations of lost arts like lace making, weaving and quilting in the Traditional Arts Building. The Home & Garden Building is full of everything from hand made crafts and fine arts to photography and bounty from people's gardens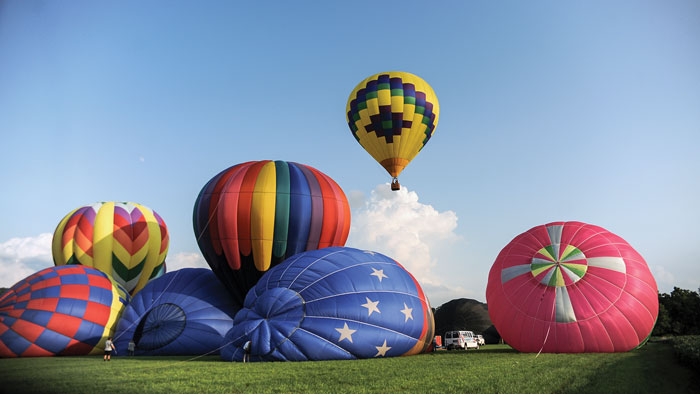 Down To Earth- Uplifting!
After dinner you will want to head over to the Hot Air Balloon Launch field where you can enjoy the Balloon Festival, all included in your original admission! That's right, the Warren County Farmers' Fair featuring the Hot Air Balloon Festival is the ultimate twofer. Fairgoers can enjoy mass hot air balloon launches and tethered rides each evening, as weather permits. Watch up to 35 hot air balloons go from green pasture to blue sky. Be on the lookout for special appearances by Fred G. Monster on both Saturdays, Sunday and Wednesday, weather permitting.
Looking for more flying fun? How about Drone Demonstrations? Three years ago Warren Community College began sharing progress on their Unmanned Systems (Drone) program. At the Fair they will share plans for the implementation of a recently awarded $2-million grant from the State of New Jersey's Securing Our Children's Future bond. Autonomous aircraft will be flown to conduct crop analyses, industrial drones will be demonstrated, Transportation as a Service will be reviewed, and attendees will be invited to try their flight skills on an entry level unmanned aircraft.
The Fair Directors look forward to providing you with another year of old fashioned fun at old fashioned prices. The Warren County Farmers' Fair and Hot Air Balloon Festival runs from Saturday, July 20 to Saturday, August 6, 2022. For a list of hours and other activities, and to sign up for enews, consult theWarren County Farmers' Fair website. To book a hot air balloon ride, click here.
Nearby accommodations and attractions
Native wildflowers, trees, and shrubs grown using all natural methods in an organic potting mix. All plants are local provenance, seed-grown at our family farm. Mail order and web-based retail. Pick up by appointment only. Botany and restoration services.

, Pohatcong, 908/319-7230

, Columbia

NJ Audubon's thirty-fifth outpost is a model for blending environmental awareness, wildlife habitat, and agriculture.

1024 Anderson Road\r, Port Murray 07865, 908-366-7781

A canal boat captain and her daughters navigate the Bread Lock in June, 1863.

, ,

Warren County's Montana Mountain, Merrill Creek Reservoir, and the Pohatcong Valley is equally rewarding for students of history and devotees of the outdoors.

, ,
This story was first published: Summer, 2011