Pumpkin Sling Moves to Poconos
Jersey Being Jersey
Eleven years ago, a group of friends gathered at an event in the Pocono Mountains began to discuss a "punkin' chunkin'"event, and decided to create something similar in Northwest New Jersey. The event's premise would be to support agricultural tourism, ecological tourism and cultural heritage in the region, branded as the New Jersey Highlands. Seven years later, in 2010, the Last Fling Pumpkin Sling was launched in White Township in Warren County. Gaining quick acceptance and surging attendance, in 2011 the Sling moved to larger quarters at Millbrook Farm on top of Montana Mountain in the township of Harmony, acreage enrolled in New Jersey's Farmland Preservation program.
Inspired by the World Championship Punkin' Chunkin' in the state of Delaware, youth groups built catapults and trebuchets, competing to see whose machine could throw a pumpkin the furthest. Participants included local schools, Boy Scouts and robotics teams from New Jersey. Several teams traveled from Chatham, Mt. Olive and Morris Knolls in Morris County. By 2013 teams and their supporters were coming from Kutztown, PA, Islip, NY and even Delaware. In addition to the competition, vendors, music, and children's activity added to the fall festival atmosphere. Free bus tours brought visitors to various local historical and agricultural sites, and promotional literature enticed visitors to return for the approaching holiday season.
Besides offering a unique opportunity for thousands of visitors to enjoy the beauty and bounty of rural New Jersey, event organizers wanted to do business directly with farmers. Already facing diminishing agricultural viability, farmers were strapped by depreciating property values that resulted both from zoning restrictions imposed by the Highlands Act and the national collapse of the real estate market. Straw was purchased, tractors were rented and skilled tractor drivers were hired. Non-farm related expenditures included purchasing printed material, signs, renting tents and providing portable toilets. And, while property owners argued with conservation groups about land values and water quality, the Highlands Tourism Partnership concentrated on helping farmers promote their businesses on a wider scale. Establishing the Highlands area as a visitor destination would expand everyone's economic horizon.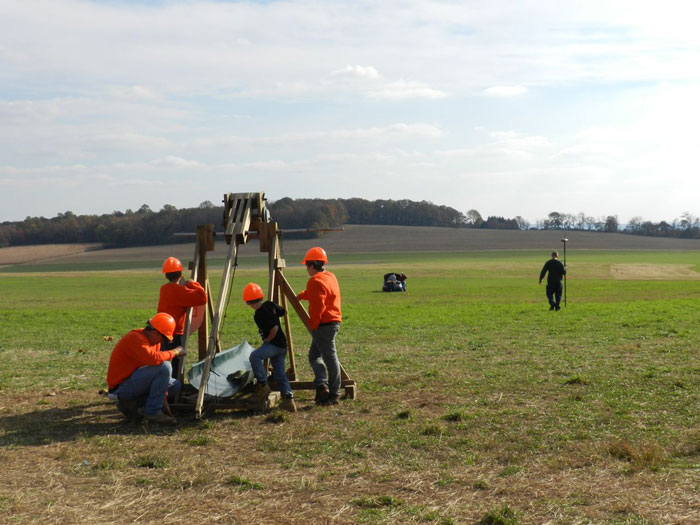 Photos from previous Pumpkin Sling events.
In 2013, the Warren County Agriculture Development Board (CADB) notified the farmer hosting the event that he was in violation of his "Deed of Easement" whereby the County holds an easement on the development rights of the farm in perpetuity pursuant to the Agriculture Retention and Development Act of 1981 (ACT) administered by the State Agriculture Development Committee (SADC) Farmland Preservation Program. The intent of the Act is to stop urban sprawl and to maintain agriculture as a viable industry in New Jersey.
Under the Deed of Easement, preserved farmland shall be retained for agricultural use and production, meaning the use of the premises for common farm site activities. All nonagricultural uses existing at the time of preservation are to be noted on the Deed of Easement, and any other uses are prohibited. Nonagricultural uses are typically such commercial activities as a wood shop, beauty parlor, landscape business, dog kennel, etc..
However, the language binding the farmer to the restrictions of the Deed of Easement is somewhat vague; stating in another section that the farmer may "use the Premises to derive income from certain recreational activities such as hunting, fishing, cross country skiing, and ecological tours, only if such activities do not interfere with actual use of land for agricultural production…" The language is ambiguous as to what types of events can be held on a farm. In 2004, a new Agriculture Tourism Council was appointed to review the benefits of generating ancillary income for farmers by allowing certain types of recreational and educational events. The Pumpkin Sling deserved a more liberal interpretation of the farmer's Deed of Easement. However, when the SADC heard about the event, it demanded a halt to the activity.
Some landowners, and even CADBs, have expressed concern that these types of violations cited by the SADC seem to be determined on a case by case basis. As recently as 2012, members of the SADC were still debating whether weddings, festivals and other special events on preserved farms should be allowed, ventures that earn significant supplemental revenue for the farmer, preserve our agricultural heritage and augment local tourism. Agricultural tourism, according to the new senate bill S837, is defined as "affordable, recreational, and educational activities, events and opportunities to learn about the production of food, agricultural and horticultural products and the State's farming heritage while helping to encourage the preservation and retention of agricultural lands."
Ask a farmer who tends to seven-hundred acres and he will tell you that he could use more. But Farmland Preservation does not create additional farmland; it only ensures that more will not be lost. Many have turned to agritourism to help support the family farm, by creating programs for visitors who can experience rural life—many for the first time—and who can begin to appreciate where their food really comes from.
The New Jersey wine industry, which is just beginning to establish a wide regional reputation for exceptional product, is another example where enlightened interpretation of the statute might well be considered. For the last several years, the SADC members have debated which are legitimate ways to market wines, and only until recently have specified these types of events. Lately, they have been in litigation with wineries that hold weddings. These events create jobs and generate tax revenue for rural communities and the state; all while supporting a young, promising industry in an increasing competitive national environment. The new law signed by Governor Christie this summer passing the buck back to the SADC to develop rules for a "pilot project" allowing weddings, recreational, and educational activities, events and other opportunities, is still being lobbied for amendment. Only time will tell what the New Jersey voters and their elected officials will determine as the best way to preserve our agricultural economy and all the endeavors that support it.
Because they received no direct answers from Farmland Preservation Program executives regarding official interpretations of regulations or clarifications in the language on their deeds of easement, organizers have taken their event across the river to the Pocono Raceway, to be held on October 18 - 19. They will offer assistance in traveling expenses for Warren County teams, reduced admission for Warren residents, and donations to the Rolling Thunder NJ Chapter #3. An event that was conceived Poconos now has opportunity to thrive at the new venue, where tourism officials welcome it. It won't be the same as bringing visitors to the little town of Harmony, but the Pumpkin Sling will bring harmony to the Pocono Raceway. For more information about this year's event, please check their website.
We welcome your comments about this issue!
This story was first published: Summer, 2012