Matarazzo has been cooking and perfecting his culinary skills ever since. What he doesn't grow on his own 150+ acre plot, he procures from local purveyors. "All produce and fruit used for our events comes from area farms and orchards. Our dairy and meat products are also sourced locally. We are wholly committed to cooking with fresh, local food." He describes his cooking style as inventive, combining the best of seasonal ingredients for an ever-evolving outcome.
Also important to Matarazzo is carefully pairing food and wine. "I believe that the wine should bring out the flavors of the food, and that the dishes served should enhance the taste of the wine."
In August, Four Sisters Winery will be at the Vintage North Jersey Wine and Food Festival, where vintners from along the budding New Jersey Wine Trail will assemble to holding wine tastings and serving accompanying food. On Matarazzo's menu? Homemade flatbread pizza: grilled hearth dough laden with seasonal eggplant, zucchini and broccoli, then smothered with local cheeses and popped into a 600° oven to a melty finish. Aromatic oregano, chives and tarragon from the Four Sisters' garden top off the pizza with a flash of greenery and taste of summer.
Matty's Grilled Garden Pizza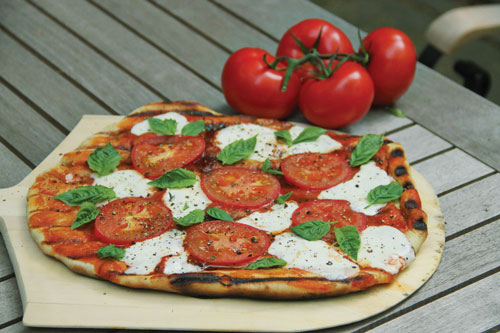 Prepare a small bowl with olive oil for greasing the grill grates and for brushing the pizza. Prepare the toppings so they are ready to go on the pizza - tomato sauce, cheese, and anything else you wish. I like to use fresh basil and thin slices of tomato and very little sauce. Either purchase pizza dough from your local pizzeria or follow a standard recipe for making pizza dough.
Shape the pizza dough by flattening it with your hands on a slightly floured surface, then let it sit for 5 minutes and then push out the edges with your fingers again, until you have a nice round shape, about twelve inches in diameter. Do not make a raised rim; it will interfere with the grilling process.
Set your grill on high (you can hold your hands an inch over the grates for no more than two seconds), dip a tightly folded up paper towel in olive oil and use tongs to wipe the grill grates. Then place a pizza dough round on a lightly floured rimless cookie sheet. Let the dough slide off the cookie sheet onto the hot grill grates. Close the grill lid and let cook for two minutes. Be careful it does not over cook as this will be your top side. Check underneath the dough to see if it is getting browned. When the top of the pizza dough starts bubbling up with air pockets, your dough is ready. Use your cookie sheet or pizza peel to remove it from the grill, then flip the dough over with a spatula, grilled side up. Keep the grill covered so it retains its heat for the next step.
Paint the grilled surface of the pizza with a little olive oil, then cover with one ladle of sauce – no more, or you'll end up with a soggy pizza. Sprinkle on your toppings, ending with Mozarella cheese (if using), and if using meat, put that over the cheese. Remember to go light on the toppings, or your pizza will be heavy and soggy. If you use onions, peppers or mushrooms I usually sauté them in some olive oil a few minutes before placing them on the dough.
Slide the topped pizza back onto the grill, reduce the heat, close the lid and cook for two or three minutes more, or until the bottom begins to char and the cheese is bubbly. Pull off the grate with a spatula and let it rest for a couple minutes before cutting into slices.
Nearby accommodations and attractions
Formal Elizabethan herb garden, medicinal garden, herb plants, flowering perennials, dried flowers, gift shop.

205 Mt. Bethel Rd, Port Murray 07865, 908/852-5390

Consider Rutherfurd Hall as refuge and sanctuary in similar ways now, as it served a distinguished family a hundred years ago.

1686 Route 517, Allamuchy 07820, 908/852-1894

NJ Audubon's thirty-fifth outpost is a model for blending environmental awareness, wildlife habitat, and agriculture.

1024 Anderson Road\r, Port Murray 07865, 908-366-7781

Local roots!

56 Mine Hill Rd, Washington

Restored c.1754 stone ironmaster's home associated with c.1741 Oxford Furnace.is open first and second Sundays, 1-4pm, for tours through Colonial and Victorian rooms with costumed docents. There are special events throughout the year as well as programs for schools. Sunday concerts on the manor lawn are a favorite during the summer.

8 Belvidere Ave, Oxford 07863, 908/453-4381
This story was first published: Summer, 2014