A Taste of Summer
Race Farm
Profile and photos by Alison Hein
A shady pine tree-rimmed picnic area welcomes you to Race Farm, where four generations have worked this land since 1938, when Carl Race and his wife Flora found a simpler lifestyle for their family. Three generations are still at it today. Carl Jr., and his wife Joyce, expanded the farm to include a pick-your-own area as well as a roadside market, and ran the farm for more than three decades. Son Doug took over the operation in 1990, and currently runs the farm with his wife Jeanny, son Ryan and daughter Devin.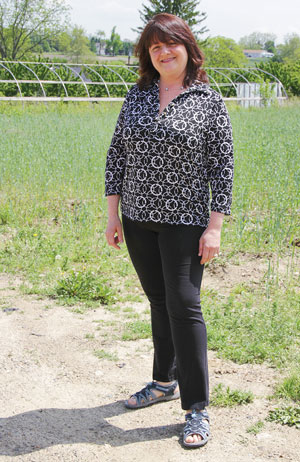 Jeanny Cosgrove-Race
In season, the Race family sticks to a rapid pace and a complicated schedule: tending to the trees and produce, participating in multiple farmers' markets in New Jersey, New York and Pennsylvania, planning events, and making foods and baked goods for the roadside market on Route 94 in Blairstown. "I'm studying to be a culinary nutritionist," says Jeanny Cosgrove-Race. "Everything I do for the farm is with that in mind. My goal is to bring as many people as I can to the farm and teach them about agriculture, about where food comes from. In 2011 we started a small prepared-food line that includes fresh and healthy homemade hummus, dressings, salads and soups you can purchase in our roadside market. Today I'm making sweet potato soup and kale salad."
Pick-your-own opportunities begin at Race Farm in July with blueberries and vegetables, and continue with apples through October. Every harvest is celebrated. "We started doing family-oriented fairs in our picnic area last year in line with the pick-your-own season," Jeanny explains. "We keep these festivals old-fashioned and true to the roots of the farm. There is no admission. We want to provide goodwill, and promote agriculture and a simpler lifestyle. If a family wants to bring a cooler with their own food, they are welcome to sit under our trees and enjoy our property. I've never seen an unhappy child in an apple orchard."
Race Farm Blueberry Lemonade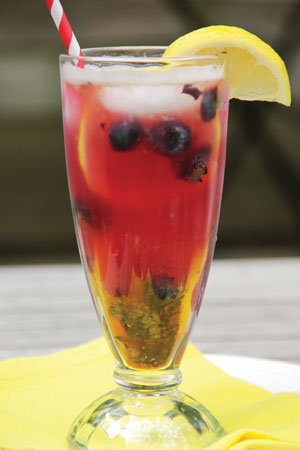 There are a couple of ways to add blueberries to lemonade. One is to blend them into the lemon-sugar mixture and have very berry, very blue lemonade. Another is to muddle the berries in a glass, then add them to the lemonade mixture. This gives a very light blue color and slight berry taste to the lemonade. I wanted a definite blueberry flavor, but not so blue that you can't tell it is lemonade. So I add a handful of berries to the blender with the lemon and sugar, then muddle a few more berries into a glass, for a perfect balance of sweet/tart berry-licious lemonade!
Ingredients
1 cup fresh lemon juice (about 8 lemons)
1 cup sugar
1 pint fresh blueberries
6 cups water
Preparation
In a blender, add the lemon juice, sugar and a half cup of the blueberries. Blend for 30 seconds or until sugar is completely dissolved, then add to the 6 cups of water. When serving, toss a few reserved blueberries into each glass. Muddle, or break apart slightly with a fork. Add ice and lemonade. Makes 2 quarts of lemonade. Enjoy!
Add seltzer to the Blueberry Lemonade for a refreshing homemade soda, or vodka for a fabulous summertime cocktail!
Race Farm • 93 Belcher Rd, Blairstown • 908/362-8151
Nearby accommodations and attractions
Local roots!

56 Mine Hill Rd, Washington

The UACNJ facilities in Jenny Jump State Forest, near Hope in Warren County, are 1,100 feet above sea level, one of the few dark sky locations left in the state.

, ,

, Columbia

In 2019, the Historic Moravian Village of Hope celebrated 250 years since the Moravians first settled the hills along the Beaver Brook.

Restored c.1754 stone ironmaster's home associated with c.1741 Oxford Furnace.is open first and second Sundays, 1-4pm, for tours through Colonial and Victorian rooms with costumed docents. There are special events throughout the year as well as programs for schools. Sunday concerts on the manor lawn are a favorite during the summer.

8 Belvidere Ave, Oxford 07863, 908/453-4381
This story was first published: Summer, 2014