Edible Flowers
Backyard Grower
It's easy to drive right past Stan Styer's humble abode, unless it's August or September, when he wheels his little wooden cart, heavily laden with fruit, flowers and vegetables, out to the road. There's no sign, you just have to know about it. At various times of the day, you may find tomatoes, raspberries, golden beets, or whatever is in season and abundant. "I put out a little here and a little there during the course of the day," says Styer. "People come from a long distance and I want to make sure there is something for everyone."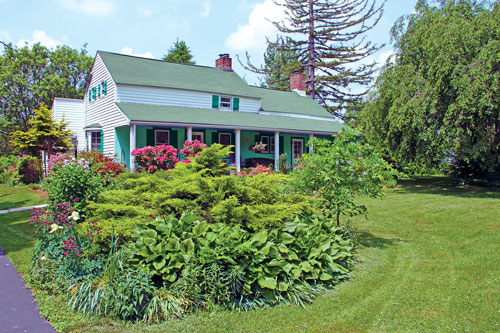 It's not about the money for Styer, who sells blooming bunches of zinnias for $1 a bouquet and donates all fresh eggs to his church. "Well, it helps me out a little with buying my plants and trees," he admits. "But I like to share the bounty."
Styer, a spry 77-year-old former marine, still chops wood by hand, constructs his own birdhouses, and runs 5k and 10k races on a regular basis. He has been growing things his entire life and puts every nook and cranny of his 1.2-acre garden to good purpose. "I grew up in Warren Township on the side of a mountain. As a boy, I would make terraced gardens in the rich black dirt just because I loved it." A walk through the garden reveals a cornucopia of thriving greenery, from budding fruit trees, to flowering irises, to volunteer parsley and squash plants. The sound of vibrant birdsong punctuates the tour.
Raspberries, grapes, and elderberries are used to make juice. Styer's assortment of fruit trees bears plums, apples, peaches and pears. There are tomatoes and peas, chives and mint, and golden blackberries with "ferocious thorns". There is possibly the most picturesque chicken coop you'll ever see, filled with fresh grass clippings, covered with grapevine, adorned with its own flower box, and lorded over by a "bossy but not overbearing" rooster. There is a goldfish pond, and amazingly, a bluebird nest filled with six tiny blue eggs. Astonishing when Styer confesses the entire property was covered only in lawn a mere 12 years ago.
And what about edible flowers? "Most flowers are edible, you know," says Styer. "Zucchini, other squash types, cucumber flowers and even day lilies are delicious when dipped in batter and fried. Just dip them in a little pancake batter and fry them in olive oil for a minute or two. Elderberry flowers are also good fried, but I like to save them for my juice."
"I like to make fresh teas," Styer continues. "Red clover and blackberry leaves mixed together are very nice. But my all-time favorite is rose hip tea, which I make from the Rugosa rose. It's a beautiful red tea packed with vitamin C."
Rose Hip Tea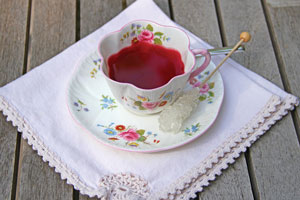 Rose hips are the seed pod of the rose plant. Styer prefers the Rugosa rose variety for its large, sweet rose hips and vitamin C concentration. Do not remove the hips from the plant after the flowers bloom. Wait until after the first frost to harvest the hips from the plant, which further sweetens the hips. They can be used fresh to prepare tea, or dried to be enjoyed throughout the year.
Ingredients
2 to 4 tablespoons dried rose hips
4 cups hot water
Preparation
To dry rose hips, select firm hips with good color and cut from the plant. Trim ends, cut hips in half, and remove inner seeds to the extent possible. Spread out in a thin layer on a baking sheet and bake for several hours at 200° until dried. Chop hips a little finer in a blender or food processor. Store in an airtight container until ready to use.
To make tea, heat 4 cups of water just to the boiling point. Pour over 2 to 4 tablespoon dried rose hips and let steep for 10 to 15 minutes. Enjoy rose hip tea hot or cold.
Makes 4 cups of tea.
Stan Styer, backyard grower & produce stand
615 County Rd. 519, Belvidere • 908/475-8789
---
Educate yourself about edible plants before ingesting any flowers.
Consume only plants that are pesticide free – plants that are raised to be edible or that you have grown yourself.
Introduce flowers into your diet slowly, and do not eat flowers if you have plant allergies.
NEVER eat a plant that you are not sure of – some wild edible flowers closely resemble similar plants that can be toxic.
Nearby accommodations and attractions
, , 908/537-2544

Consider Rutherfurd Hall as refuge and sanctuary in similar ways now, as it served a distinguished family a hundred years ago.

1686 Route 517, Allamuchy 07820, 908/852-1894

, Bloomsbury

540 Warren Street, Phillipsburg 08865

A cooperative gallery featuring fine art, paintings, photography, pottery, stained glass, jewelry, fiber art, wood turned bowls, quilting, painted tiles, dioramas, and more by 35 talented local artists. Gifts and note cards for every occasion. Hours: Monday - Saturday, 10am-5pm; Closed Sundays.

23 Main Street, Blairstown 07825, 908/362-6865
This story was first published: Summer, 2015