Butch Shoemaker is taking me for a ride up and down roads I've traveled many times, on a tour that roughly follows the order of the 123 farms that he's portrayed in his book, White Township Farms, The End Of An Era. Familiar scenes around each bend have a far different meaning to Butch, who has ridden these roads since boyhood, and the advantage of riding with him is that he's allowed to go up most all the lanes that shoot off up into the hills to unknown places I've wondered about. Near the end of our ride, in a particularly gorgeous glen near Brass Castle Road, he turns onto one of the narrow tracks that cuts up through the rock face. "The word is these people will shoot ya if you drive up here," he says. Passing a large, deep-throated barking dog, he stops his pick-up in the middle of an ancient barnyard, surrounded by low tool sheds, a large chicken coop, various dilapidated animal outposts, scattered farm machinery, either working or in various states of disrepair, and three tiny houses. He's warned me not to expect too much; most would quickly dismiss this place as broke down. Butch says, "To me this is from the 1800s. To me this is America. They're still here. They milk thirty-five cows, one of two farms that still produces drinking milk in White Township." Earlier this afternoon, Butch had mentioned Alice Martin, whose family bought this farm in 1892. He'd asked her for information to include in his book and she'd replied, "You don't want to write about us, we're nobody." "I took that to heart," Butch told me. "You are somebody." When Alice saw Butch's finished book, she cried.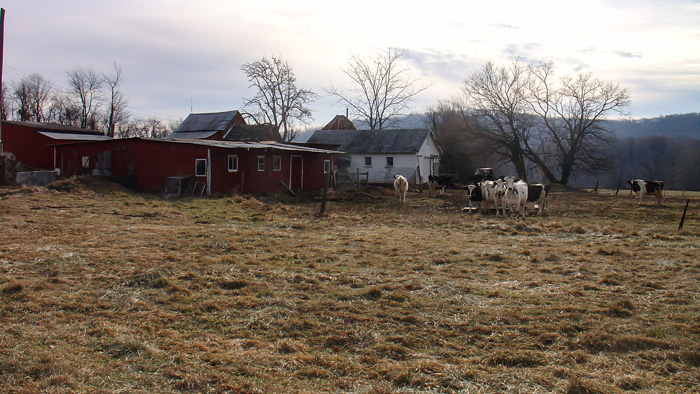 White Township lies in western Warren County, part of it along the Delaware River just south of the Delaware Water Gap. The Pequest River flows west through the middle of White towards the Delaware at Belvidere. US Route 46 parallels the Pequest, past its junction with State Route 31 at the hamlet of Buttzville, then past the township's likely most famous destination, Hot Dog Johnny's. White's topography varies from low-lying river plain to high-rising steep hills affording some of the best views of the Gap. The State of New Jersey owns many of White Township's acres—former farms, now overgrown—including a greenway along the Pequest, the Beaver Brook and Buckhorn Creek Wildlife Management Areas, and a section of Jenny Jump State Forest east of Mountain Lake. More are occupied by the Warren County Landfill and Incinerator. At one time or another, however, nearly every square inch of White Township has been farmed.
Shoemaker began to assemble his book fourteen years ago and finished the first edition in 2010—233 pages that tell "the story of our area when it was full of family farms, when dairy cows, barns and farmers were the essence of our landscape." This is not one of those sepia tone Arcadia publishing style collection of captioned old postcards and pictures you see lined up in the bookstore. Butch's book is mostly a collection of oral histories, documenting the period of his lifetime, which is sixty-nine years, and a decade or two prior. Although he did not intend for it to be a history book, Shoemaker spent hours crosschecking facts, consulting with old friends, and enlisted his mother and sister to edit and prepare the book for printing. He gathered most of his information at kitchen tables across the township, at first coaxing details from old memories. "Only two people did not get back to me when I asked them to talk, and at least ten more people came forward after the book was done. Farmer's aren't one to call for an appointment. You stop, if they're too busy, they'll say 'I'll catch you next time.' People would say 'I can't find anything,' then they would call with something." When Butch decided that he would create a DVD to accompany his book, he produced a short preview to take along to his interviews. "When people saw that," he says, "stuff came flying out of the attic!" The DVD became a set of three; each narrated and one-hour in length, entitled A Journey Through The Fields.
---
Some contributors wrote their own stories, each full of childhood memories and rich detail. In one, Dave Cramer remembered his mother, Jean at home while his father, Stewart, spent most of the time away from home, captaining a tugboat on the Hudson River:
"Jean was struggling with the task of raising four growing boys, 400 chickens to tend, with eggs that had to be candled, the daily chore of feeding, gathering eggs and tending the new arrivals of chicks was a bit much. Plus worrying about six or seven steers escaping through the fence and ending up in the neighbor's field. Things had to change, so … Stewart would try making it home full time and it was time the boys pitched in or they were all going to sink.
"There was at that time, a lot of involvement in 4H. That's when I, Dave Cramer, became involved with the farming. Dad was still working on the tug boats and would come home and try to get as much hay made as possible in five days. I remember we would be rolling bales in a row with the stars and moon for light. We would load the old flatbed truck and haul the load to the barn, to be unloaded in the morning…. There were no free lunches in the fifties and sixties and everybody pitched in. The Cramer's made friends with all the local farmers. There was the weekly trip to the Van Horn farm for fresh mild right from the can. There was the crop planting and harvesting with the help of Elwood Hixson and Oscar Unangst. Let's not forget Henry Horlebein. That man was involved in every aspect of farming that there was, from raising pigs, chickens, mink, fancy pigeons and canaries. Henry was the first man to do side dressing of corn… Through the years we learned a lot of skills that boys from the city never would have learned, like shearing sheep, building fence, making hay and riding a combine threshing oats. We all started with good roots. Where we pushed them was up to us."
Dave Cramer's father never did farm full-time, but he did stay home, starting a successful plating shop in Buttzville. As time went on, relatively few farms were, in fact, able to sustain a family. Even author Shoemaker, after working on farms as a boy, started a junkyard in a field on his grandfather's farm on Free Union Road, which eventually grew to great success as S&L Auto Parts and Equipment in Bridgeville. Butch explains, "When I grew up, to be a pretty big farmer, you only needed a hundred acres. If you weren't 'a farmer', you were a farmer in some way. You raised a pig, had some chickens, maybe had another job, had the garden. Your belly was the most important thing. That was the secret."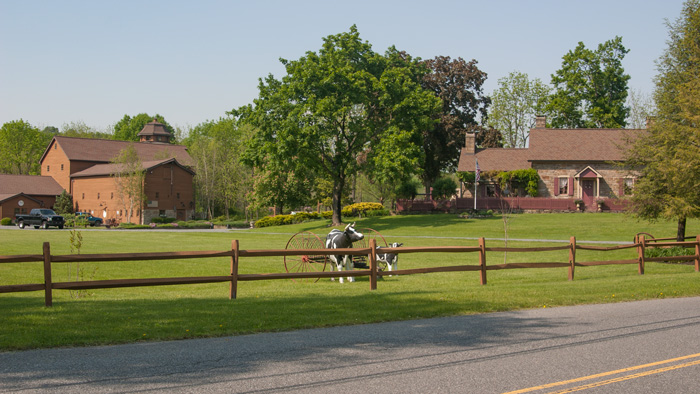 In the 1940s and 50s, first-generation American families were a big part of the White Township story, and Emil Neidiger, a Swiss investor known as the "Candy Man", played a starring role. He was not a farmer; Neidiger provided coffee extract for candy production. But the Candy Man loved farms and acquired over 500 acres, some with neglected barns and homes that he renovated and rented, not by the acre, but by the cow yoke. Immigrant families, who came to the area to work the Oxford mines or on the railroad, got their start on rented farms looking for a better life. Times were not easy, and Shoemaker's book is full of stories about improvisation and living on raw wits.
The largest tilled parcel remaining in White Township is the 1200 acres along Foul Rift Road near Belvidere managed by life-long farmer Jim Smith and his family. Many other surviving farms are smaller family enterprises that sell garden produce and flowers, or livestock products from sheep, goats, or horses. Others rely on tourism for a large chunk of their trade. Names like Mattarazzo, Mackey, and Wyckoff are familiar to Warren County visitors.
Every place in America has great stories to tell, and a fascinating history, once you get a hold of it. Butch Shoemaker has given White Township a handle.
For information on purchasing Butch Shoemaker's book and DVD, White Township Farms; The End Of An Era, please email.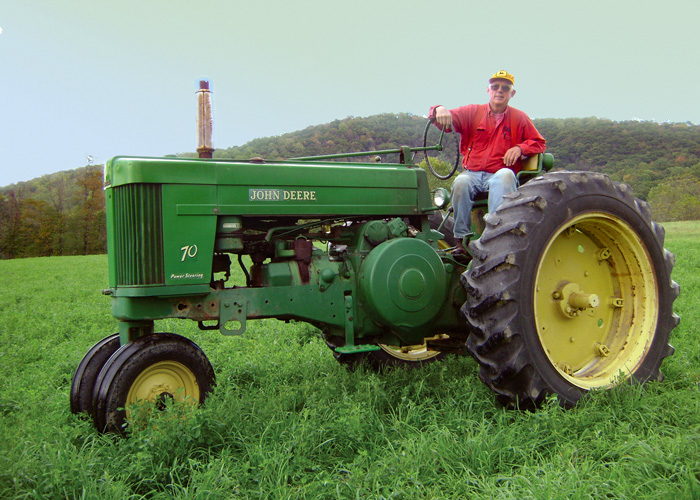 Nearby accommodations and attractions
Formal Elizabethan herb garden, medicinal garden, herb plants, flowering perennials, dried flowers, gift shop.

205 Mt. Bethel Rd, Port Murray 07865, 908/852-5390

A canal boat captain and her daughters navigate the Bread Lock in June, 1863.

, ,

Restored c.1754 stone ironmaster's home associated with c.1741 Oxford Furnace.is open first and second Sundays, 1-4pm, for tours through Colonial and Victorian rooms with costumed docents. There are special events throughout the year as well as programs for schools. Sunday concerts on the manor lawn are a favorite during the summer.

8 Belvidere Ave, Oxford 07863, 908/453-4381

A cooperative gallery featuring fine art, paintings, photography, pottery, stained glass, jewelry, fiber art, wood turned bowls, quilting, painted tiles, dioramas, and more by 35 talented local artists. Gifts and note cards for every occasion. Hours: Monday - Saturday, 10am-5pm; Closed Sundays.

23 Main Street, Blairstown 07825, 908/362-6865

Local roots!

56 Mine Hill Rd, Washington
This story was first published: Summer, 2012