The dam was never built, but some say that eventually, it will be. Were the area ever flooded, much of the road would be lost. Mystery has always surrounded the memory of the Old Mine Road. No one has ever said with clear authority who built it and when, although most attribute its origins to the Dutch in the 1600's. One who wrote about the road, and interviewed some of the local inhabitants of the area in the 1950's was Henry Charlton Beck in his book, The Roads of Home, published in 1956. He quotes freely from earlier books by Amelia Stickney Decker (That Ancient Trail), and John Barber and Henry Howe who compiled Historical Collections of the State of New Jersey. Some of the references to the road are quite revealing as to its origin and early users. Barber and Howe's 1844 publication included even older information from a source entitled Hazard's Register. According to Beck's sources, the road was "said to have been in order fifty years before William Penn set foot on American soil in 1682." Beck also states that "as early as 1641 the Journal of the Netherlands was telling tales of 'high mountains exhibiting strong indications of minerals.'"
When you are aware of the antiquity of the road, and its use by people and horse or ox- drawn wagons loaded with ore possibly more than 350 years ago, and then by such well known figures as John Adams, Count Pulaski, and General Horatio Gates, who all are said to have been guests at the Van Campen Inn, you experience a sense of history not found in many places in our country. I have stood before the Van Campen Inn and tried to envision its early inhabitants and their guests, some of whom may have taken refuge from attacking native Americans. But the road was already old when the Inn was built. It's route has been largely undisturbed within the state, so when you travel along it, you share the footsteps of those people from so long ago, who had no concept of what America was, or that some of their unborn relatives would be New Jerseyans or Americans. Some of their names linger today in the area. Beck mentions the names Rosencrans, Westbrook, Spangenburg, Hull, Decker, Losey, Depue, and even Smith. I know people with these names whose families trace their heritage to the area. Some may have sipped a glass of ale with General Gates as they sat behind the thick, safe stone walls of the Van Campen Inn or some other structure along the Old Mine Road.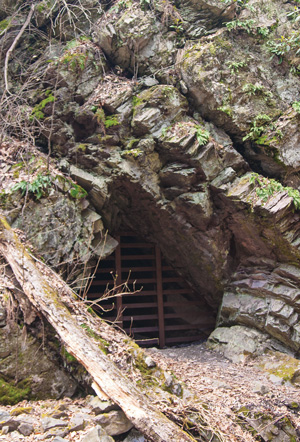 To the relative newcomers to the area, like me, it is easy to feel that these modern descendants of the old folks we read about in books have a certain elevated status. Their ancestors found something that was worth keeping- a place, a way of life, a tradition, and their offspring were smart enough to stay. Of course, not everyone did. That's easy to see as you travel west into Pennsylvania, or north into New York State, and you find these same names again and again on headstones or street signs or in telephone directories.
As the mines in the area closed, and men and women took to farming or working for canals or railroads or the other companies which began to prosper in the skylands and neighboring localities, the Old Mine Road remained a country lane in New Jersey, and became Route 209 in New York. But the history is rich and those houses and barns which still stand have an address that anyone could be proud of. A visit to the Old Mine Road is very enjoyable, and worth the time it takes to get there. And if you're lucky, you just might come across a person who can share some stories about life along the old road.
More about the Delaware Water Gap NRA
Glen Lewis writes regular features for Skylands Visitor Magazine. He loves to hear from those with similar interests.
Nearby accommodations and attractions
Wilbur's is the perfect destination on a drive through the New Jersey countryside. British foods and candy, Yankee candles, wind chimes, pet-themed gifts, preserves, much more. Charming location in barn complex between Newton and Blairstown.

735 Route 94, Newton 07860, 908/362-8833

Step Into Earth Science! Mining museum with underground mine tour and over 30 acres of indoor & outdoor displays and historical buildings. Recent additions include expanded fluorescent display at Thomas S. Warren Museum and the Million Dollar display at the Oreck Family Mineral Gallery. Gift shop with a collection of world wide minerals.

30 Plant St., Ogdensburg 07439, 973/209-7212

A mix of historic buildings of varying architectural styles, a walkable downtown, and plentiful eateries surrounded by rural tranquility make Newton a fusion of the then and the now, with great expectations for the to be.
This story was first published: Summer, 1996