The Snowmobile Barn Museum is closed.
Frozen Creampuffs
First published Winter, 1999.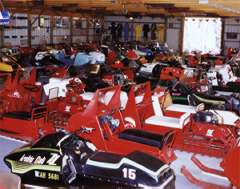 "What I really need is a bigger building. There are 160 in here, and I have about 400 in all the other barns on the farm." That's 400 snowmobiles, the object of Danny Klemm's passion, and that's his new 6500 sq. ft. building on his farm in Stillwater. The Snowmobile Barn Museum houses the largest snowmobile-related collection in the world, representing nearly a century of mechanical pedigree and 18 years of collecting. "The only comparable museum is in Canada," Klemm adds. "The have a million dollar building with fifty sleds. I've got a $50,000 building with a million stories."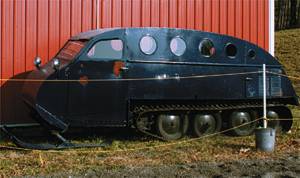 This 12 passenger school bus minimized snow days for Canadian schoolchildren in 1951
Motorized sleds were first fashioned in the early 1900s for practical purposes like logging, trapping, carrying mail, and emergency transportation. Although the Ford Motor Company manufactured a snow-friendly adaptation for their car in 1928, most early snowmobiles were pieced together with borrowed parts from farm implements and parts available at the local Agway. Between 1922 and 1926, Carl Eliason of Sayner, Wisconsin hand-produced forty "motor toboggans" with ski-like front runners and rear drive tracks, which became the prototype for the modern snowmobile. The centerpiece of Klemm's collection is a 1940 Model A Eliason Motor Toboggan, one of two in existence today.
Prompted by the death of one of his children, who could not be transported through deep snow for an emergency appendectomy, Canadian Joseph-Armand Bombardier was the first to mass-produce the snowmobile in 1959. The Bombardier-designed Ski-Doo was the first to offer good, reliable, over-the-snow transportation for emergency- and for fun. In 1960, he sold 225 of these machines for $1,000 each. He also custom-made one sled for one of his remaining children. Today it sits in Dan Klemm's museum.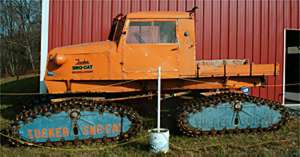 Each of the 160 antique and vintage machines on display has a story which Klemm will gladly tell you. They've come from around the world, some resurrected from the junk pile, some stock originals right out of the crate. Of the hundreds of manufacturers that emerged before and during the snowmobile craze from 1968-75, only four brands survive today. But all makes and models ever to have touched tundra are here. Collectors know about Dan; they call him if they have something. And he has found a bonanza on the internet auctions. Surrounding the rows of snowmobiles are cases filled with thousands of toys, Christmas ornaments, board games, beer cans, belt buckles and nick-nacks associated with the snowmobile phenomenon, some worth hundreds of dollars, all inspired by the thrill of racing across wide-open glittering frozen spaces, warmed by the buzz of a high-powered, lightweight engine.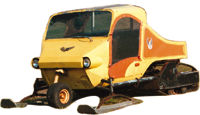 Part Volkswagen, part helicopter, the rest Rube Goldberg, this snowmobile epitomizes
the spirit of ingenuity that pervades the species.
Not only fanatics like Dan, who will drive 500 miles to see one sled, will come to see the collection. People have come from Florida, Minnesota, California, Wisconsin and Canada. "One couple came from Minnesota. They were going to come for a couple of hours and ended up staying for two days," says Klemm. "People find stuff they never knew existed. There's alot of neat stuff here; it's a part of our cultural history. I want people to see it." Others happen upon the place as they hike or ride on the Paulinskill Valley Trail which crosses the property. Cub scout groups love it. Fanatic or snowmobile challenged, all are pleasantly surprised to discover this new world. Rides are available on the 400 acre property, snow willing.
Klemm considers his collection complete, except for constant upgrading or finding "off the wall stuff once in a while." At least the snowmobile part is complete. "I collect skates, skis, iron, sewing machines, typewriters, cameras, fire extinguishers, vacuum cleaners, sleds, lawnmowers, minibikes... I've got another, probably, thousand pieces."
For sure, this building won't be big enough.
If you're interested in viewing the collection please call (973) 383-1708 for directions or more information. From Newton take Route 94 south to Fairview Hill Road. Turn right and bear right at junction with Dixon Rd. The museum is located at 928 Cedar Ridge Road just before the road crosses the Paulinskill Valley Trail.
This story was first published: Winter, 1999