The cold water period, when average water temperatures remain below 45 degrees, may offer the best opportunity for anglers to catch a trophy river bronzeback. Although smallmouth bass, muskie and walleye do not hibernate during the cold water period, smallies do slow their activity levels significantly, resulting in fewer calories being burned. But, since larger bass burn more calories and need to eat a bit more, more of them reach the angler's thumb.
Cold water poses the fine opportunity for catching walleye and muskie from the river. Feeding activity from each increases during the winter. Walleye spawn during the late winter, so females must nourish eggs throughout the coldest period.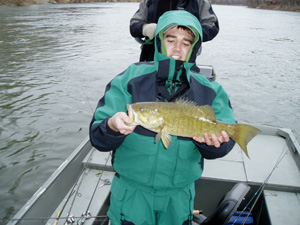 Cold water smallmouth prefer to hold in areas that offer adequate forage and cover, have decreased current speed, and receive optimum sunlight during shorter winter days. Top portions of eddies near deep water, slack water near wood or concrete, and creek mouths or creek washout areas are popular holding areas for wintering smallmouth. Fish may hold in the center of deeper runs or pools when water levels recede, provided the current speed is reduced and adequate cover, such as ledges or boulders, is available. Typically, during higher flows, slack water portions of eddies will hold smallies. During low water periods, smallmouth will be found on drop offs, cover or current breaks adjacent to deep mid-river pools. Transitional areas with a reduced current speed, where the river floor changes from rocky or ledge cover to a soft, sandy bottom, can offer the most potential for multiple hook ups from large bass during the winter.
Carp may choose to hold during much of the year in deep, sandy areas with boulders present. Walleye prefer some current and will often position themselves just inside strong current breaks created by an eddy.
Warming influences greatly enhance ones chances when winter bassin'. Eddies or pools with a west facing bank are most likely to warm during sunny afternoons. Springs, creek confluences and discharges may emit slightly warmer water into the main river. When proper cover and conditions are present just downstream from the warming influence, smallies should be present.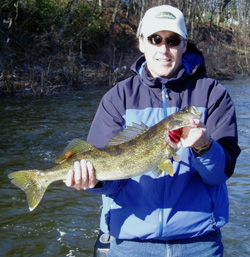 The most successful anglers try their luch at least two to three days into a warming trend if possible. Because the sun remains low in the winter sky, water temperatures might rise only a degree or two between 11 am and 3 pm. This mini-spike in temperature may trigger a smallmouth or two into feeding, even on the coldest days. Areas near the shore tend to warm more quickly, creating short-lived activity from bait fish, crayfish or terrestrials. Smallmouth may take quick advantage of this and cruise from their secure lie in search of a quick meal. As sun angles increase in February and March, opportunities begin to increase.
During heavier feeding periods, smallmouth may actually move adjacent to current breaks near deep wintering eddies. Current brings food to bass that may not be willing to expend energy in cold water. They will locate directly inside the break where the water is almost calm.
Several lures will trigger lethargic cold water smallies into striking. The best triggering lure may be a hair jig, made from one of several different types of animal hides, mainly deer, squirrel, fox and rabbit. Rabbit hair jigs like the Millennium Jigs created by B.C. Dampman Lures are excellent in that they create their own life when laying motionless on the river floor and seem to trigger more bites than any of the others. The rabbit hair pulsates and stands up and quivers with current and often triggers even some of the most ornery smallies into curiously eating the jig. Grubs texas-rigged and fished on bullet weight or simply rigged on a ball jig head are excellent cold water lures. Tubes, especially those from Mizmo Bait Company, also trigger bites from cold water bass. Soft stick worms or finesse worms rigged on a jighead or bullet weight with a Texas-rig are effective during low, clear water periods. And, for those days where a bit more activity may occur, try a suspending jerkbait with long pauses between twitches.
Regardless of the lure, the presentation should be slow and deliberate. Remember, smallmouth bass have a greatly reduced metabolic rate this time of year, so lures must match their activity levels. Jigs are frequently eaten after laying motionless on the river floor for periods exceeding one minute or more. Strikes may often feel like a bit of mushy weight on the rod tip, or like grass or a small stick. Or, a slight tap or tick may occur when a bass takes the jig. Quick, forceful hook sets are a must. Walleye and muskie are more apt to chase stickbaits, crankbaits or spinnerbaits during the winter. Live bait/jig combos are deadly on heavy walleye, and the largest muskies I have landed were tempted by hair jigs and tubes while bass fishing!
Preparation and cautiwinton are the watchwords for those who decide to take to the river during the winter. Prepare vehicles, boat and gear for less than adequate weather and ramp conditions. Wear layers of thermal clothing. Stay warm and dry with Gore-Tex or another breathable outerwear. Keep hands, feet and head warm. Prepare a dry bag with an extra change of clothing, gloves, hat, cell phone, quick energy snacks and matches. A thermos of hot soup or a hot decaffeinated beverage goes a long way. Safety must come first. Comfort improves concentration, which is crucial in detecting light strikes from lethargic winter bass.
Blaine Mengel specializes in Smallmouth Bass fishing on the Delaware River as well as the Susquehanna/North Branch, Susquehanna and Schuylkill Rivers in Pennsylvania.For more information, check his Facebook.