Guiding Lite
New to New Jersey and want to find out what it's all about? Lived here forever and want to find out more? Maybe want to do some wilderness camping, or an extended biking, hiking, or kayaking tour, but you don't have the equipment and aren't quite sure where to go. Perhaps you need to plan a team-building or recreational break for your corporate group. Don't do it yourself, a guide can do it better!
---
John Kelly with hikers.
John Kelly will show you the way. Kelly started New Jersey Adventure Tours two years ago when he got "tired of running into people who said there's nothing to do in New Jersey." His initial concept was to provide customized outdoor excursions — hunting, fishing, wilderness camping—but Kelly soon realized that "adventure" has no boundaries. Over his relatively brief tenure in the business, Kelly has created a network consisting of 200-300 "partners" throughout New Jersey with whom he is able to create a broad range of experiences for a broad range of people. You can book a cycling trip, a kayak float, a rock climb, horseback ride, a skeet or archery shoot, a history tour, a winery visit; and he's only just begun. Rather than publish a schedule of trips, Kelly responds to queries from customers, then devises a trip specifically for them. Customers range from expert outdoor ramblers to friends planning a birthday party. He's found a broad market in groups want to visit wineries, and not have to worry about the drive. Kelly's archery programs have also become popular. "We did an archery birthday party last December for a 28 year old kid in Upper Saddle River and actually set the range up in a church auditorium. That's where the customization comes in, you know?" This summer Kelly will partner with the Outdoor Bound company, based in New York City, to offer cycling tours from High Point down Route 519 that will range from a few hours to a hundred-mile trek all the way to Lambertville. You'll see the best of Northwest New Jersey.
New Jersey Adventure Tours: click or call 888/887-8864
---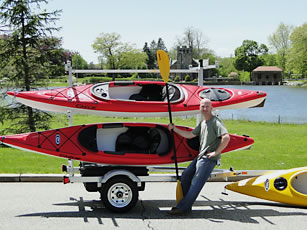 Vaughn Tiedeman
For Vaughn Tiedeman, an outdoor adventure is not about man versus nature. It's more about the nature of men and women and all their friends. His company mission is to provide "authentic outdoor experiences in a social atmosphere." Tiedeman began leading outdoor excursions as a hobby, and started his business, Living Adventure Tours , five years ago. "Personally I've traveled around the world and done a lot of different adventure tours through other vendors," says Tiedeman. "But I often felt they were very cold and that we were pushed around under schedules and time slots. They never really felt authentic. So I try to make everybody feel like they're part of something special." Adventurers travel in small groups so each gets individual attention, patience and knowledge from all of the guides. After each trip, Tiedeman hosts a dinner or get-together where guests can talk about their experience and create new friendships. Living Adventure Tours change with the seasons. The most popular are full moon kayak floats on Lake Hopatcong, New Jersey rivers kayak trips, rail trail bike tours, Clydesdale rides with a bonfire, and snowshoe tours in the Highlands. The company also offers a schedule of classes for people wanting to learn rock-climbing (indoors and out), skiing, even juggling!
Living Adventure Tours: click or call 201/988-4375
---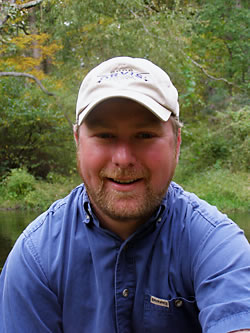 Ben Turpin
From Ben Turpin's twenty-year professional guiding resume, and his pristine reputation among trout fishing elite, you'd think he was the old man on the river. But he's only 37 years old. "I've been doing this since I was eighteen. Somehow in college I decided I didn't want to be an environmental chemist, I wanted to be a fisherman." Ben learned fly-fishing at his uncle's farm in Pennington from a gentleman who rented out part of the house. When he was 15, he took classes with Joe Humphries, then at Fly Fishers Paradise in central PA. When he got a job at Dunkelbergers Outfitters in Stroudsburg he started giving advice. "Next thing I knew, I had a business guiding people taking them out and teaching them not only how to cast, but how to read the water, how to find fish, how to get a good drift. I found I had a natural ability to teach the sport and I love doing it." Ben and two other guides lead Ben Turpin Guide Service trips from the Upper Delaware in New York down through the Poconos to the Lehigh River. He also has a passion for New Jersey water, especially the Pequest. "I lived in Hope Township on my mother-in-law's chicken farm for six years," says Ben. "Some of my best fishing, especially in the fall and winter, is on the Pequest River." Last year, Turpin did 165 of his company's trips, 75% of which were with repeat customers. "Being such a young person in the sport, one of the problems I kept running into was guys who were fifty didn't want to take lessons from a kid. They would say ÔI've been fishing longer than you've been alive.' I would say "I fish four or five days a week, you fish four or five times a year!' It's a matter of time on the water."
Ben Turpin Custom Rod Building and Guide Service: click or call 570/807-3027
This story was first published: Spring, 2012