Snowshoes have been around for thousands of years, used in Europe long before skis. The old-style utilitarian shoes, made of wood frames strung with rawhide lattice, were made for long distance traveling and carrying loads across the snow. Today's recreational shoes are much more lightweight and durable, not like those big old baskets in your grandfather's garage. Like the ski equipment industry, each new season brings improvements, providing the capacity to spend longer hours in the shoes without tiring from dragging heavy weights through the snow. Technological advances also reduce stress on the lower back and allow a more fluid motion while trekking along whatever the terrain of choice may be.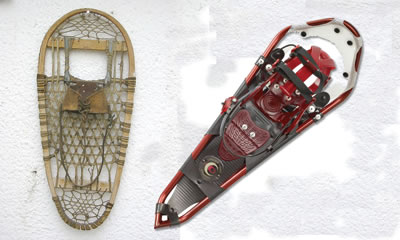 Snowshoes range between two basic styles. Bearpaws have curved heels; wide and somewhat cumbersome for beginners. Teardrops have tails and a longer base to walk on. Features of any shoe design always seem to balance degrees of controllability with stability, dependent on the user's objective, environment and skill. A basic recreational hiking snowshoe will suit first-timers planning on walking fairly flat terrain. Runners and cross-trainers can choose from even sleeker and tougher models. And for experienced backpackers, specialized designs made of strong aluminum or titanium frames, durable material for flotation, and bindings that support all types of boots, are available for mountaineering. Snowshoe bindings are attached with either a fixed or free rotation hinge. Fixed rotation hinges are easiest for beginners to use, while free rotators allow all of the various snowshoeing techniques used in back country trekking. Most important when selecting your shoe is the "float", rated in terms of the total pound the shoe will carry before breaking through the snow surface, or "post holing". Make sure you add in the weight of your clothes and extra gear!
When I plan a trip, there are always five key components that I run through before I hit the trails, snowshoeing or otherwise. Know what to wear, what to pack, how to pack it, how long to pack for and how to sustain the duration of your trip with what you have. I have seen so many people out in the woods time after time with plenty of resources on their person and little or no knowledge of what they have or how to make use of it. I like to start with a checklist similar to that of a day hike, but with added clothing and layers for this time of year. A fully charged cell phone and enough hydration are key necessities. And I cannot be more truthful when I say that the right clothing, layering and weight distribution will play a big part in either a pleasant or unpleasant day out.
So, ready to go! There are dozens and dozens of trails waiting for snow shoes: Delaware Water Gap National Recreation Area, High Point, Stokes, Wawayanda, Jenny Jump and Allamuchy are full of ups and downs. Or pick a rail trail like the Paulinskill Valley or Sussex Branch for some nice even terrain. First things first, make sure that there are at least three to five inches of the white stuff in the woods before you set out, similar to checking the base of a ski slope before you get on the lift. Before you leave the parking lot, always conduct a final gear and equipment check, and exchange a cell phone list with your fellow shoers, in case of emergency. Then strap on your snowshoes and deploy your hiking poles in preparation to hit the trail.
Snowshoeing, done right, requires slight adjustments to normal walking. Lift the shoes slightly and slide the inner edges over each other, keeping your feet directly under your weight, avoiding an unnatural and fatiguing bow-legged gait. You can roll your feet slightly and exaggerate your stride when you start out, especially with larger "bearpaw" shoes.
Once you're a ways into the woods and moving steadily, it is a good idea to make sure you're still layered properly for our own personal body temperature. A common mistake that inexperienced people make is to overdress in the parking lot because they are feeling the temperature standing still. Once you get moving and your heart rate increases, you will find yourself shedding layers quickly so you do not start sweating in the cold. Take things at your own pace, this is not a race. Get that ticker thumping and take in some beautiful scenery at the same time. Snowshoes give you the freedom to roam off the trail into deep and tranquil woods. Turning around usually involves simply walking in a tight semi-circle. But you might find yourself in a spot on a slope or in dense trees where you'll need to use a kick turn, like in skiing. Lift one foot high enough to keep the entire snowshoe in the air while keeping the other planted, putting the foot at a 180 degree angle and parallel to the other then planting it on the snow and quickly repeating the action with the other foot. Poles help in this and other snow shoe endeavors.
Wherever you wander, remember to keep yourself hydrated! I always recommend carrying a pack with hydration capabilities when being out in the woods with a minimum of one-hundred ounces in the bladder. Just because you are not hot and dripping sweat does not mean that you do not need to drink. You will not feel thirsty because of the temperature, but you are still perspiring under your layers.
Sometime you're going to come to little streams and water crossings in the woods. Never cross a stream or pond with snowshoes on unless there is a bridge or walkway that has been constructed for that purpose. The last thing you want to do is get your feet stuck in the bottom of a pond or lake with the shoes strapped on. Not a good day!
As you trek higher up a ridge you'll understand why having lightweight shoes is important. Even though you're not jogging or spinning, you've got a good strong burn going in the leg muscles. Who would have thought? Watch out for rocks that might be buried in the snow and off camber, though they typically won't be an issue with the wide base of today's shoes—you should be able to walk right over them. There are a few tricks to walking uphill on snowshoes. Crampons enhance snowshoe traction, dependent on snow conditions and incline. Modern shoes use a heel crampon under the foot, rather than along the sides, plus a binding crampon angling forward for a better bite when climbing. Some hi-tech snowshoes even have bars that flip up so that the wearer's heel can rest on the bar for ascending steep slopes. You'll want to put your weight in your toes, and if the slope is steep it helps to make kick steps, jamming the toes of the shoes into the snow, leaving a set of steps for the next guy. While the cleating and traction improvements to modern snowshoes make climbing easy, a couple of techniques borrowed from cross country skiing might come in handy. You can walk straight up the hill with your toes facing out in the "herringbone" pattern. Or you can sidestep, climbing parallel to the slope. Again, poles come in handy, helping to "pull" oneself with regular stride, up the slope. If I'm with a party of three to four people on a very steep or slippery slope, I'll deploy an anchoring rope so that we can use each other's body weight to anchor.
Once a trail has been broken up a hill, snowshoers have quick way back down. Glissading the trail—weight on your heels and toes up, or sliding back down on your butt—rests the leg muscles and helps pack the snow better for later users. Sometimes snowshoers "step slide" downhill in exaggerated steps, sliding slightly on the snow as they do, imitating telemark ski techniques. Or, like a skier, you can traverse across and down the hill. Remember if at any time you need to stop and adjust your straps it is not a difficult thing to do; the new shoes are made with ski like bindings for quick in and out. Back in the woods, stop a moment, watch the steam from your breath float beneath a cathedral of snow-covered trees and listen to the silence.
John P. Kelly is a professional outdoor tour guide, specializing in New Jersey destinations. Snowshoe treks are among his more popular winter trips for families and groups of any size. For more information, click NJ Adventure Tours or call 1-888-887-8864.