Golf Instruction
Summer School
Golf is for everyone: for men and women, girls and boys, including individuals with handicaps. It can be a great family activity. But golf can be very frustrating. Like anything else worth doing, it takes time to learn. Here are a few places that can help you "get it."
---
Girls' Golf
"Let's do it," I say, leaving the security of the clubhouse for the practice tee. My swing is stiff and awkward. I have no idea what I'm doing, and doubts about stance, control, and just hitting the ball are overwhelming me. My instructor, Joe Wisocki, looks contemplative, smiles and says, "I can see you are not kidding about being a real beginner."
I remember what my friend Amy said when she suggested these free clinics. "Golf is a work in progress. One is always learning new techniques and it is important to take instruction when first starting out. Professional instruction gives you the additional security of learning in a relaxed environment."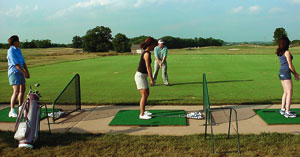 Wisocki and the rest of the instructional staff at Heron Glen in Ringoes, have made golf an equal opportunity pastime. By introducing women's, junior's, and beginner's clinics­and LPGA/USGA Girls Golf­the golf course, a Hunterdon County Park facility managed by Kempersports, is becoming a place where entire families can spend quality time. The Girls Golf Program is designed to allow players to explore the game in a social, low pressure atmosphere among their peers. Not just for beginners, four levels are offered to girls between the ages of 7 and 17. Fifty girls participate in Heron Glen's free bi-monthly clinics.
I have come to conquer my golf phobia, acquired when my golf enthusiastic husband attempted to acquaint me with his favorite sport many years ago. I pounded my club into the ground so many times my shoulders ached, and the ball only dribbled down the fairway. Here I am, nervous, with my old clubs, dusted off and recovered from my basement, trying again. Wisocki's easy going, professional approach makes this game seem simpler. He's done this for thirteen years and he knows what's important: grip, alignment, posture to the ball, and the end position. Simple as one, two, three, (fore). I can relate!
I used to work so hard at holding onto the club; I strangled it. I swung so hard at the ball, I hit the ground with a jerking thud. Under Joe's guidance, I forget about swinging, and work on following through to the end position. To my surprise, the more I relax and reach for the end position­looking and holding my club to where the ball was landing­the farther the ball flies. I stop hitting the ground! No more pain ricocheting up my arms to my shoulders and down to my toes! This is a good thing!
by Doreen Trontell
---
Don't Worry, Be Patient
"Get me a watermelon," Barbara Olatta, assistant golf professional of Demarest Farm in Lafayette, says to the man behind the counter as she points to a big basket of balls. Then she and 12 students walk out to the putting green. All together now, they grab and putt balls hither and yon on nine holes on artificial turf.
They're busy whacking and tapping the balls, occasionally sinking one. At this group lesson of adult beginners from Sussex County Community College, Barbara checks each person's grip. "I'd reverse those hands," she says to Colleen Carroll of Hamburg. "The trick on a downhill putt is to imagine the hole is closer than it is, and on an uphill putt, imagine that it's farther." She shows Colleen how to make a smaller backswing because with a big backswing, you load the ball up with lots of energy. "Very, very soft and gentle."
Barbara believes that men and women learn differently, and even among each gender, some learn audibly, some by kinetics and some by reading. To the men she explains the mechanical aspect of a swing. To the women, how it should feel.
She tells a student to keep his wrists firm and let the shoulders rotate from the base of the neck. She demonstrates and her shoulders appear to be disconnected and free from her body. A torso unto itself. Only the arms and shoulders move.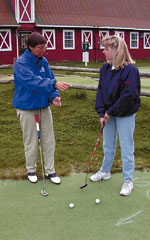 Barbara is a patient teacher. Her love for golf is evident in her interactions with her students. She alternates praise and humor with instruction on positioning, club facing square, strength and length of stroke. She thinks teaching's fabulous. "I get a lot of satisfaction helping someone learn my favorite sport. I can't think of anything better than teaching what I love to do. I intend to play until I'm too old to hold a club."
She sets up a competition on the second hole that will help them focus. They line up with three balls each and try to zing them to the hole. One man hits it off the green. "Oh Joe, it's with the crocodiles now. We want to try to keep it on the green." Next ball ­ "Tentative. Tentative."
"I realize I'm not teaching a life-necessary skill, so I hope that the student will recognize my enthusiasm for the sport and that their own enjoyment will grow the more they learn and practice. I hope they recognize that this is always going to be a challenge of themselves against the course and that golf will teach them many lessons about themselves along the way."
The competition in golf is the course, no other. It's a self-refereeing sport with a book of rules. Since players are alone out there, they're expected to call a penalty stroke on themselves just because that's the way the game is played. Golf teaches patience, as evident in Barbara, soft-spoken and gentle.
Since Barbara started playing at three years old, she especially likes working with children in her Junior Academy classes. She also teaches a "Ladies Only" course.
Colleen Carroll took the course because all the men in her sales office get to take the clients out. She said, "I can do this." Suddenly a ball clangs into a cup. "With authority, Colleen, with authority! Nice!"
---
Apple Mountain Golf
The Lu Navarro School of Golf held at Apple Mountain Golf Course in Belvidere teaches swing fundamentals such as grip, alignment (aim), pre-shot routine and setup and impact position so you can become a more complete and consistent golfer.
Whether you are a beginner or a low-handicap player, the school stresses your natural ability and maximizes your potential according to your body structure and flexibility. You'll learn proper club choice for various shots and position, as well as the capacity for each club. The clinics also stress chipping, putting and out of the rough. Spending a considerable amount of time on the short game realizes your full potential with dependable play around and on the green. Safety, rules and etiquette are also stressed.
The school prides itself in the ability to work with children age 6-17 at all levels of experience. Private lessons are also available for all students by appointment for those who wish to be one on one with the instructor. Please call for clinic schedule and costs. (908) 453-3023
This story was first published: Summer, 2003