The Ridge Trail is a gentle climb for about a mile with winding walks on flat terraces interspersed between rises. The sunny path is wide through ferns, berries and spicebush, and a boardwalk covers an outwash of weathered and crumbled rock. There are no big boulders to rest on this trail until almost at the top. A rocky-bottom brook begins shallow and flows to a deep-cut streambed. Tall skinny beech, oaks and tulip poplars comprise a mixed oak forest here and cover the flattish hilltop and slopes.
The trail crosses the Texas Eastern Pipeline, offering an open, sunny habitat with abundant wildflowers and tall patches of Phragmites. For a great view on a clear day, follow the pipeline uphill, have lunch, then come back down to the rectangular blazed trail that re-enters the woods.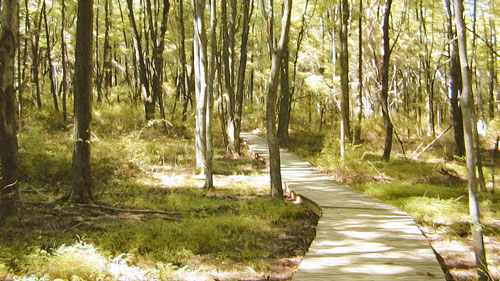 The path eases down the hill through grassy, open woods where thick Virginia creeper vines hang from the trees. The Boy Scouts built a handrail to assist hikers on the trail's steepest descent. At the bottom of the handrail, a wide flat boulder---conveniently located---is a great place to stop, rest, and have a snack. Further down, the Roaring Brook flows with a comforting sound, even in dry times. It eventually empties into the Millstone. On the final stretch, the trail crosses a gentle slope through towering deciduous trees that have shaded out a broad patch of old Eastern red cedars.
Sourland Mountain is a 10-mile long volcanic ridge of diabase--one of six in the Central Jersey lowland. Large boulders here were crushed for railroad beds, roofing shingles, and road surfaces. Its diverse landscape provides habitats for a variety of wildlife and plants. Rare plants found here include wild comfrey, winged monkey flower and ginseng. Threatened and endangered wildlife seen here include the grasshopper sparrow and barred owl.
Over 30,000 people a year, including birders, hikers and families out for a fun day, visit the Preserve. The Sourlands mark the southern boundary of many northern bird species, and the northern boundary of southern species such as the black-capped and Carolina chickadees. Birders know it and come here all the time. Bring binoculars and a bird field guide. There's an active pond near the parking lot and grassy picnic areas.
On the 2,600-acre preserve, there are three trails, two about a half-mile each. The Ridge Trail is a pleasant moderate walk through bright sunlit woods on wide paths. Mountain bikes and horses are allowed in season. Two hundred seventy three acres of the mountain extend into Hunterdon County and is under the jurisdiction of the Department of Parks and Recreation.
There are two trails for public use ­ a wide, flat service road that goes through deciduous woods, a marsh and a boulder field of diabase or "trap rock." The marsh is a perched wetland, a depression in impermeable rock, and filled by surface water. The South Loop Trail branches off the service road, becoming very wet and even crosses a stream. Be prepared to boulder-hop. The reward is a plethora of native wildflowers. Vernal pools provide great amphibian watching. See if you can find spotted salamanders, wood frogs, and gray tree frogs.
To get there: Rt. 206 to Amwell Road in Hillsborough. Turn left onto East Mountain Road. The parking lot is 0.6 mile south. Or, take Rt. 601 to East Mountain Road. For more information, contact Somerset County Park Commission at 908-722-1200 or mail to PO Box 5327, North Branch, NJ 08876. In Hunterdon, call Department of Parks and Recreation at 908-788-1158, or write to PO Box 2900, Flemington, NJ 08822-2900.
Nearby accommodations and attractions
Family-operated since 1928, the nursery offers quality trees & shrubs, organic vegetable and herb plants, native plants, unique perennials and a wide range of natural and organic gardening products as well as locally-sourced items in the gift shop.

104 Glenwild Avenue, Bloomingdale 07403, 973/838-0174

The Jacobus Vanderveer house is the only surviving building associated with the Pluckemin encampment.

1 River Rd W, Bedminster 07921, 908/212-7000 x611

The CSNJ fosters the study of the history of New Jersey's two towpath canals, preserves and restores canal remains and artifacts, educates the public in the canals' histories and provides active programs for its members. CSNJ maintains a museum and hosts events at Waterloo Village and has developed the Morris Canal Greenway, a succession of interpreted walks along former canal route across Northern NJ.

Waterloo Village, Stanhope 07960, 973/292-2755

F.M. Kirby Shakespeare Theatre\n36 Madison Avenue, Madison 07940, 973/408-3807

Provides information about what's happening in the county, including events, historical sites, museums, hotels, restaurants. Open Mon-Fri, 10am-4pm; Saturdays in summer. Historic Morristown walking tours available as well as group tours and packages.

6 Court St, Morristown 07960, 973-631-5151
This story was first published: Autumn, 2000