You can get a decent outfit- skis, bindings, boots, poles- for around $200. Full day rentals run $14-17, and you can buy a quality used rental outfit including steel-edged, back country skis for $150. Once you've got equipment there are lots of places where you can ski for free, and trail passes at special facilities run around $10-12 for an adult full day.
Cross country skiing is not "scary", has low impact on the body, and the natural motions involved generate a quick learning curve. Traversing a flat beginner trail is like walking with a sliding step in your socks across a slick waxed floor. Short, tentative skids quickly become longer motions rhythmically integrated with opposite arm motions, just like a natural walking action. Soon you're shifting your weight, bending your knees and planting your poles to take full advantage of ski on snow. When you've maximized the classic cross country motion, you're ready to take on some up and down terrain.
Skis come in different types for different purposes. The most commonly used type, including for beginners, is "touring" skis for use in groomed ski areas or on trails. These come in different lengths, generally several centimeters more or less than 200 centimeters (about 6 feet), the exact length depending on the size of the skier.
One of the skills that cross country skiers master is how to properly wax skis according to snow conditions. Wax allows your skis to get a grip on the snow when you want to travel other than down hill. Wet heavy snow on an early spring day requires different preparation than powder on a cold winter morning. Part of the fun is seeing how much of the work you can get your wax to do for you. After all, Nordic skiers always end up going as far uphill as they go down. Although wax will always provide a better kick and longer glide, waxless skis are available until you get the hang of traditional preparation. They will generally perform well in the highly variable weather, temperature, and snow conditions found in New Jersey. Raised patterns on the ski bottoms provide the grip needed to move on waxless skis.
Most beginners don't realize how much body heat is generated by a Nordic Shüss and usually wrap themselves in a down Alpine-style ski jacket or heavy wool coat, only to find themselves quickly drenched in perspiration. More effective dress consists of several lighter layers which can be removed or added as needed. On the outside, a parka, jacket, or windbreaker is important to keep out the cold wind. Below that, wear a layer or more of insulated clothing; wool sweaters, "fleece" jackets, or "fleece" vests are good.
Underneath, a polypropylene long-sleeved under shirt will help keep you dry. Cotton should be avoided, as it loses all insulating properties when wet. Accessories, including hats, gloves, and scarves are also needed.
One of the most attractive things about Nordic skiing is that you can do it anywhere there is snow: your front yard, an open field, or, of course, many miles of available trails in county, state and federal parkland. The Blue Mountain Lakes area of the Delaware Water Gap National Recreation Area, located along the Flatbrook-Stillwater Road atop the Kittatinny Ridge, offers approximately 10 miles of trails maintained for skiers in cooperation with the New Jersey Nordic Ski Club. Trails are marked with directional signs, and interpretive signs will help you identify tracks made by wildlife. Several state parks also offer good skiing, such as the areas in Waywayanda State Park and Mahlon Dickinson Reservation. Both areas also have high elevation and offer moderate trails. There are no fees for skiing at these areas., but they offer limited or no facilities, other than parking lots. Food, beverages, and warmth must be provided by the skier.
If you want groomed trails, you can ski at Fairview Lake YMCA Camp (973/383-9282), a few miles west of Stillwater. Twelve miles of groomed trails (you have two packed, grooved channels to follow which allow easier gliding), color coded according to difficulty, wind through 600 acres of woods and fields, including loops around and over the lake. There is a ski lodge, lounge, cabin accommodations and ski rentals available for anyone from 3 years old on up.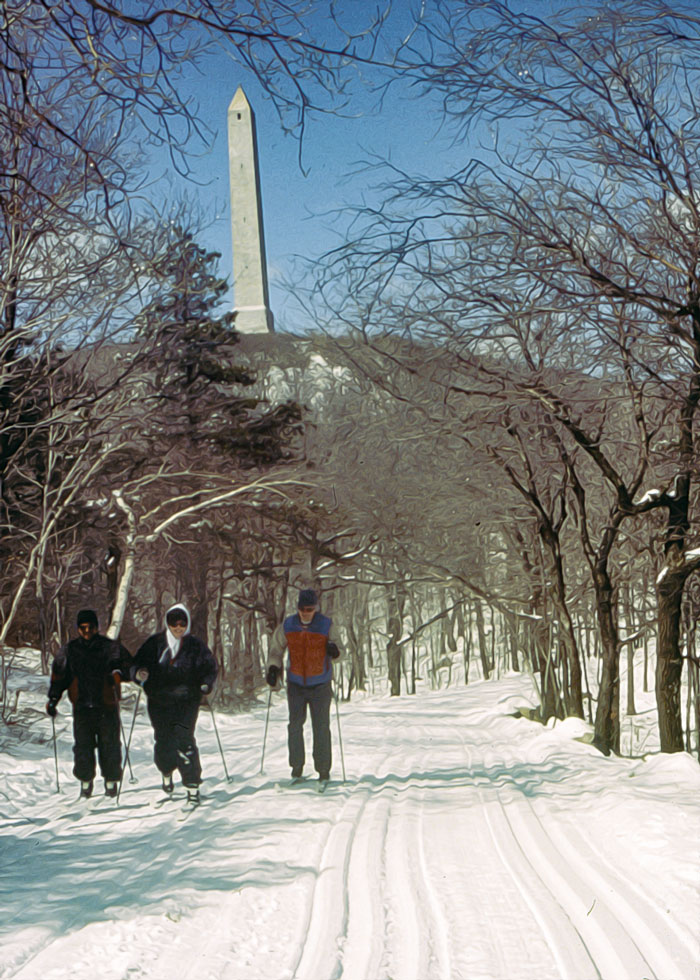 The High Point Ski Center offers 16 kilometers of trails groomed for classical techniques and 40-50km of "make your own" back country trails through the remainder of the park's 14,000 acres. The facility's location at the state's highest point, 1803 feet above sea level, promises temperatures 5-10 degrees lower than at other nearby ski areas; conditions likely to yield a longer season and better snow. And if that's not enough, High Point has state-of-the-art snowmaking equipment so that, barring the most bizarre weather, novices and experts can be assured of compliant skiing conditions, probably through March.
The trails are manicured and maintained by machines similar to those used in the winter Olympics. A lodge overlooks beautiful Lake Marcia just beneath the familiar High Point Monument and offers a complete kitchen, a fireplace and an adjoining shop for equipment sales and rentals. Trails begin a few steps from the patio from which skiers can embark upon journeys of variable duration and challenge. Lessons are available from members of the Professional Ski Instructors of America, and you can rent a pair skis expertly prepared for the conditions of the day. The Ski Center is open seven days a week from 8-4 (973/702-1222).
The New Jersey Nordic Ski Club , founded in 1973, focuses exclusively on all aspects of cross-country. Joining provides contact with people with varying ranges of knowledge and skills who are willing to discuss their experiences with you.
Nearby accommodations and attractions
Located in Sussex County near the Kittatinny Mountains the camping resort offers park model, cabin and luxury tent rentals as well as trailer or tent campsites with water, electric and cable TV hookups on 200 scenic acres.

69 Kymer Rd., Branchville 07826, 800/526-2267

A mix of historic buildings of varying architectural styles, a walkable downtown, and plentiful eateries surrounded by rural tranquility make Newton a fusion of the then and the now, with great expectations for the to be.

, Sussex

The Byram lake is a good kayaking destination.
This story was first published: Winter, 1998