Hiking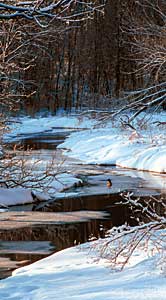 Winter offers some of the finest photographic opportunities of the year. This photo of the Black River near Chester was taken by photographer Joan Case.
Bruce Rhinesmith, a physical education teacher from Bergen County, is a hiker. He likes to hike the entire 30-mile length of the Paulinskill Valley Trail in one day, in the wintertime. Rhinesmith is a member of the Paulinskill Valley Trail Committee which lobbied for its creation, and promotes the use of that 30-mile stretch of former railroad bed running from Stillwater, in Sussex County, to the Delaware River at Columbia, in Warren County. With the committee's sponsorship, Rhinesmith leads long hikes on the Paulinskill Valley Trail and the Sussex Branch Trail which, at 20 miles, is a more modest undertaking. "Oh, a lot of people have told me I'm out of my mind," Rhinesmith says. "But we've had 30 to 35 people go on these hikes ­ including several women. One woman came back for four of them."
The Paulinskill Valley Trail and the Sussex Branch Trail are relatively easy walking ­ mostly flat, and mostly cinder and dirt, because they lie along old railroad rights of way. The trails are administered by Kittatinny Valley State Park. Because the rail trails pass over many roads and go through many towns, a hiker on a rail trail is never too far from civilization.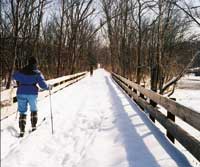 Cross Country Skiing on the Paulinskill Valley Trail.
Len Frank, a retired engineer from Hackettstown who helped to found the committee back in 1984 and still chairs it, says his group takes the weather into account, as well. The committee usually cancels hikes if the weather turns really cold or snowy. But snow, by itself, is not an absolute barrier. "Some portions of the trail are on the north-facing slopes, where the snow stays longer; some are on the south slope, where it gets the sun and melts, and you can hike those portions," Frank explains. For information from the Paulinskill Valley Trail Committee, click or call (908) 684-4820.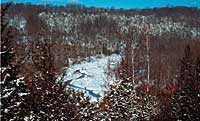 The ridges and valleys of Northwest New Jersey offer serene vistas in any season. Photo: Donna Traylor
There are many shorter hikes available, of course, for all levels of skill and endurance, and for most of them there's no need to make an appointment. Rhinesmith, on his own, likes to go with a friend or two in the Farney Highlands, which runs from the Rockaway Valley, over Wildcat Ridge, and finishes near Newfoundland in Morris County. He's also fond of the Appalachian Trail, which enters New Jersey at the Delaware Water Gap, near Columbia in Warren County, runs north along the Kittatinny Ridge to High Point in the northwest corner of Sussex County, and then runs parallel to the New York border to Greenwood Lake in Passaic County before crossing the line into New York for good. Such hikes are wilderness hikes, and require careful preparation and some specialized clothing and equipment, even if the hiker is just out for a day.
In the end, the lure of the Skylands in winter is the promise of a new view of the world.
The area's state and federal parks and forests are full of relatively unexplored trails. Consider the Cushetunk, Pine Tree, and Hike-and-Bike trails in the Round Valley Recreation Area, near Clinton in Hunterdon County. The Cushetunk Trail runs around the Round Valley Reservoir and, while not as wild or challenging as the Appalachian Trail, is more challenging than the rail trails, according to Superintendent Cynthia Coritz. "It's a beautiful trail about nine miles long around the reservoir," she says. "It's not as used in the winter. It's used for hiking, mountain-biking and horseback riding the rest of the year. Cross-country skiers and snowshoers usually use the Pine Tree and Hike-and-Bike trails, which are flatter and shorter, nice for the younger kids. Local people often come to the trails to walk their dogs."
At Worthington State Forest, along the Delaware River in Warren County, there is an easy roadway walk along the river that starts near the ranger station and follows the river south toward the forest's boundary with the Delaware Water Gap National Recreation Area. Somewhat more challenging hiking is available at the northern end of the forest, where several trails lead up toward the Appalachian Trail.
In the Delaware Water Gap National Recreation Area, under the stewardship of the National Park Service, the Dunnfield Creek Trail and the Appalachian Trail remain accessible to day hikers in winter. The Mt. Tammany Trail, however, challenging even in fair weather, is considered too risky for casual winter hikers.
Camping
If you're interested in going out with a tent and a sleeping bag, the trails in the state and federal parks have sites available for the hardy and determined camper. If you're just looking for a quiet spell in the woods with some modern amenities, some state parks and private campgrounds are alternatives to consider.
At Harmony Ridge Campground, near Branchville in Sussex County, owner Ed Risdon has welcomed visitors hauling everything from tents to motor homes for 35 years, and offers an array of choices for the winter camper. Unlike many private campgrounds that close for the winter or permit winter camping for only a few steady customers, Risdon encourages visitors to try his place out in the cold months.
"A lot of people don't realize how relaxing it is here in the winter, especially when we have snow," Risdon says. "But even when we don't have snow, it's relaxing." Harmony Ridge offers sites for recreational vehicles at $11 per person per day, rental trailers for $25 per person per day, and cabins for $30 per person per day ($10 for children under 16.) "Our cabins are not camping cabins," Risdon says. "They have heat, a stove, and refrigeration. We have showers in the office building."
Risdon's winter customers are less numerous than his summer ones, but no less various. There are people who come each weekend just to relax and turn down the noise in their lives, year-round RV people who come from all over the United States and Canada, and hunters. "We have lots of hunters from New England ­ Maine, Massachusetts, Connecticut, Rhode Island," he says. "They don't have the game up there that we have here." Risdon adds that he doesn't usually permit hunting on his land, but hunting is permitted on nearby state and private lands.
Jenny Jump State Forest, in Warren County, also permits winter camping in what the New Jersey Division of Forestry describes as "shelters". These are structures with four walls and a roof, but no heat, no water, and no showers. They do have wood stoves, and campers can purchase firewood at the ranger station.
Along the Appalachian Trail, in federal territory (the Delaware Water Gap National Recreation Area), camping is permitted year-round within 100 feet of the trail. But it's catch-as-catch can camping, with little or nothing in the way of facilities. Worthington State Forest has a single backpacking campsite intended for AT hikers.
Wildlife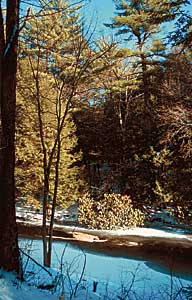 The Flatbrook crawls through the forest in the National Recreation Area. Photo: Donna Traylor
There's plenty of wildlife to be seen in the Northwest Jersey winter. Megan Mahoney, park ranger at the Delaware National Recreation Area, suggests hikers come down off the ridge and linger along the river in winter. "We have bald eagles wintering here," she says. "They're fish eaters, so if you're up on the ridge, you're not as likely to see them. She confirms Ed Risdon's comment about the plenitude of deer. Bennett, whose office at Worthington is graced with a photo of a busy local bear named Sophie, says hikers in her area may encounter a bear or two. "Females stay denned up, because they often have young," she says of the bears. "But males come out of their dens and walk around if there's a warm spell."
Fox and bobcat are still busy in the wintertime; cardinals can be seen easily against snow. Coyotes are as elusive as ever, but easier to see in winter's diminished vegetation.
In the end, the lure of the Skylands in winter is the promise of a new view of the world. "The reward (of winter hiking and camping) is seeing a world that a lot of people don't see," Dundas says. "Seeing that in the middle of winter there are a lot of animals moving around in the woods. Seeing that the pine trees are glazed. It's not a big adrenaline rush, but it's very rewarding. A lot of people are turned off because they think they're going to be cold all the time. A pleasure is being out there and not being cold all the time, realizing that you can be perfectly comfortable if it's 10 degrees below zero."
This story was first published: Winter, 2001