I am not sure what the percentage of little boys dream about flying, but suspect it is pretty high. There was a boy that grew up in Harmony Township that did, and how he acted upon that dream has inspired many people who have become enchanted by the magic of flight.
It was 1966 when Fred Grotenhuis signed up for the Army. He knew that he would eventually be drafted. He also knew that if he enlisted he would get to pick what he wanted to pursue; and that was flying helicopters. At the age of 22 his dream of flight would become a reality. When Fred signed up for basic training he remembered thinking, "Three months basic training, then flight school… by then the war would be over."
Fred's passion for flight led him first to be a helicopter pilot in Vietnam. After his tour he stayed in the Reserves and flew a Cessna that he co-owned, while nurturing a passion for his pontoon boats. "We were having a whole lot of fun but not making any money," he told me. One day a friend who flew a hot-air balloon saw the boats for sale asked if Fred would trade his boats for balloon lessons." Fred replied, "I don't know. I've never been in a hot air balloon." So the balloon adventure started.
In 2001, Grotenhuis incorporated his hot-air balloon company into a balloon festival into the Warren County Farmers' Fair, an event that he had attended since he was a boy. "A balloon festival would be perfect at the Fair," Fred would say. "They already have the infrastructure and it would draw a crowd."
In 2015 Fred passed away, but his legacy continues. Today the balloon festival has become woven into the culture of the fair and helped spectators from outside our area discover this charming agricultural celebration, many of whom might never have considered a county fair in rural New Jersey. For many, who come from a wide variety of backgrounds, the fair is an appreciation for traditional arts, crafts, and ways of life.
As the unmanned, remotely controlled aerial vehicles known as drones began to be manufactured for popular recreational use, drone pilots began to take breathtaking video of the hot-air balloons at the Fair, a perfect subject from an exciting new perspective. In 2016, a drone pilot's request to take footage at the festival sparked a conversation about starting a scholarship to train young drone pilots. The FAA (Federal Aviation Administration) was coming out with Small Unmanned Aircraft guidelines in order to regulate the enormous increase drone popularity. Pilots doing any type of commercial work would be required to pass an exam and obtain a Remote Pilot Certificate. Working with UAVCoach.com, an online school, I began to put together the details of the scholarship, which would pay for the online course as well as the FAA exam. For those students that passed their exam, other classes would be offered.
The Fred Grotenhuis Memorial Drone Scholarship was launched in January, 2017, at Warren County Technical School. Among the many guest speakers was John Metroke, the school's electronics program teacher, who explained some of the accomplishments of the electronics program, with students Dan Werbin and John Grabovetz who did an amazing "show and tell". To listen to Dan talk about a massive octacopter that he was building, and express such vision about uses for this new technology, was the most inspirational part of the program. I thought about how Fred loved technology and was always on the forefront himself.
When we approached Warren County Community College about our initiative, numerous individuals had already piqued their interest. The college has since begun to offer drone education classes, the first community college in the region to do so. Two-day certification prep sessions (July 12 and 14; August 2 and 4) will start at the College's Phillipsburg Education Center and finish at the NJ Drone Academy in Ringoes.
---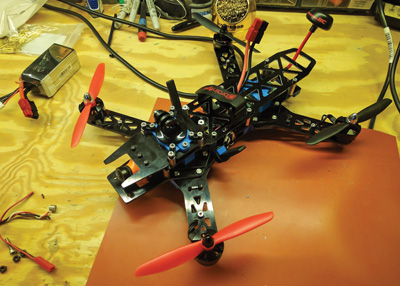 Since his presentation at the launching of the scholarship program, Dan Werbin has been busy. "I got into drones for several reasons, but mainly because of my love of flight and my love of creating things and learning," he explains. "Being a student, a real aircraft was unfortunately out of the question, but I could certainly get most of the sensation and fun by building drones and flying them in first person view, using wireless video equipment. This was my fix for flying and still is, now with high performance race drones."
Dan has built many drones over the years in all shapes and sizes: high endurance fixed wing airplanes to massive hundred pound film drones, to tiny sub-pound racers, each more advanced and capable then the last. One of the things he especially focuses on is safety and redundancy, thinking of ways that his systems can fail or encounter issues, and then trying to engineer a way around those problems. What results is a machine that can tolerate a lot of complications, and more importantly, communicate those issues back to the pilot. Dan had previously used systems that had redundancy, but none ever actually notified the operator when something went wrong! "Though this has gotten better in recent times," Dan states, "back when I started in 2012, it was almost unheard of in the hobby."
Nowadays Dan's major drone activity is his job doing commercial inspection work on radio towers, with a little bit of racing on the side. He is saving up to purchase a paraglider setup to achieve the next step in his quest for flying — actually getting himself into the air. He explains, "I plan on incorporating many of the electronics I have invented for my drones into my paramotor setup, to make it a bit more interesting! I also desperately want to get into search and rescue with my drones, as well as other important services like hazmat and fire fighting. It's a struggle to balance out the various projects vying for my attention and more importantly, resources, but it's certainly worth it."
---
One of the applicants for a scholarship came from New Jersey's community of hot-air ballooners. For Jeannie Shonman, who grew up in the company of her parents' balloon ride business, sky time was not unusual. "My brother and I didn't have much of a choice when we got into ballooning," she remembers. "When we were five and three years old we were used as "extra weight" in the basket when they didn't feel like paying for a babysitter!" She graduated to doing cartwheels in the grass while everyone else packed up the balloon, then to being important members of the crew as teenagers. "When my dad suggested that I apply for the Drone Scholarship, my first thought was, 'what the heck am I going to do with drones?. Nevertheless, I had caught the aviation bug and I wanted to explore every opportunity to fly anything I could."
Jeannie's scholarship consisted of an online course to prepare for the Part 107 Commercial Pilot test, as well as practical lessons at the NJ Drone Academy in Ringoes. The online course is quite involved, including instruction regarding weather, drone laws, airspace, and flight operations. After passing the exam, came the fun part, actually flying some drones! In four, two-hour long lessons with Jim Barnes, the owner of the NJ Drone Academy, Jeannie learned how to maneuver the drones, and about the cool features that these drones have. Then there was a practical test, kind of like a road test for driving.
Once she passed that, Jim let Jeannie fly some of his racing drones. "They are much more challenging and high performance than the photography drones, says Jeannie. "My interest was contagious, so my dad and I signed up for a class in which we built and flew our own racing drones! In all, the scholarship program has focused my attention on learning opportunities in aviation. I continue to fly drones and am in the process of starting a real estate photography business with my dad."
Giulia Grotenhuis, who started the balloon festival at the Warren County Farmers' Fair with her husband, continues to operate their Farm In Harmony. In addition to establishing the drone education scholarship, she installed a military themed corn maze in Fred's memory last fall. This year's theme will be the Purple Heart.
Find out more about Fred Grotenhuis Memorial Scholarships here!
This story was first published: Summer, 2018