The famous notch by which the Delaware River makes its way through the Kittatinny Mountains along Warren County's western border is actually only a small portion of the seventy-thousand-acre Delaware Water Gap National Recreation Area (DEWA) that spans both sides of the Delaware River all the way up to New York state. But the Water Gap is by far the most memorable, and countless families return every year to find their oasis hasn't changed and still abounds with wonder. This forested area is home to glorious views, many different animals, beautiful flora and great hikes, some of which are located in and around Worthington State Forest, which shares the Water Gap neighborhood with DEWA. I consider many of the park's hiking trails family-friendly, but that doesn't mean they are easy! Worthington sits at the base of the Kittatinny Ridge line, which means most of our trails have some degree of incline. Created in such a way that they connect with each other, this gives any hiker, whether novice or experienced, the chance to choose the hike that suits their needs. Make a day in the mountains as long or short as you desire.
As I come into my third year working at Worthington, I still find myself on the trails, mind open and camera ready. Voted best campground in New Jersey in 2018, Worthington is home to boating, archery and other interpretive programs. You'll also find campers and day visitors coming to explore any number of Worthington trails located in the Delaware Water Gap.
For an enjoyable and safe hiking day, here is some advice, no matter your level of hiking experience. Before you embark upon your journey, please study and bring along a map of the area and trails you want to hike. Too many times I've talked to people who think they know the trails well enough, but they end up getting lost, or they return extremely late to a place far away from where they left the car. I've also received phone calls from people on a trail trying to explain to me where they are so I can guide them down the mountain. This is probably one of the more challenging parts of my job, as its kind of hard to find them when they don't know where they are! Maps can be printed off the internet, or you can acquire one at the Worthington office. Bring plenty of water, including enough for you, kids and pets. It's recommended to have a half-liter per hour of hiking for an adult. Bringing snacks is also a good idea, but please pack out what you bring in. No one wants to look at litter strewn about the trails.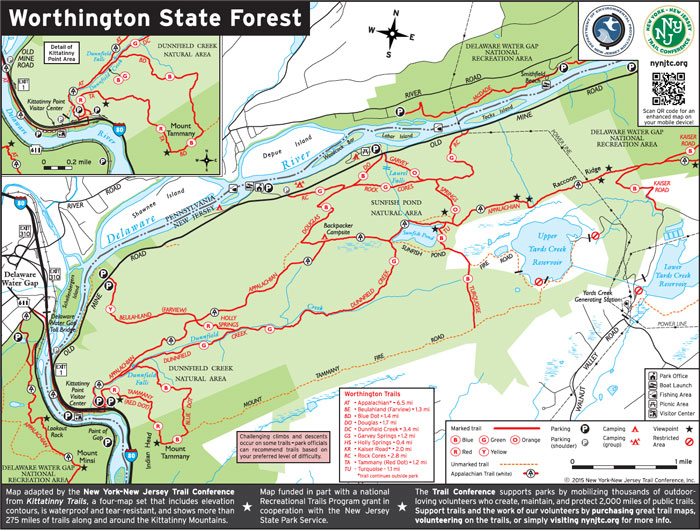 Rock Cores and Douglas trails are favorites with nostalgic and beautiful views. Upon entering Douglas Trail, Laurel Falls greets the hiker with rushing water. The flow invites one to stop and take in the sound, maybe even sit for a spell. Leading up to the historic and nationally renowned Sunfish Pond, this beautiful two-mile hike is grand in all seasons. Climbing to the top, take heart in knowing you are steps away from a great overlook atop the Kittatinny Ridge line.
A friendlier trail for the family, Rock Cores is named for the remnants that were extracted from the mountain by geologists to evaluate its stability for holding the immense volume of water that would have been created by the proposed Tocks Island dam in the 1960s. Starting at the top of the Worthington State Forest driveway, just to the left, there is a short, steep grade that gives way to a meandering, easy walk. The terrain along the three-mile hike is gentle, and you may encounter numbered markers. Worthington's self-guided hike brochure will help identify various flora and fauna along the trail. If the trees could talk, they would tell of the indigenous Munsee that lived here for thousands of years; of the pioneers that followed drawn in by the wilderness; or of the challenges represented by the imposing rock cores strewn along the forest floor.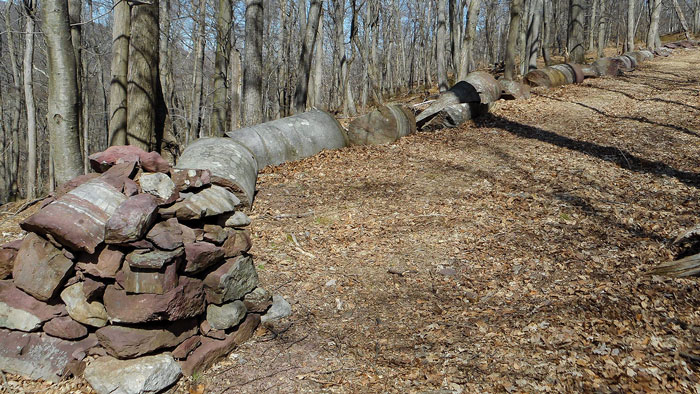 Farview is an out-of-the way trail that is often overlooked. A gentler one-and-a-half mile hike can be found across from the Karamac parking lot in a tucked away spot. I often recommend this trail for hikers as a way to get to Mt. Tammany during the summer months when those Interstate Rt. 80 lots are full. It's a peaceful walk that's perfect for wildlife enthusiasts, as I have seen various birds and other animals emerge that I haven't encountered on more traveled trails. Continue to the Dunnfield parking lot where you can jump on the Dunnfield Creek trail. A scenic three-and-a-half mile trail catches up to the famous Appalachian Trail and splits up to Sunfish Pond. You'll encounter numerous cascades and creek crossings along this protected wild trout stream. Dunnfield also connects to more than twenty miles of trails within Worthington for those looking for a longer hike.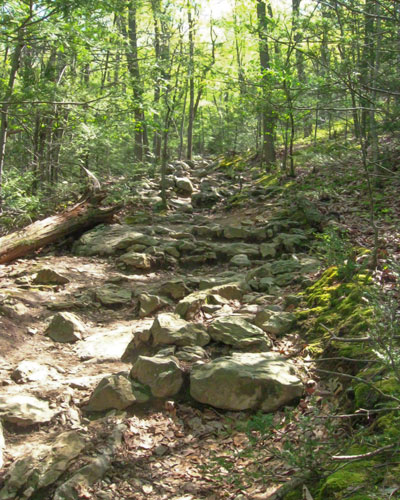 If none of those trails call to your hiking bone, enter Mt. Tammany. Not for the faint of heart, it is noted as the most expert trail in Worthington. Although it's less than a mile and a half, this route is extremely steep and challenging. But, I believe anyone can tackle this trail, especially kids with hiking experience. On the ascent up the Red Dot trail, you'll be bouldering over rocks and working your leg muscles. Plenty of picturesque views along the way give you reason to take a drink of water, rest your legs or take some photos. The view atop Mt. Tammany is worth the sweat, giving the hiker the quintessential view overlooking the Delaware Water Gap and the river that winds through. I recommend using the Blue Dot trail back down the mountain as it is easier on the knees. Round trip, this hike is just under three miles.
Outside the state forest, in the Delaware Water Gap National Recreation Area federal land, lies a plethora of other trails. Part of DEWA's rich history, the Copper Mines trail is popular among natives to Warren County. This trail offers great terrain and interesting points along the way, particularly the ancient gated mine entrance in plain sight. With a large parking area across from the trailhead, this eight-mile hike is beautiful in all seasons. If you want a shorter hike, take the trail to the right and make a loop to the Kaiser trail and keep to the right at the second split. This is about one and a half miles and passes stunning foundations and beautiful brooks. With the impressive mine opening for which the trail is named, this path has something for everyone.
Further north on Old Mine Road, embark into Van Campens Glen hiking area. The upper glen parking lot sits across from the trail head marked with a gate. This hike takes you around a gate, over a bridge overlooking Van Campens Glen creek for a round trip of less than two miles. From the bridge, curve to the right and up the hill with the stream to your left. Spectacular geological forms show the Earth's past, present and future with breathtaking photo opportunities. Kids of all ages can delight in skipping rocks at the base of the falls. The trail heads past the falls over a bridge and loops in and around the glen to the lower parking area. Whether from the upper or lower entrance to Van Campens, a magical waterfall awaits.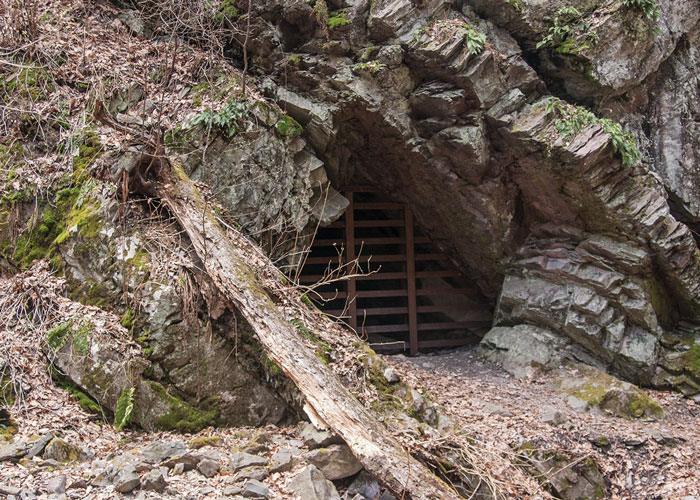 After wandering historic Millbrook Village, take a stroll down one of several trails around the village. Donkey's Corner is just such a trail. As an easy walk meanders next to the stream, you can imagine a donkey carrying things to and from the village. This walk will take you up to Blue Mountain Lakes Road, a 1.8-mile hike with an elevation increase of 350 feet.
If you dare to venture past Millbrook Village further up Old Mine Road, you'll find several popular trails and secluded lakes. Take your time as the road becomes a bit rough and look for the Crater Lake sign on the left side. Turn right across from the sign and drive up into the high reaches of the Water Gap. There are some small pull-offs along the road and thick forests where you can envision pioneers working the land.
The first set of trails you encounter will be at Blue Mountain Lake. There are up to six miles of trails to enjoy along an abandoned road system. It's also a great place to sunbathe, swim and fish in the summer. A fresh green Spring, or Fall colors invite one to take a stroll around the lake and be immersed in the beauty. After a simple walk at Blue Mountain Lake, you can venture up the road to Crater Lake. A left turn at the top of the hill onto the dirt road that traverses the ridge will prove to be an adventure. The beautiful glacial lake lures one to just sit and contemplate. But this is also popular spot for picnicking and swimming. I have even seen kayakers glide across the water. And a trail loops around the Crater Lake for an easy walk a little over one and a half mile.
Whatever your plans in the great outdoors, make hiking in the Delaware Water Gap part of your adventure. The Gap offers trails for all hikers from novice to expert. My love for the outdoors came at a very young age, and I encourage all adults to instill an appreciation for nature with the kids in their lives. Come with a sense of wonder, a willingness to explore, and you may find a trail blazed just for you.
Spring, 2019
Nearby accommodations and attractions
A luxurious Bed & Breakfast with one-of-a-kind accommodations, picturesque scenery, 3 course European Style breakfasts, all while blending old world charm with modern conveniences. Minutes away from a variety of naturalist activities including hiking, biking, canoeing, riding, skiing and bird watching.

88 Hainesburg River Rd., Columbia 07832, 908/496-8855

A canal boat captain and her daughters navigate the Bread Lock in June, 1863.

, ,

Come for the photo opportunities of a lifetime and the chance to watch and listen to packs of Tundra, Timber, and Arctic wolves near the Delaware Water Gap. Bobcats and foxes also reside at the preserve. Wolfwatches and guided photography or video sessions around each individual wolf compound.

89 Mt Pleasant Rd, Columbia 07832, 1-877-SEEWOLF

In 2019, the Historic Moravian Village of Hope celebrated 250 years since the Moravians first settled the hills along the Beaver Brook.
This story was first published: Spring, 2019