Start at the Red Trail trailhead at the parking lot on Jacques Road. A narrow footpath on relatively flat terrain begins through "old fields" with aged Eastern Red cedars (junipers) and the usual opportunistic plants that claim woodland edges as their own, such as multiflora rose and Japanese honeysuckle with their intoxicating scent. In summer, milkweed, goldenrod and yarrow flowers decorate this pretty path.
Several grassy side trails shoot off through what seems like wide bands of junipers and roses. There are no dirt paths there, but, if you have a compass or are just plain up for adventure, nature's maze awaits! A scarlet oak is a welcome sight with shiny, deeply cut foliage that, in fall, lives up to its name. Look on a leaf's undersurface for tiny tufts of hair along the main vein.
The path is arranged in layers here: skinny dirt path in the middle of short grasses, perennials, juncus and other woodland fluff, then shrubs and saplings, then tall trees furthest away from the trail. It is well-maintained and kept open by prescribed burns in winter that prevent sudden wildfires by getting rid of dried plant debris. Bird song galore surrounds the hiker in this world of woodland edges and hedgerows. Lots of nesting, lots of cover, lots of song. The topography is gentle, making for a great hike for a family with kids. Bring a bird guide and binoculars.
Soon come upon a dirt trail on the left. Take this out and back for an interesting one-two hour hike along Six Mile Run or go straight to walk the whole four miles to Route 27 if you have two cars, or turn around wherever you like. I do both. Straight ahead, the woodland changes with black walnut on the left in an area that was cleared within a couple decades, as indicated by mature trees walnuts further back and younger ones close. Black walnut seedlings grow in patches of sunlight among spreads of bright green invasive Japanese stilt grass that shows off the path's red dirt of the region: Brunswick shale. In nearby Hillsborough, the now defunct Glen-Gery Brick Jersey Shale Plant produced brick from this red clay soil.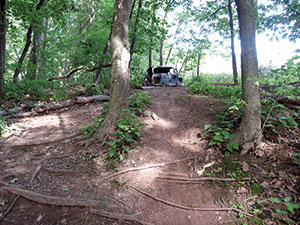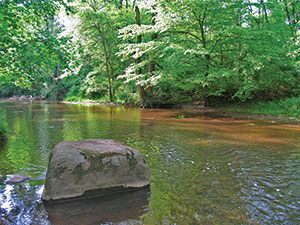 The trail becomes less open with larger trees abutting the path that leads downhill through darkened forest to two wooden bridges over the Six Mile Run. The Run is a trickle here on this hot day but the impatiens is buxom. Go back uphill to the red blaze passed earlier and turn right onto the trail. Go under an American hazelnut that spreads like morning fog over the path, then down into the ravine to visit the Run—tranquil—and a bathing rock of yore under golden-lit trees. Back up the hill, a blue metal surprise sits for eternity among oak, maple and black cherry. The path nears the Run and farm fields and sometimes slides away. Meanwhile, nature's bower of honeysuckle clambers over young maple branches over the path. Mockernut hickory, always a delight with huge tropical-looking leaves, grows in abundance on both sides of the trail. It regenerates well here. Another surprise: soft lawn grass under the trees. Scamper down the hillside to the gentle Run and wade in. Hopefully you brought a child or dog to share the experience. Courteous mountain bikers and joggers also enjoy the dipping, twisting trail and are very appreciative of what Six Mile Run and its habitats offer.
Soon I come upon another farm field planted in neat rows. The park leases quite a bit of the property to local farmers to bring in money and keep it green, all the while continuing its agricultural heritage. Eighteenth-century barns and granaries still exist at the parking lot on Canal Road on the other side of the Run. Nearing Canal Road, a look down in a sunny spot reveals a patch of flattened blue-eyed grass peeking out from under and, in a higher spot, the dangling fruit of bladdernut.
This is a comfortable trail for all but the infirm, and pretty enough to forget your woes and dip into nature for a while. Look down, look up, across and listen. Touch the water and enjoy.
Getting there: Rt. 287 to Exit 12 (Manville) and turn left onto Rt.633 for 3.2 miles. Turn left at the traffic light onto Weston Canal Road (Rt.533 South) for 1.7 miles, then bear left onto Millstone River Road (still Rt.533) for 2.6 miles. Turn left onto Blackwell's Mills Road. At the Stop sign turn right onto Canal Road. Cross the bridge and turn left onto Jacques Lane. Parking lot is on the left. D&R Canal State Park office: 609/924-5705. Download a trail map.
Nearby accommodations and attractions
F.M. Kirby Shakespeare Theatre\n36 Madison Avenue, Madison 07940, 973/408-3807

The Theatre at Raritan Valley Community College, which offers a full season of professional music, theatre, dance, cultural events and children's programs is conveniently located near the border between Somerset and Hunterdon counties. Box Office Hours: 11am-4pm, Monday - Friday

Rt. 28 and Lamington Road, North Branch 08876, 908/725-3420

The Jacobus Vanderveer house is the only surviving building associated with the Pluckemin encampment.

1 River Rd W, Bedminster 07921, 908/212-7000 x611
This story was first published: Summer, 2013